I'm just going to come right out and say it… this is the BEST Orange Chicken recipe I have ever made.
If you're a fan of the famous Panda Express Orange Chicken, then this homemade version is going to bring a smile to your face.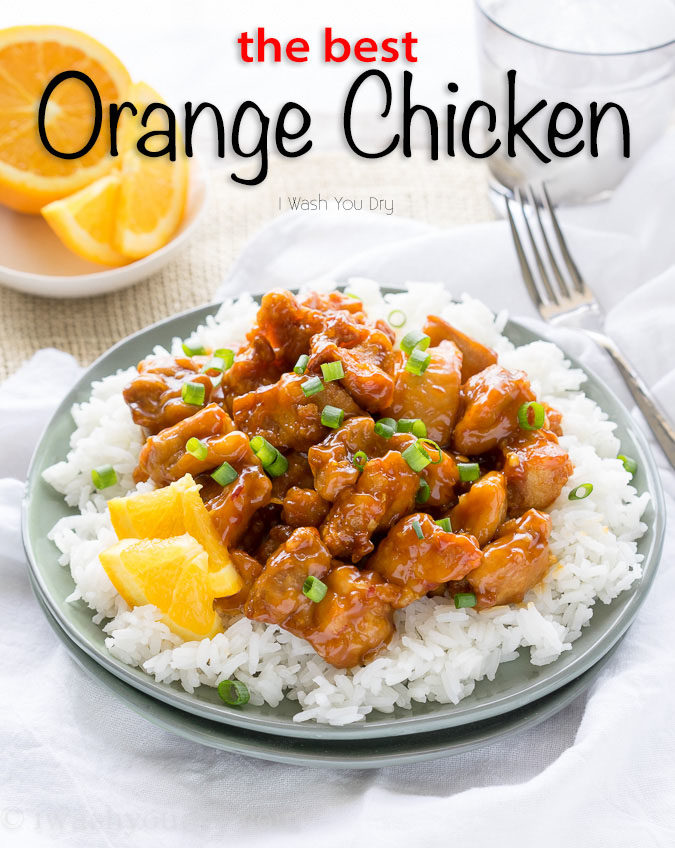 You guys, I used to have a fear of homemade orange chicken sauce. I've played around with different versions of this sauce and some were just too orange, too gritty, too sweet, too fruity. All leaving a horrible taste in my mouth, ruining all that effort I put in to making it.

MY OTHER RECIPES
Well, you don't have to worry about that anymore.
This recipe right here?
Perfection.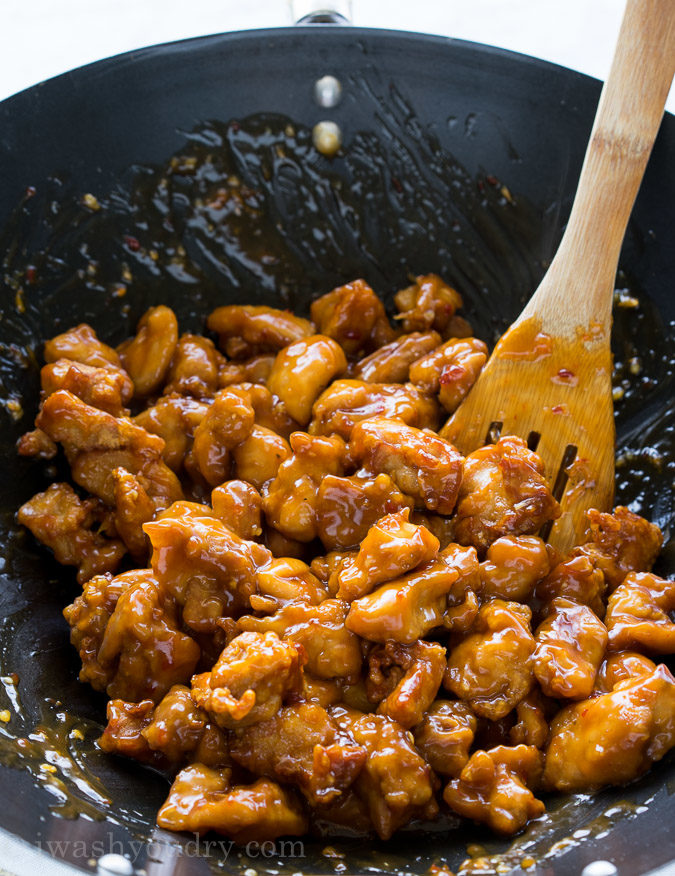 I previously shared my Vegetarian Orange "Chicken" Cauliflower recipe with you guys, and felt it was time to share the real deal.
While these recipes are very similar, I've tweaked a few things to make this real chicken version the best ever.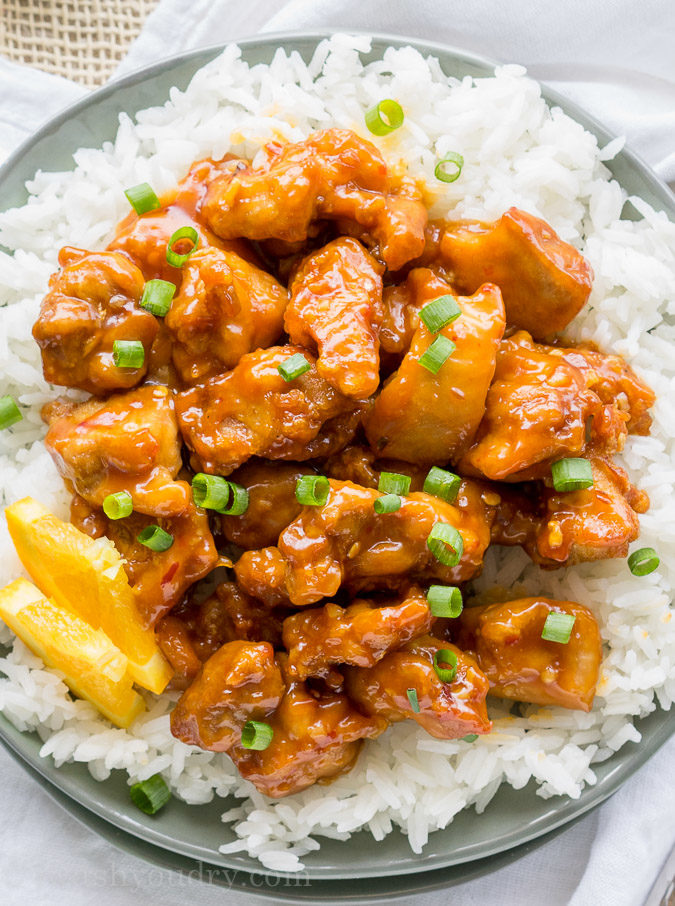 I won't tell you how many times I went back to Panda Express to make sure I was getting all the right components of their sauce.
It was all in the name of research I tell you!
The sauce is sweet and slightly spicy with a perfect balance of orange. It's not a gritty sauce, but rather smooth in texture, and when you toss the chicken in it, it sticks and gives the chicken a gorgeous shine.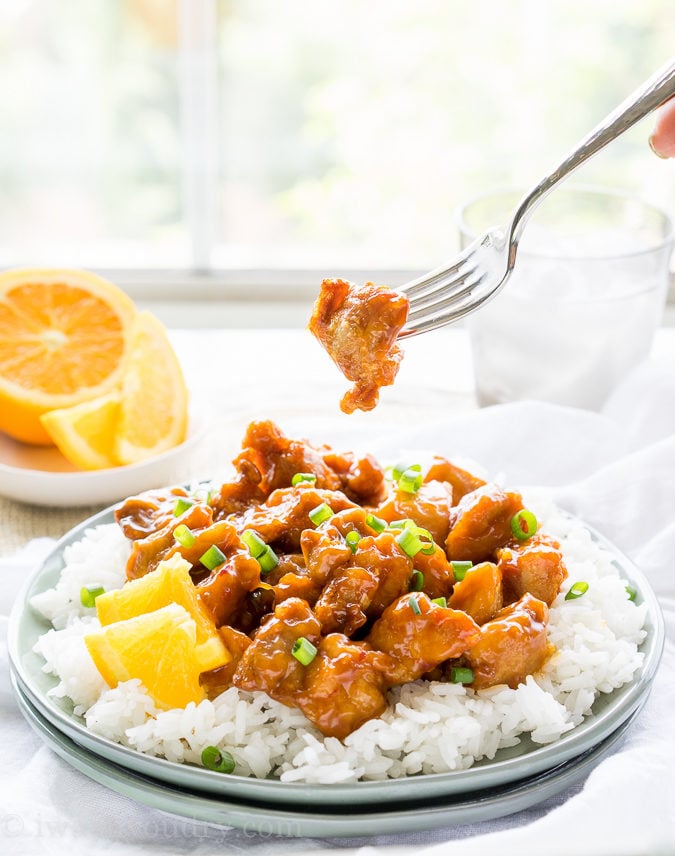 I did pull out my deep fryer for the chicken. Mostly because it's just easier and less messy. If you don't have a deep fryer, you can fry up the chicken in skillet or wok.
The crispy coated chicken and sweet, sticky sauce make this one AMAZING dinner! My kids were literally licking their plates clean.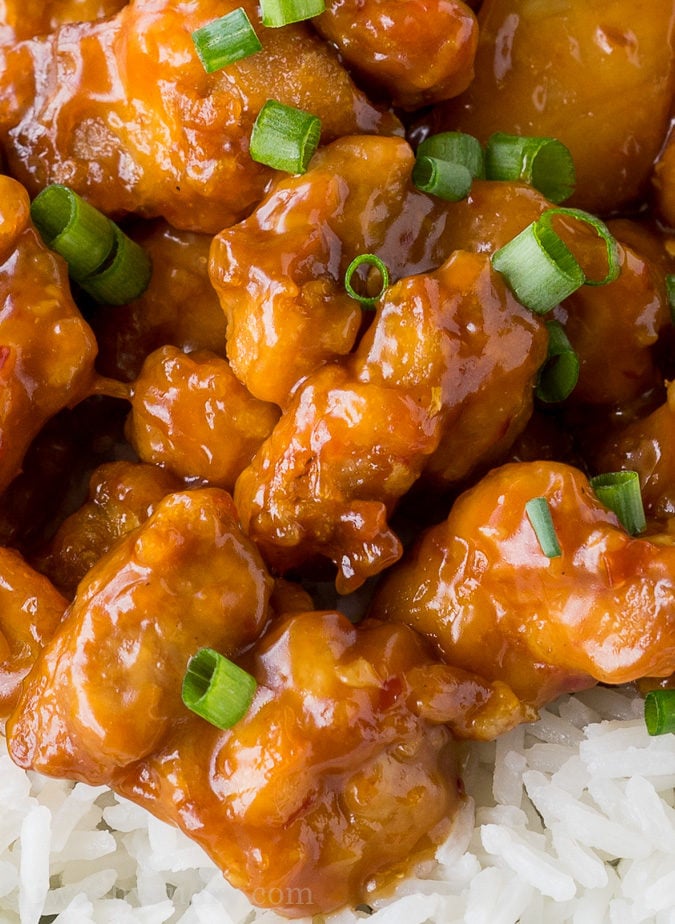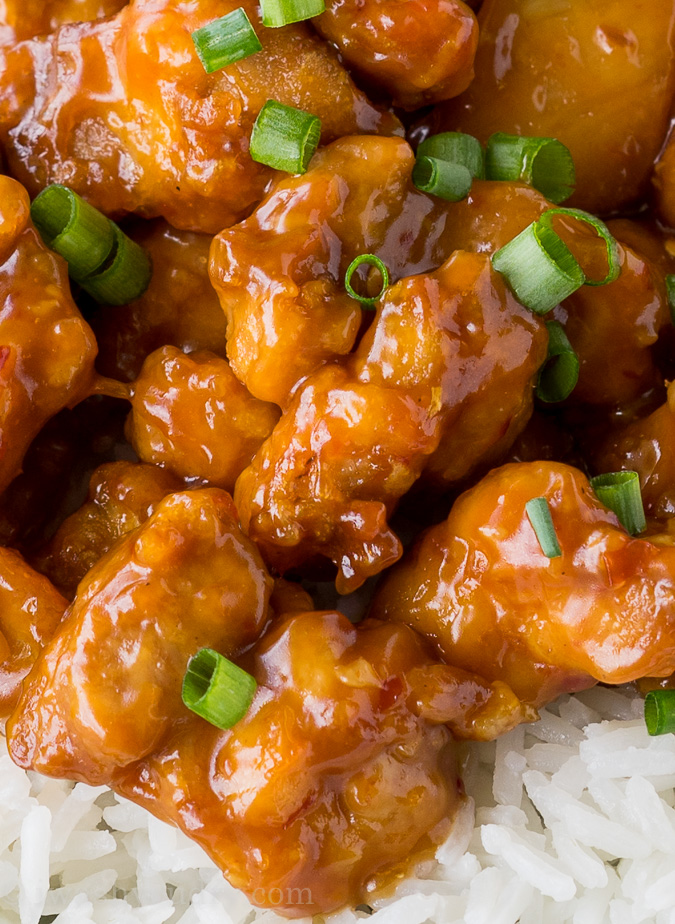 Who am I kidding… so was I! 😉
Make sure you don't miss a thing! Follow I Wash You Dry here:
FACEBOOK | PINTEREST | GOOGLE+ | TWITTER | INSTAGRAM | BLOGLOVIN
Yields serves 4 to 6
Orange Chicken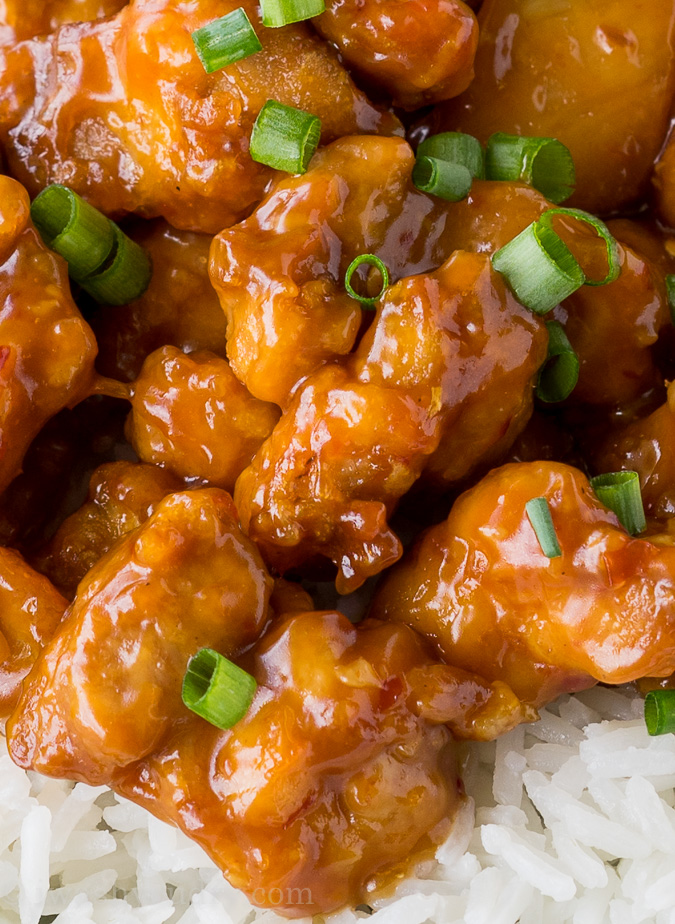 Ingredients
Canola Oil for frying
2 tsp sesame oil
1 egg
1/3 cup corn starch
3 tbsp soy sauce
2 lbs. boneless skinless chicken thighs, cut into bite sized pieces

For the Sauce:

1 1/2 tsp fresh orange zest
2 tbsp fresh orange juice
3 tbsp soy sauce
3 tbsp water
1/3 cup sugar
1/3 cup rice wine vinegar (or dry sherry)
1/3 cup chicken broth
2 tbsp corn starch
1 tsp canola oil
1 1/2 tsp minced ginger
3 cloves garlic, finely minced

For the Garnish:

sliced green onions
orange slices
Instructions
Pour 1 to 2 inches of canola oil in a small deep fryer or heavy bottomed pot and heat to 375 degrees F.*
In a large bowl combine the sesame oil, egg, 3 tbsp soy sauce and 1/3 cup corn starch until a thin batter forms. Toss in the chicken pieces and let sit for a few minutes while the oil heats up. Fry the chicken in batches and drain on a paper towel lined plate. Meanwhile, prepare the sauce.

For the Sauce:

Combine the orange zest, orange juice, 3 tbsp soy sauce, 3 tbsp water, 1/3 cup sugar, 1/3 cup rice wine vinegar (or dry sherry), 1/3 cup chicken broth and 2 tbsp corn starch in a bowl and set aside.
Once chicken is finished cooking, heat 1 tsp canola oil in a large wok or skillet over medium high heat. Toss in the ginger and garlic and stir until fragrant, about 30 seconds. Pour in the sauce and cook over medium heat until thickened, stirring occasionally.
Once thickened (about 3 to 4 minutes) add the chicken to the wok and stir to coat with sauce. Garnish with sliced green onions and orange slices and serve over hot steamed rice if desired. Enjoy!
Notes
*If you don't have a deep fryer or a heavy bottomed pot, add a few tablespoons of canola oil to a skillet with high edges and cook the chicken on all sides until browned and crispy. Drain on paper towel lined plates.
7.6.5
1400
https://www.iwashyoudry.com/orange-chicken/
The following two tabs change content below.
Shawn is the Owner and Creator of I Wash You Dry. She loves to create and share simple, family-friendly recipes with a bit of life sprinkled in. Mom to 4 adorable children and dwells in the desert of Southern Utah.