This warm and Cheesy Spinach Jalapeño Crescent Ring is a perfect appetizer for parties!
Heck, I'd eat it for lunch too!
I'm so excited about Super Bowl season!!!!
It's a season, right?

MY OTHER RECIPES
Let's just go with it.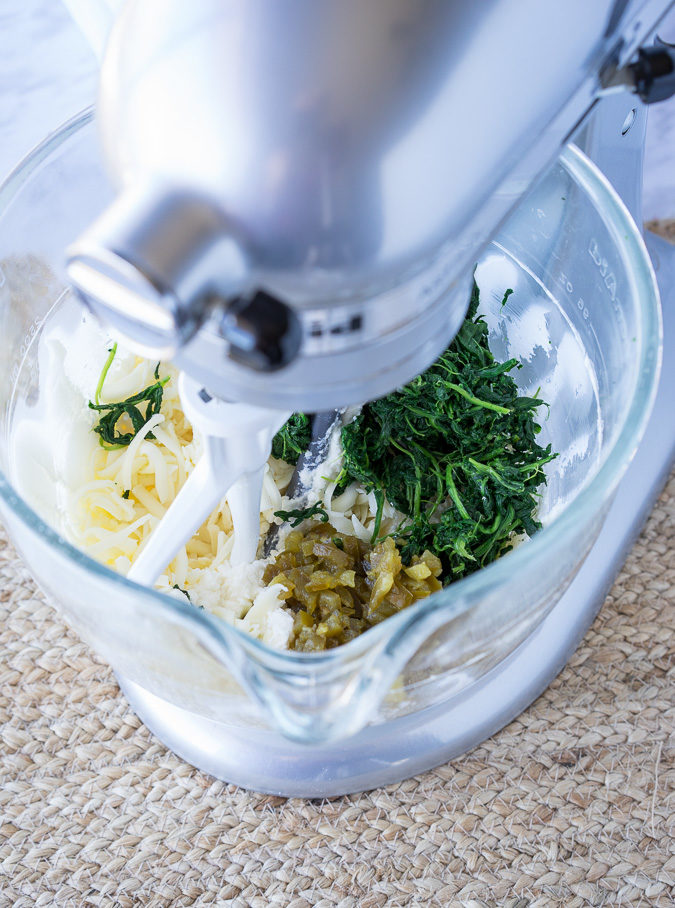 As you can tell by my vast collection of appetizer recipes, I'm a fan of all things in bite-sized portions.
I especially love easy recipes like this one. So quick and easy that I can whip it up right before friends come over and we can all enjoy the deliciousness together.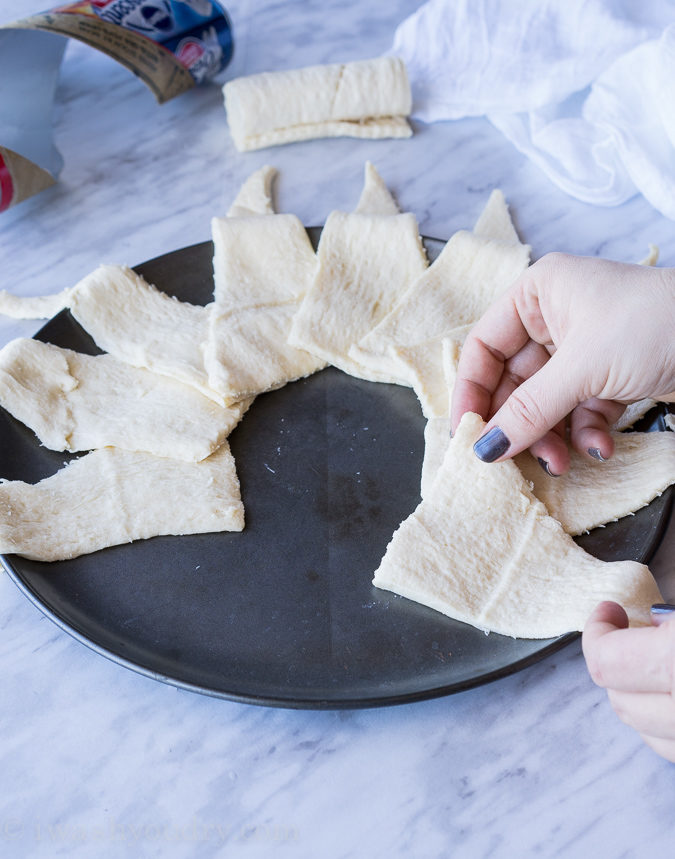 The filling is a mixture of cream cheese, a little ricotta cheese, a healthy dose of spinach and a little bit of pickled jalapeños.
Oh my gosh, can I tell you about my love affair with pickled jalapeños?
So good, am I right?!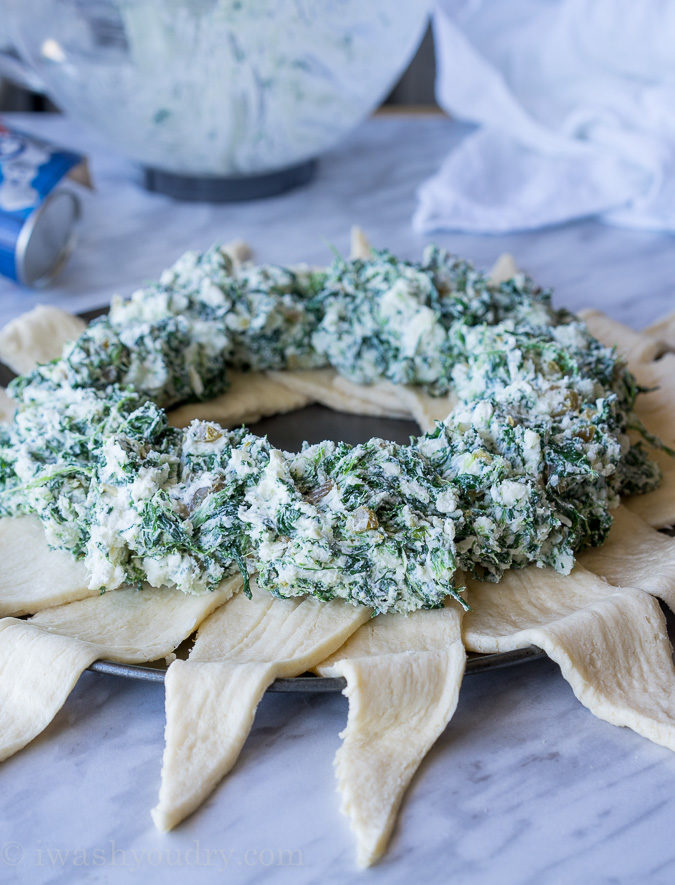 I didn't add too many jalapeños though, just enough to give the filling a good kick.
You'll just want to make sure you pat them dry before dicing, that way the filling doesn't get too runny.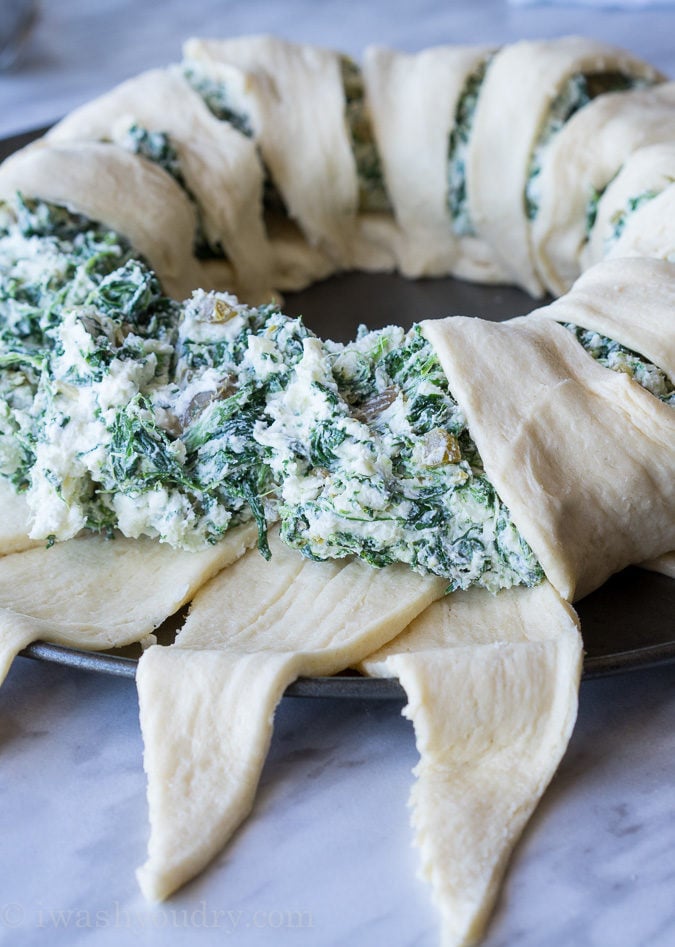 You guys… I'm not sure if you knew this, but remember how I moved back to the US in 2015 (from Canada)?
Well, my husband didn't move back with us. Not because we're separated or divorced or anything like that. But because he is still working on a project up there. So I am here with all 4 kids, by myself.
Typically during the week I am fine with it. I'm crazy busy with kid's schedules and my own schedule that I don't even have time to think about it. But when weekends come… I notice. I feel like I have tons of friends here in town, but during the weekends I am friend-less. That's simply because everyone I know is married and spends time with other couples.
The third wheel is not so glamourous.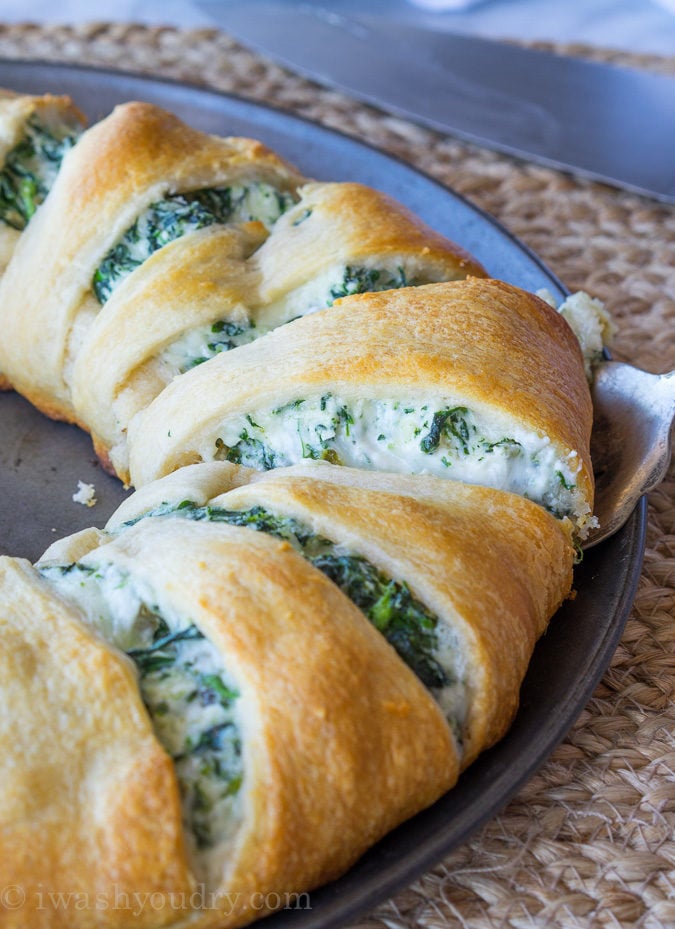 I've decided to start searching out single women and befriending them. Because, I'm sure they feel the same way as me.
My dad suggested I go line dancing.
Thanks Dad. But no thanks.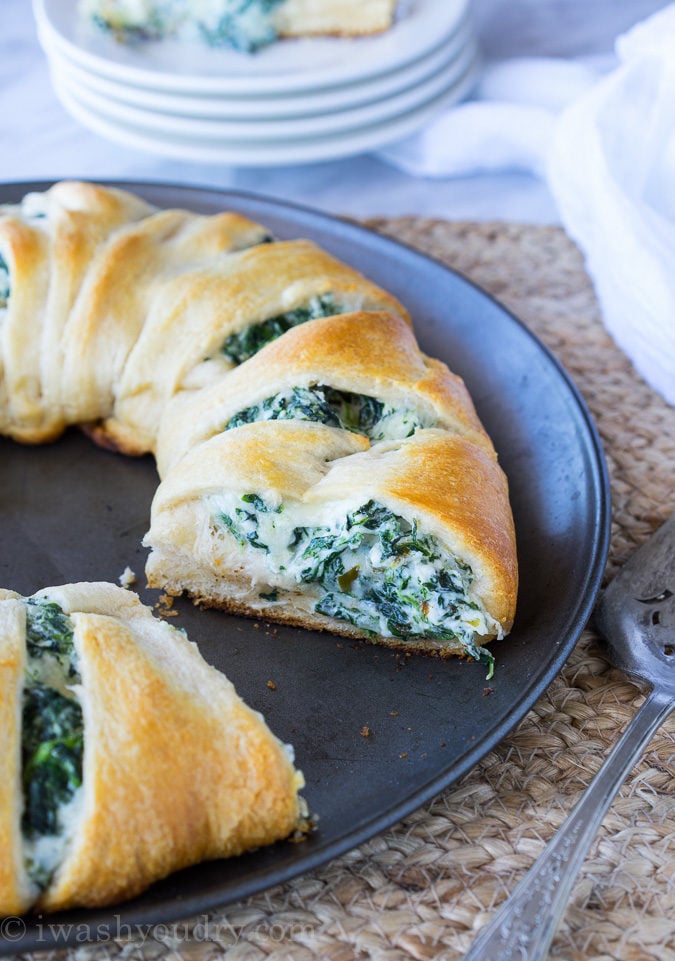 So until I can find all my single ladies… you can find me with a big platter full of appetizers on the weekends.
Especially this ring of goodness.
Make sure you don't miss a thing! Follow I Wash You Dry here:
FACEBOOK | PINTEREST | GOOGLE+ | TWITTER | INSTAGRAM | BLOGLOVIN
Ingredients
9oz. package frozen chopped spinach
8oz. cream cheese, softened
1/2 cup ricotta cheese
6oz. shredded monterey jack cheese
1/3 cup diced pickled jalapeños, drained and patted dry
2 tubes Pillsbury crescent dough
Instructions
Preheat oven to 375 degrees F.
Prepare the spinach in the microwave according to package instructions, then drain and squeeze as much moisture out of it as you can with paper towels.
Combine the cream cheese and ricotta cheese in a large bowl and use an electric mixer to combine. Add the spinach, cheese and jalapeños and mix to combine.
Open the tubes of crescent dough and separate into triangles. On ungreased large cookie sheet, arrange triangles in ring so short sides of triangles form a 3-inch circle in center. (Dough will overlap; half of each triangle will hang over edges of cookie sheet. Dough ring should look like a sun.)
Spoon the spinach mixture on the half of each triangle closest to center of ring.
Bring each dough triangle hanging over side of pan up over filling, tucking dough under bottom layer of dough to secure it. Repeat around ring until entire filling is enclosed (some filling might show a little).
Bake for 15 to 18 minutes or until the dough is fully cooked and golden brown. Let cool slightly before slicing and serving warm. Enjoy!
7.6.4
1040
https://www.iwashyoudry.com/cheesy-spinach-jalapeno-crescent-ring/
The following two tabs change content below.
Shawn is the Owner and Creator of I Wash You Dry. She loves to create and share simple, family-friendly recipes with a bit of life sprinkled in. Mom to 4 adorable children and dwells in the desert of Southern Utah.