It's Monday, and well… Monday's aren't always the best day of the week.
So I thought I would brighten your day with this gooey, cheesy, and mouthwatering BBQ Chicken Grilled Cheese Sandwich.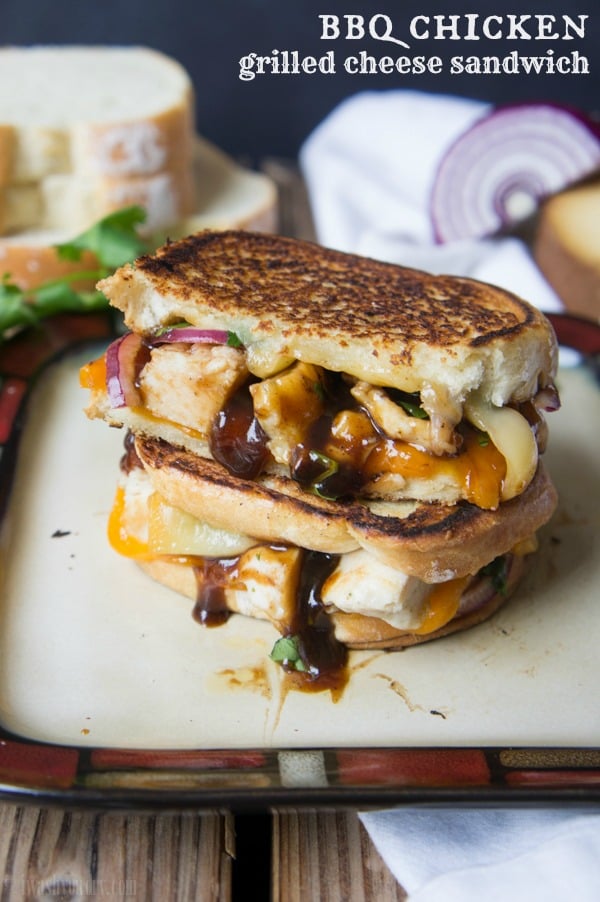 Every day can be just a little brighter when you add some cheese.
Not just any cheese, mind you, but some sharp cheddar and smoked gouda.

MY OTHER RECIPES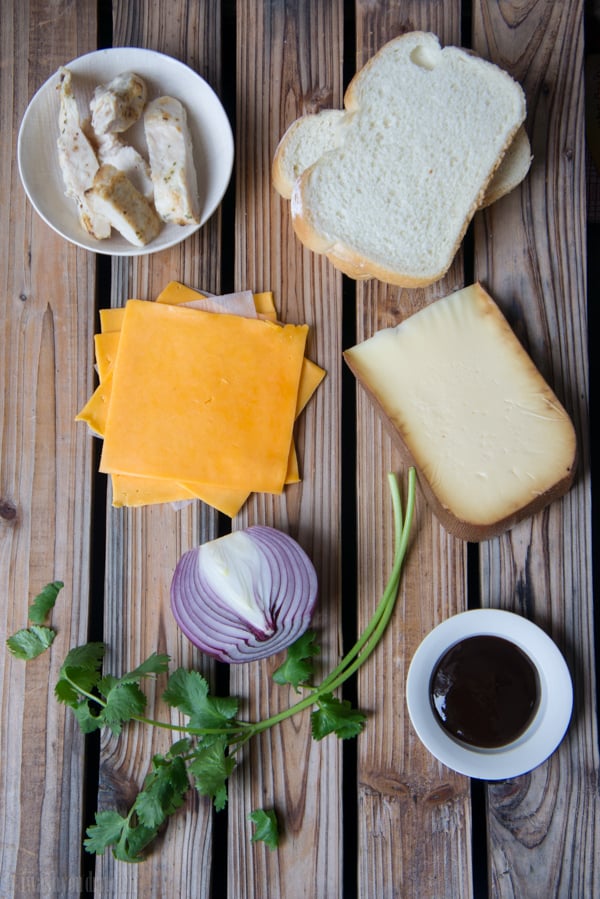 A while back I made you a BBQ Chicken Tortilla Pizza and I can't stop obsessing over the combination of flavors. So I did the logical thing and just took the same ingredients and made it into something totally and completely different-ish, sorta.
Just so I can have an excuse to buy two bricks of smoked gouda.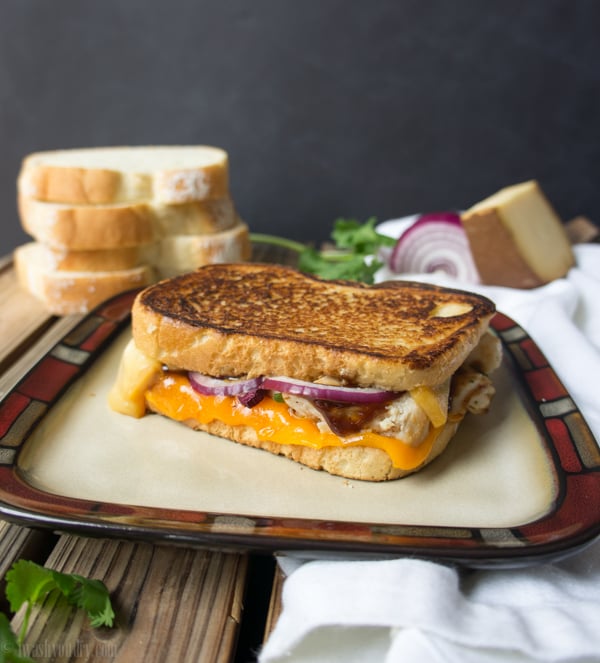 I seriously can't get enough of this flavor combination guys.
The sweet and tangy bbq sauce mixed with the chicken, red onion and cilantro are great on their own, but when smushed between two slices of thick, buttered bread and gobs of smokey, melted cheese…. it's pure bliss.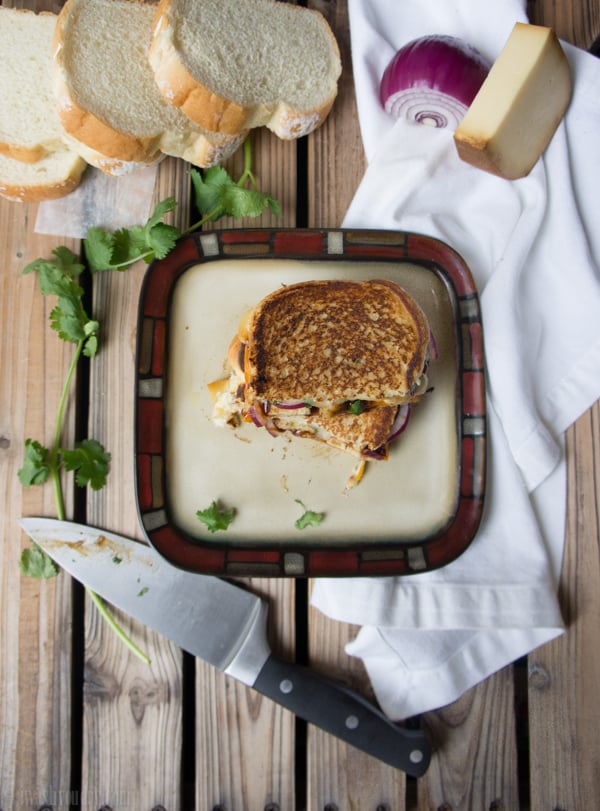 It's one of those sandwiches that you eat slowly because you want to savor every single bite. Because you're trying to eat "clean" now, and although you're pleasantly surprised at how tasty kale chips can be, if you have to eat one more helping of brown rice you're going to do something you'll regret. But you made this sandwich because your friend told you about an awesome Grilled Cheese Sandwich contest, and now you want to win… so you have to make sacrifices.
For the people.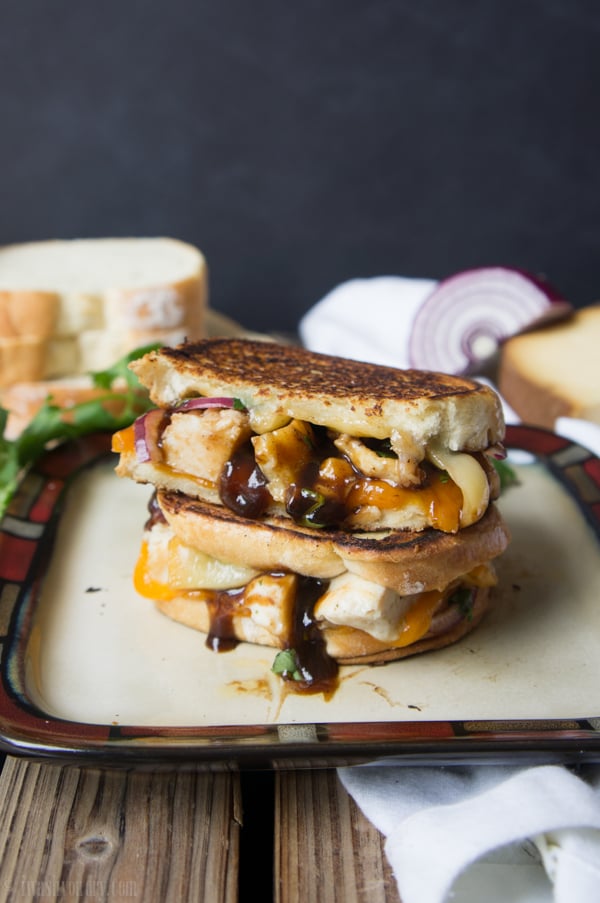 Oh, this definitely needs to be made again very, very soon.
Purely for research purposes, of course…
Yields 1 sandwich
BBQ Chicken Grilled Cheese Sandwich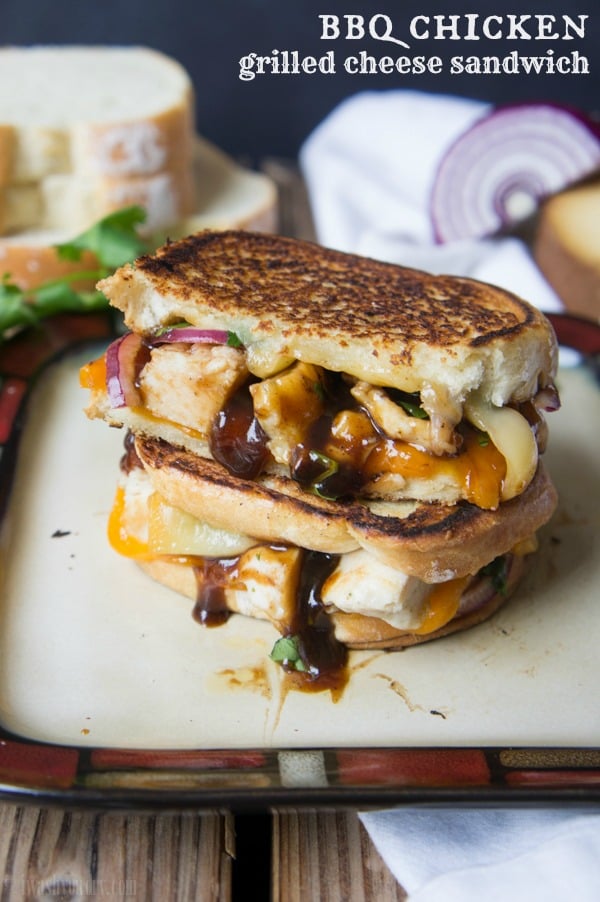 Ingredients
2 slices of thick cut, Italian white bread
1 tbsp margarine or butter (softened)
2 slices of sharp cheddar cheese
2 slices of smoked gouda
2 tbsp bbq sauce
2 tbsp sliced red onion
1 tsp chopped cilantro
1/2 cup chopped cooked chicken breast (I use Tyson Grilled & Ready)
Instructions
Heat a skillet over medium heat.
Use the margarine or butter to spread on the two slices of bread. Layer the sandwich like this: bread, sharp cheddar, chicken, red onion, cilantro, bbq sauce, smoked gouda, bread.
Place sandwich (butter side down) onto the hot skillet and use the back of spatula to press the sandwich down gently. Let cook for 1-2 minutes or until the bread is nicely toasted. Use the spatula to carefully flip the sandwich over and toast for an additional 1-2 minutes.
Cut in half and enjoy!
7.6.5
823
https://www.iwashyoudry.com/bbq-chicken-grilled-cheese-sandwich/
The following two tabs change content below.
Shawn is the Owner and Creator of I Wash You Dry. She loves to create and share simple, family-friendly recipes with a bit of life sprinkled in. Mom to 4 adorable children and dwells in the desert of Southern Utah.