I'm not going to lie, Coconut Flour is not the easiest type of flour to work with. It's not a flour that you can substitute 1 for 1 in any recipe. It's a very absorbent flour, so you do not need very much to make this recipe.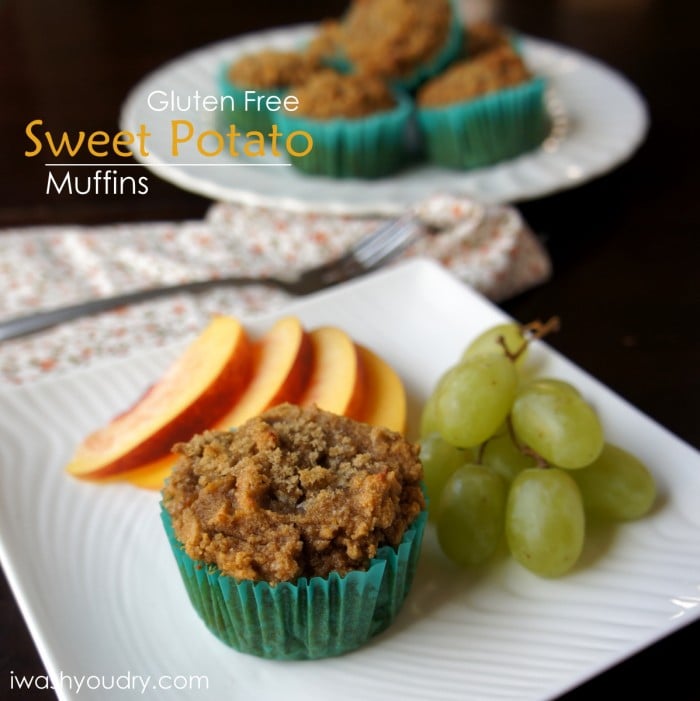 These Sweet Potato Muffins are lightly sweetened with maple syrup and just a hint of brown sugar.
The muffins have a very slight taste of sweet potatoes which add to the moistness. The coconut flour add a little nuttiness which blends in perfectly to make these a delicious fall breakfast treat.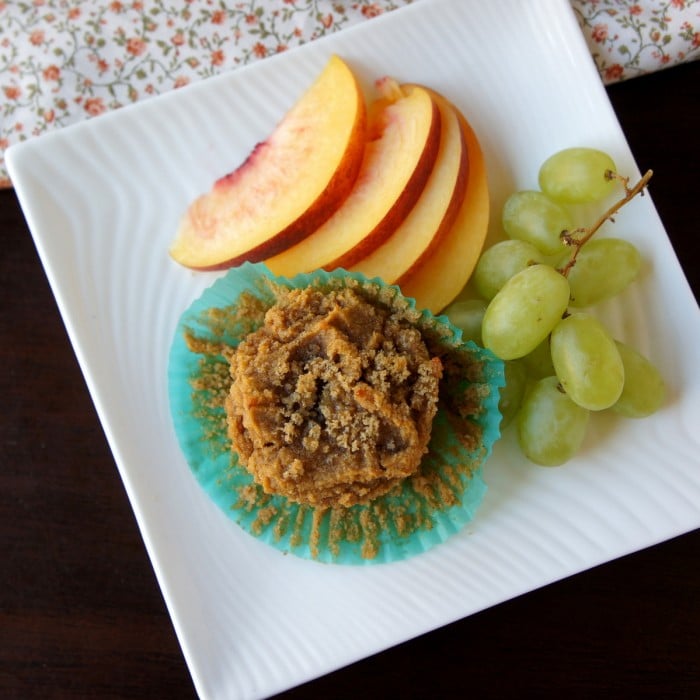 MY OTHER RECIPES
These guys are super simple to make, and because coconut flour is high in fiber, it's  a perfect way to add a little more fiber to your day!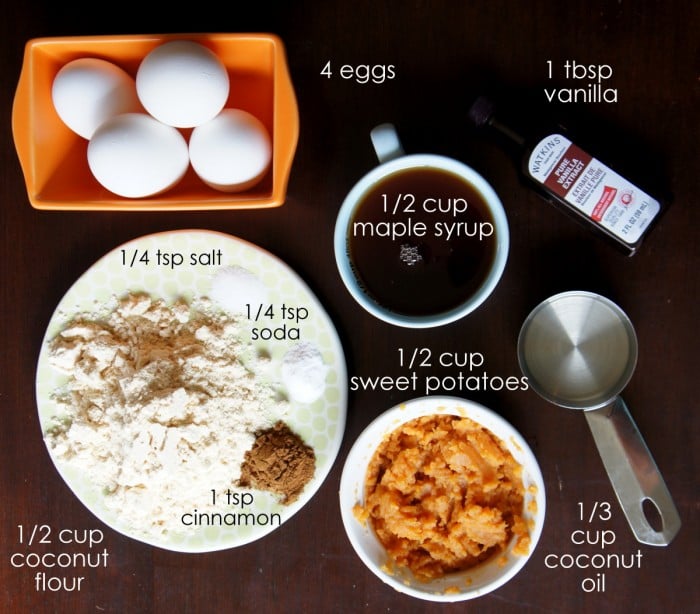 For this recipe I just used canned sweet potatoes, then mashed them up. You can bake your own sweet potatoes and the peel and mash them yourself if you feel like doing the extra work… but canned worked great for these.
I also used coconut oil instead of butter, which makes these muffins just that much more tasty, and not bad for ya!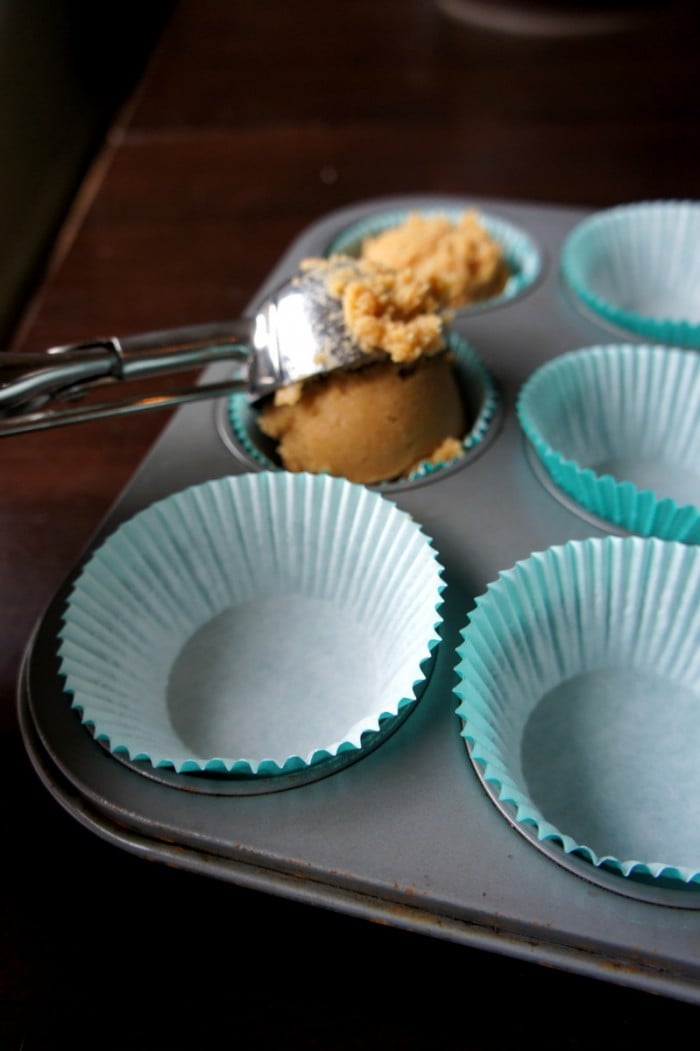 The sweet potato muffin batter is a little thick, so I used an ice cream scoop to portion out the muffins. It worked great, or you can just spoon it into the muffin liners.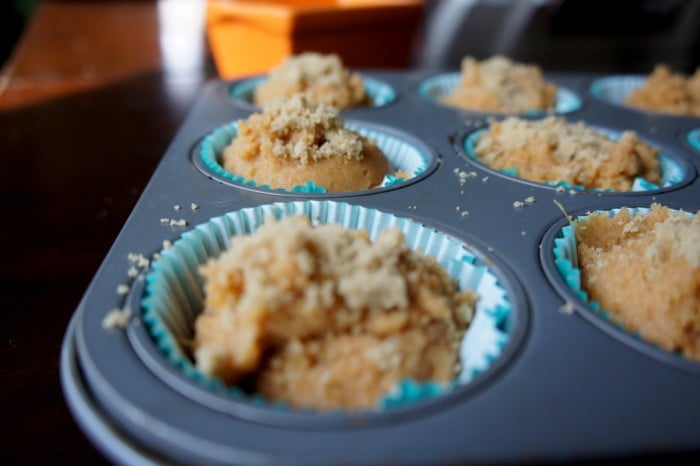 Sprinkle just a little bit of brown sugar on top of each of the muffins before placing in the oven to bake.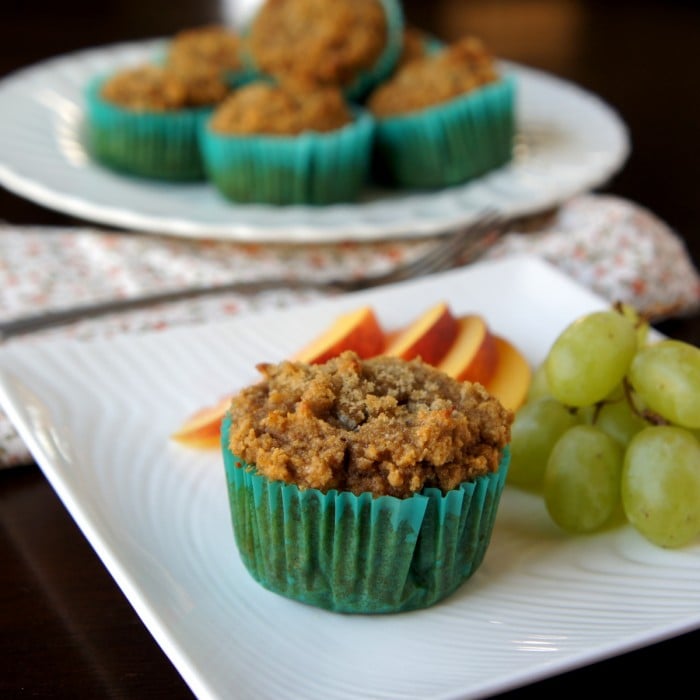 These muffins are a great fall treat.
My kids gobbled them up, and had no idea that they hardly contained any sugar, were full of fiber, and totally gluten free.
I'm not saying I'll never bake with regular flour again, but I am definitely going to be making these muffins again, they were completely delicious!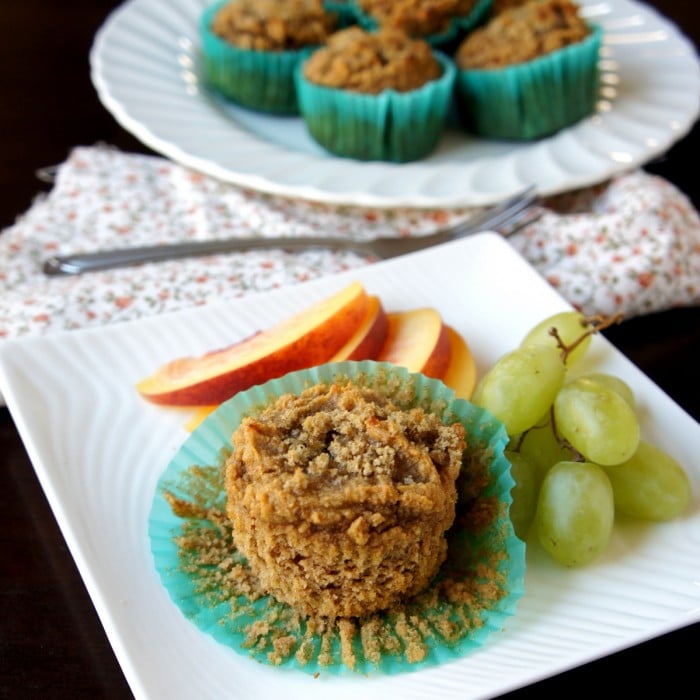 If you have a gluten intolerance and are looking for a tasty new muffin recipe, you will love these!
Make sure you don't miss a thing! Follow I Wash You Dry here:
FACEBOOK | PINTEREST | GOOGLE+ | TWITTER | INSTAGRAM | BLOGLOVIN
Yields Makes 9 Muffins
Gluten Free Sweet Potato Muffins (using Coconut Flour)
Ingredients
1/2 cup Coconut Flour
1/4 tsp baking soda
1/4 tsp salt
1 tsp Cinnamon
1/3 cup Coconut Oil
1/2 cup maple syrup
1/2 cup mashed sweet potatoes
4 eggs
1 tbsp vanilla
2 tbsp brown sugar (for topping)
Instructions
Preheat oven to 350 degrees
In a small bowl add coconut flour, salt, baking soda, and cinnamon and whisk to combine. Set aside.
In another bowl whisk together the coconut oil, maple syrup, sweet potato, eggs, and vanilla until smooth.
Add the dry ingredients to the wet ones and whisk until smooth and no lumps.
Spoon batter into lined muffin tin, about 3/4 full. Sprinkle the top of each with a little brown sugar.
Bake for 20-22 minutes or until toothpick inserted in center comes out clean.
Let cool for a few minutes in muffin tin before removing to wire rack to cool completely.
Enjoy!
7.6.4
1337
http://www.iwashyoudry.com/gluten-free-sweet-potato-muffins-using-coconut-flour/
Disclaimer: Tropical Traditions provided me with a free sample of this product to review, and I was under no obligation to review it if I so chose. Nor was I under any obligation to write a positive review. 
*If you order by clicking on any of my links and have never ordered from Tropical Traditions in the past, you will receive a free book on Virgin Coconut Oil, and I will receive a discount coupon for referring you.
The following two tabs change content below.
Shawn is the Owner and Creator of I Wash You Dry. She loves to create and share simple, family-friendly recipes with a bit of life sprinkled in. Mom to 4 adorable children and dwells in the desert of Southern Utah.