We all have guilty pleasures… something we know isn't good for us but we still indulge ourselves, only to feel icky later. When I was pregnant with my son, I have to admit that McDonald's Sausage McMuffin with Egg was my guilty pleasure. I stopped nearly every morning to pick one of these heart-cloggers up! After giving birth I knew I couldn't continue with this habit if I ever wanted to see my old clothes again.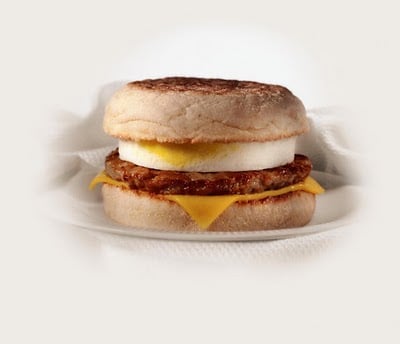 This little breakfast sandwich packs on a whopping 450 calories and 27 grams of FAT!
(11 Points — Ouch!)
With the new sandwich I made, I cut the calories down to 279, with only 11.5 grams of fat! PLUS I was able to squeeze in 6 grams of FIBER!! (5.5 Points — Yippee!)
Here is how I did it!
'Weight Watchers' sliced cheese singles
'Jimmy Dean' Turkey Sausage patties
'Western Bagels' Alternative English Muffin
(These are amazing!! You can find them at Wal Mart next to the cream cheese and refrigerated bagels!)
Spray a small ramekin (about the size of your English muffin) with Pam. Crack your egg into the bowl, (don't stir it), cover with a paper towel and microwave for 50 seconds. Toast your muffin, microwave the turkey sausage, and put it all together!
Now that is a breakfast sandwich to enjoy with out all the guilt!
If you have a guilty pleasure that you would like to see the "Lighter Side" of, let me know in the comments section and I might pick yours to feature next week!!
The following two tabs change content below.
Shawn is the Owner and Creator of I Wash You Dry. She loves to create and share simple, family-friendly recipes with a bit of life sprinkled in. Mom to 4 adorable children and dwells in the desert of Southern Utah.