I recently spoke with my family in Arizona and they told me of their scorching summer days with temperatures above 115 degrees and how miserable it is. How it's too hot to even turn on the grill outside, and camp fires are totally out of the question, obvi.
I can't believe I was almost considering driving 2300 miles back to Arizona to see my family this summer.
There's always FaceTime.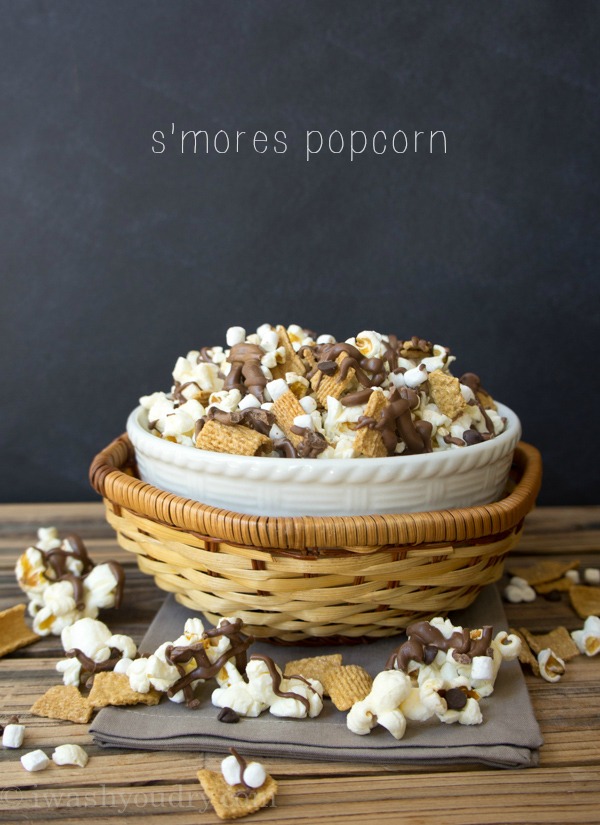 I'm already acclimatizing to this Canadian weather. I'm starting to complain when it gets over 75 degrees.

MY OTHER RECIPES
No way would I survive 115.
Sorry Mom.
I'm a total sucker for s'mores over a camp fire. In fact we have a fire pit in our back yard, and we love to make the gooey marshmallow treat with the kids.
When it's too blazing hot for a camp fire, this S'mores Popcorn is the perfect alternative!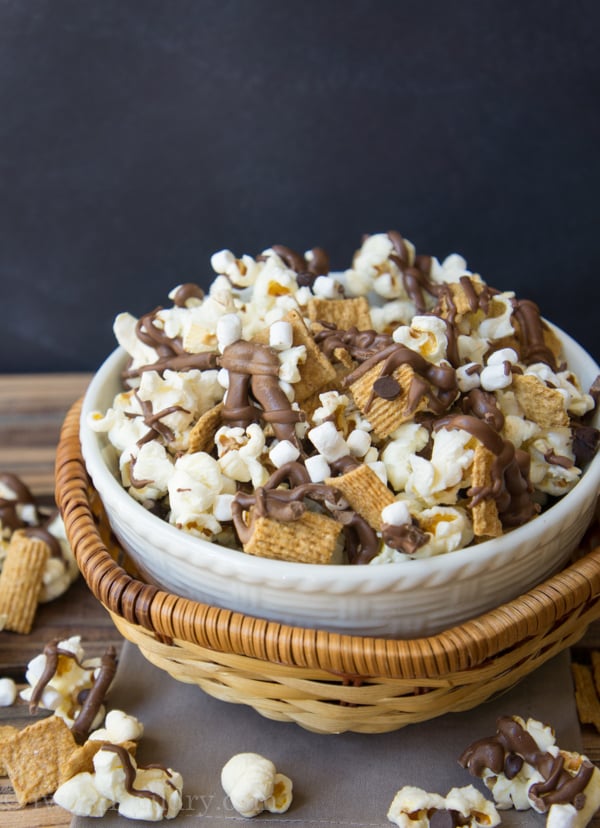 Golden Grahams, Mallow Bits (those mini marshmallows that come in the shaker can), popcorn and of course chocolate take center stage in this delicious "non-camp fire" snack.
It's super addictive.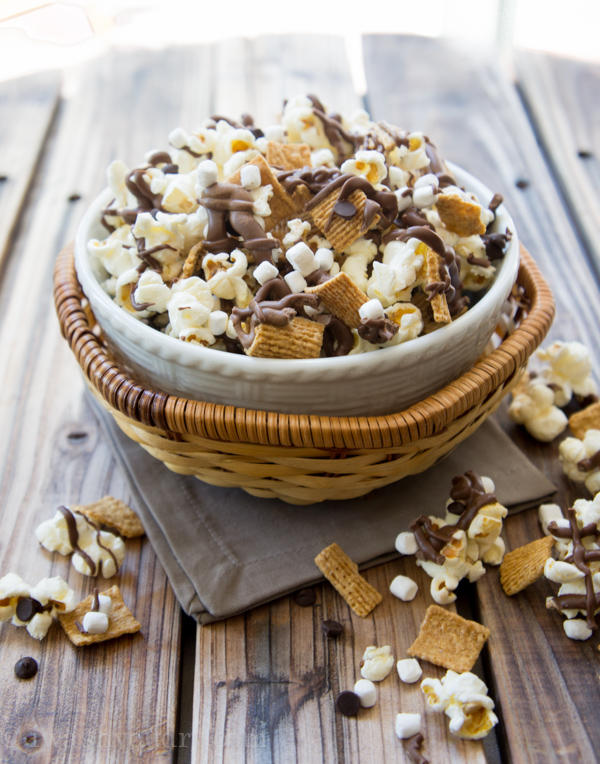 No sweat involved.
Just pure s'more goodness at it's best.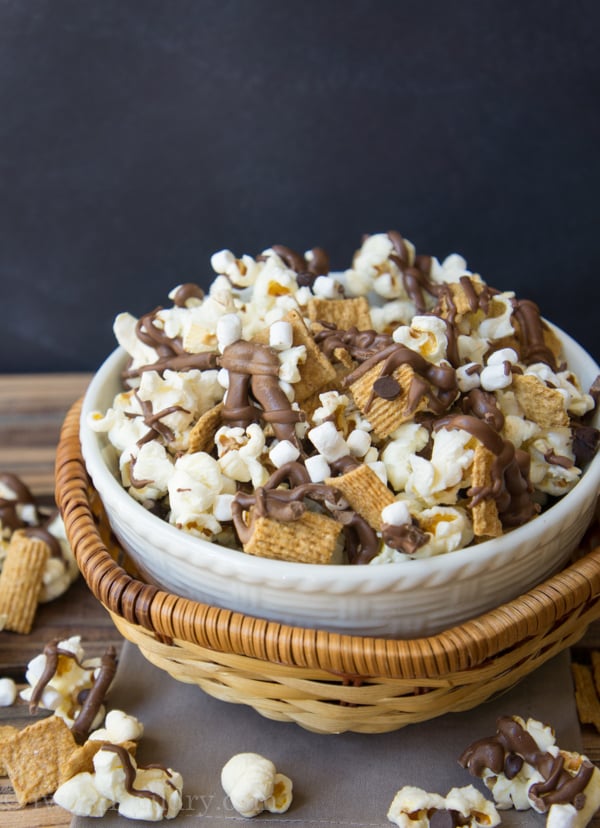 Ingredients
3 tbsp corn oil
1/2 cup popcorn kernels
3 1/2 cups Golden Grahams cereal
1 cup Mallow Bits (or miniature marshmallows)
1/2 cup miniature chocolate chips*
1 1/2 cups milk chocolate flavored melting chocolates, melted according to package instructions
Instructions
Cover two large baking sheets with wax paper, set aside.
In a large heavy bottom pot, heat the oil over medium high heat. Add the popcorn kernels and cover with a lid, leaving slightly ajar to let steam escape.
Shake the pot back and forth gently while the popcorn kernels begin to pop. Once popping has stopped pour popcorn in a large bowl.
To the bowl add the Golden Grahams, Mallow Bits, and mini chocolate chips. Toss to combine.
Lay out popcorn mixture in a thin layer on the baking sheets. Drizzle the melting chocolates all over the popcorn mixture and let cool.
Once hardened, gently break up the pieces and enjoy!
Notes
*most of the mini chocolate chips ended up falling to the bottom of the bowl, but I liked the extra chocolate towards the bottom. You don't have to add them if you don't want to.
7.6.5
682
https://www.iwashyoudry.com/smores-popcorn/
Craving more s'mores creations? Check out these Flaky S'mores Pizza Triangles!!
I am linking this post to A Southern Fairytale's Mouthwatering Monday!
The following two tabs change content below.
Shawn is the Owner and Creator of I Wash You Dry. She loves to create and share simple, family-friendly recipes with a bit of life sprinkled in. Mom to 4 adorable children and dwells in the desert of Southern Utah.