Slow Cooker Teriyaki Chicken is so tender and the homemade teriyaki sauce practically soaks through the chicken for an intense teriyaki flavor!

Slow Cooker Teriyaki Chicken will become your new favorite way to make chicken in the crock pot!
If you follow me on Facebook, you may or may not have seen a recent LIVE video I did, where I showed my favorite tips to grilling chicken.
You guys, don't watch it.
UGH! Why is live video so hard!?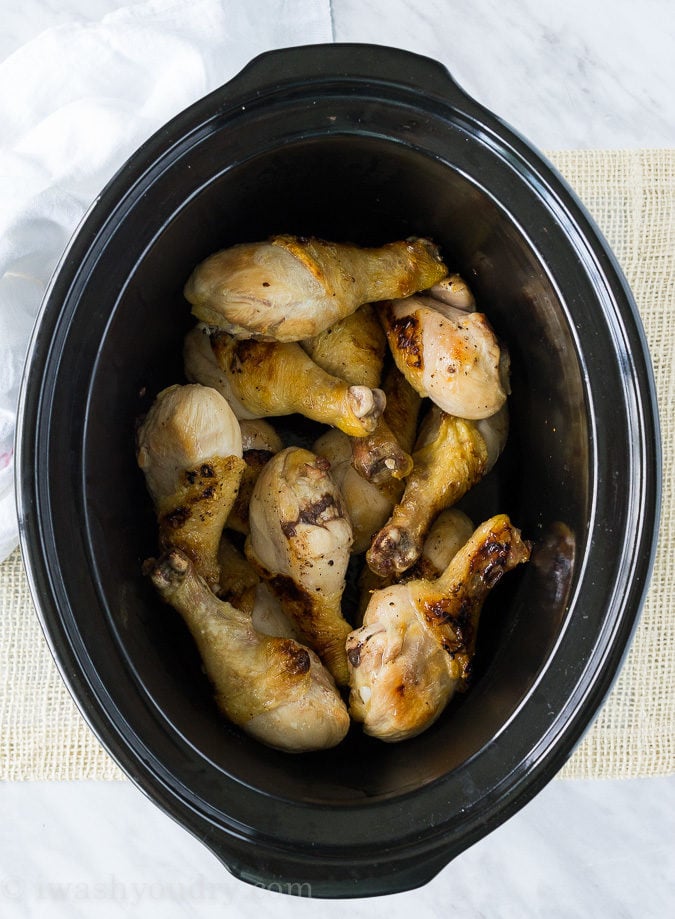 In the video, which is LIVE, I thought it would be fun to go through a recipe Rachel Ray style. You know, grab some ingredients out of the fridge and pantry and go through it with you.. LIVE.

MY OTHER RECIPES
Well, I guess I didn't realize how looooong it was going to take from start to finish. It was a total of 29 minutes. Gulp. I swear to you that I thought I was only taping for 15 minutes. I guess I was just having too much fun.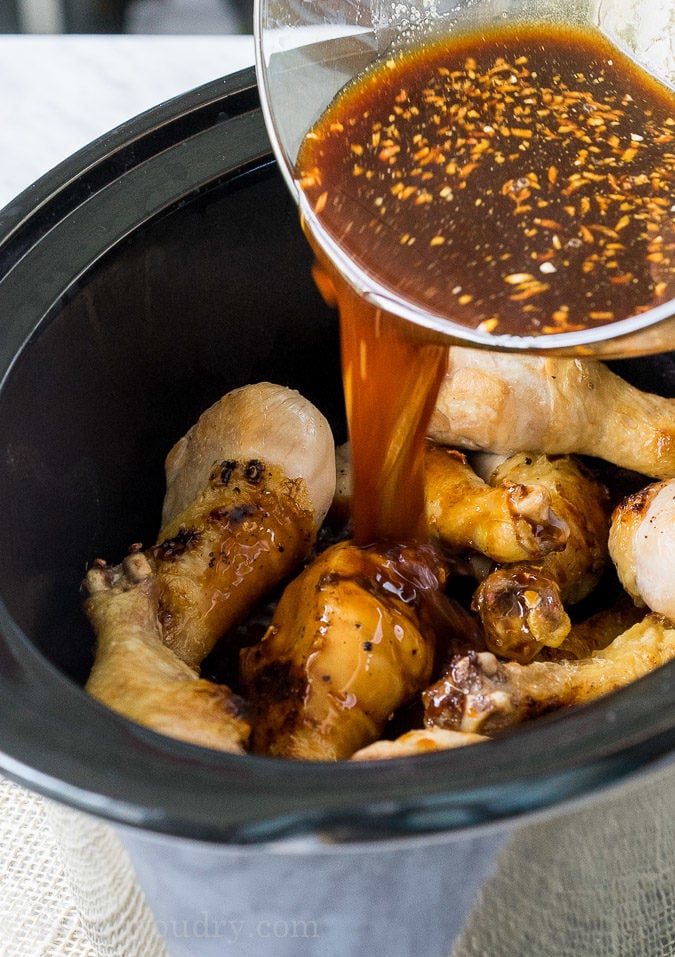 And then there was the time I touched raw chicken and mentally thought to myself, I need to go wash my hands, but I also need to talk to the camera, cause, you know… LIVE video.
My brain left me and I just kept powering through. But don't worry, lots of you guys pointed out my mistake.
I also touched my hair, and probably every surface of the kitchen… which I wiped down infinity times afterwards with Clorox wipes.
Yeah, not my finest moment on LIVE video.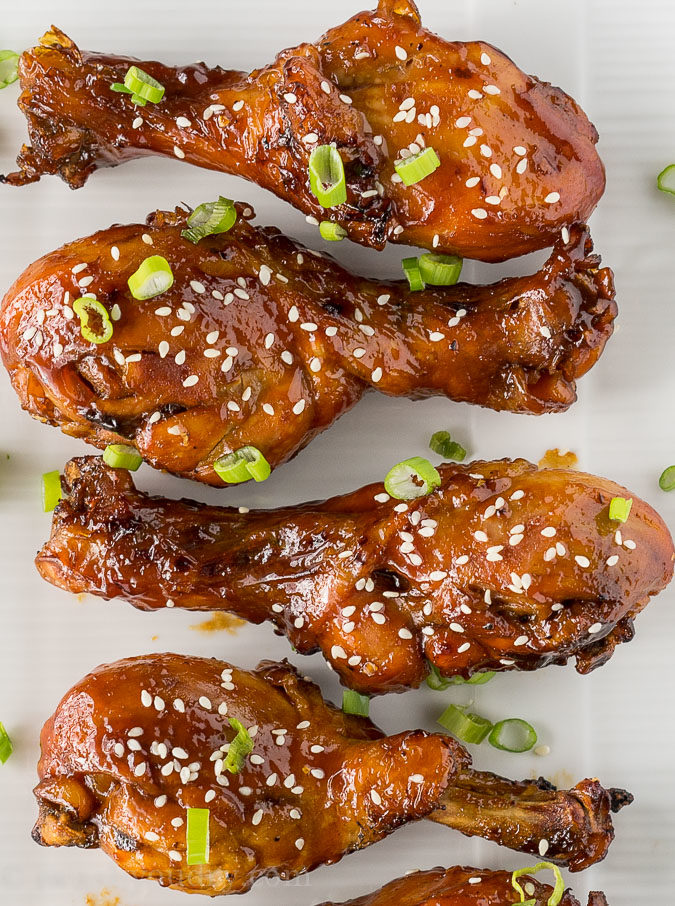 Just in case you were wondering, No. None of us have died from salmonella. 😉
But since that was my very first experience with LIVE video, I'm going to chalk it up to nerves and make it a learning experience. Next time you see me on video I'll be wearing gloves and a hair net. Because, you know, that's how we all cook in our home kitchens, right?
Speaking of chicken… this Slow Cooker Teriyaki Chicken is seriously one of my faves!!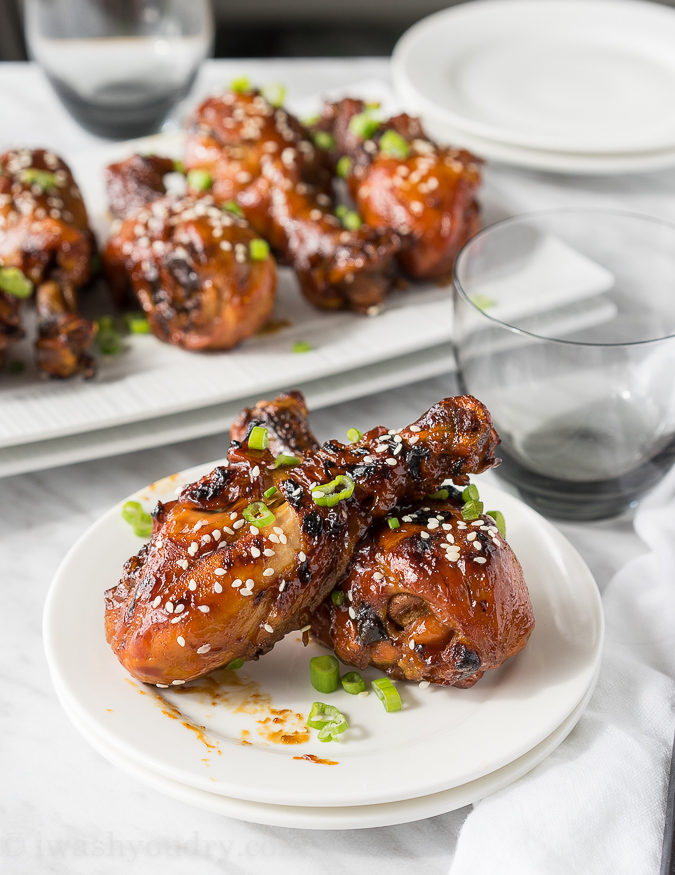 The homemade sauce is sweet and sticky. How does it get sticky in the crock pot?
It doesn't.
With this super simple recipe, the chicken is cooked in the sauce slowly for hours, penetrating the chicken with flavor. Then, just before you are ready to eat, take the chicken out of the crock pot, place it on a baking sheet and pour the sauce from the crock pot into a small pot. You'll add just a bit of cornstarch to thicken the sauce and baste the chicken with it.
A minute or two under the broiler of your oven and you're left with finger-lickin' good teriyaki chicken.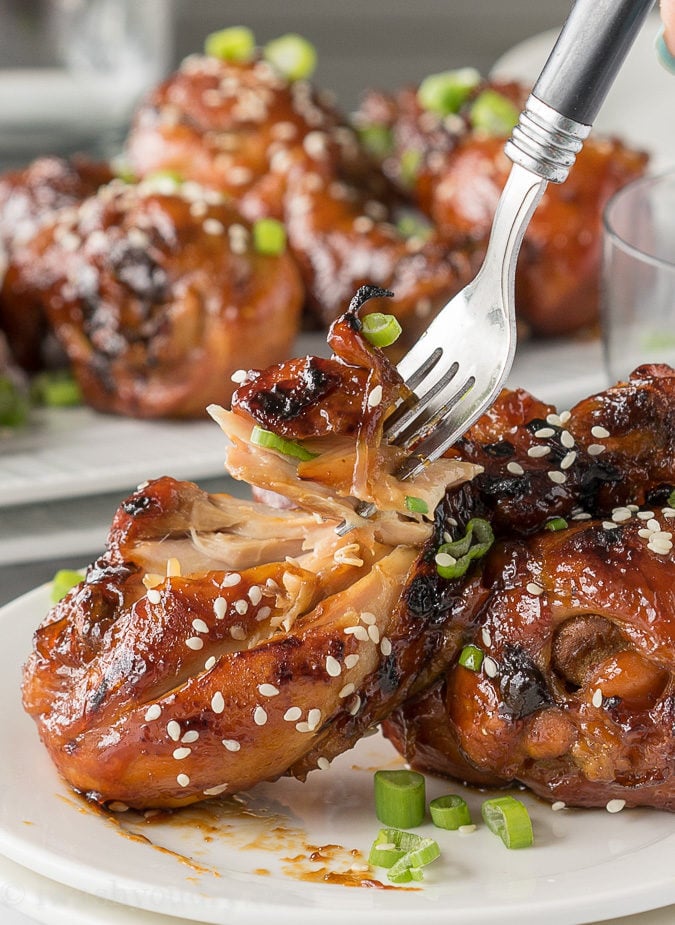 But please, for the love of Pete, just make sure you wash your hands after handling raw chicken!! 😉
Make sure you don't miss a thing! Follow I Wash You Dry here:
FACEBOOK | PINTEREST | GOOGLE+ | TWITTER | INSTAGRAM | BLOGLOVIN
Slow Cooker Teriyaki Chicken
Ingredients
3 lbs. chicken drumsticks*
1 cup brown sugar
1 cup soy sauce
1/4 cup dry sherry (or chicken broth)
1 tbsp honey
2 tsp ground ginger
1 tsp garlic powder
1 tsp onion powder
2 tbsp corn starch

Garnish:

sesame seeds
sliced green onions
Instructions
Arrange the top rack of the oven to be about 5 inches from the top heating element, preheat oven to broil. Line a baking sheet with foil and lightly spray with non-stick cooking spray.
Arrange the chicken on the baking sheet and broil for 5 minutes on each side. Place the chicken in the slow cooker in an even layer. In a medium bowl whisk together the brown sugar, soy sauce, dry sherry, honey, ginger, garlic powder and onion powder. Pour over the chicken and cook on HIGH for 3 to 4 hours, LOW for 6 to 8 hours. Rotate the chicken halfway through, to make sure all are coated in the sauce.
Once chicken is done turn broiler on again. Place chicken on a foil lined baking sheet in an even layer.
Pour the sauce from the slow cooker into a small pot and bring it to a low boil. In a small dish combine the 2 tbsp corn starch and 2 tbsp water, stirring until smooth. Pour into the sauce in the pot and stir until sauce thickens. Brush the chicken with the sauce and broil for 2 minutes, flip chicken, brush with more sauce, and broil an additional 2 minutes.
Sprinkle with sesame seeds and sliced green onions for garnish. Enjoy!
Notes
*Feel free to substitute any type of chicken you would like! Chicken breast, chicken thighs, wings, etc.
7.6.4
1414
https://www.iwashyoudry.com/slow-cooker-teriyaki-chicken/
The following two tabs change content below.
Shawn is the Owner and Creator of I Wash You Dry. She loves to create and share simple, family-friendly recipes with a bit of life sprinkled in. Mom to 4 adorable children and dwells in the desert of Southern Utah.