If you're anything like me, you're constantly looking for ways to cook outside of the box when it comes to Thanksgiving.
Sure, there's the classic Sweet Potato Casserole (prepared in the crock pot…of course), but sometimes… do you ever just want to mix things up a bit? Throw caution to the wind?!
A few years ago I decided to do just that. I was in charge of bringing a the sweet potatoes to Thanksgiving dinner, so I made a classic sweet potato casserole, but I also wanted something that wasn't full of brown sugar and marshmallows. Something savory, yet simple. A dish that let the sweet potato shine in their natural beauty.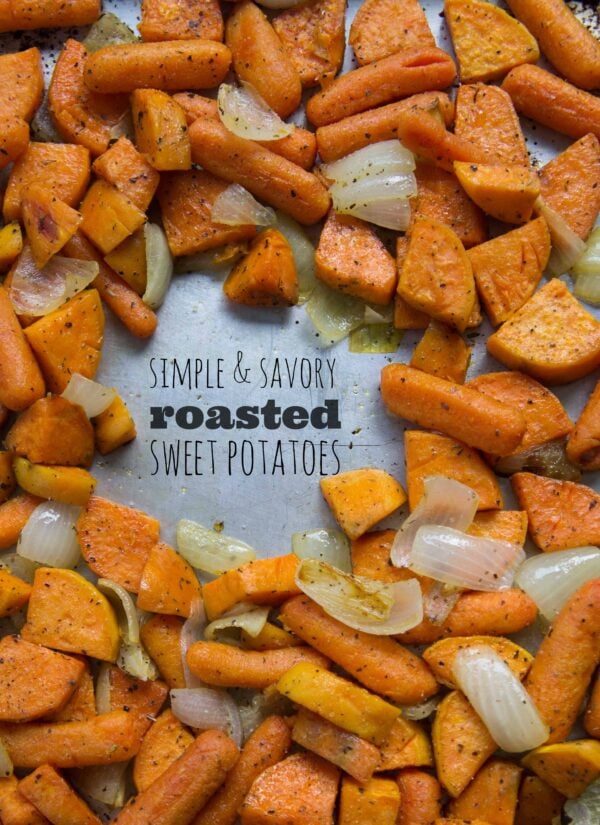 I made these Simple and Savory Roasted Sweet Potatoes and Carrots to take in addition to the casserole (you gotta please everyone). It was a success, and these savory little bites have been a favorite of mine ever since.

MY OTHER RECIPES
The natural sweetness of the sweet potatoes and carrots are heightened when they are roasted at a high temperature. So while you do have a bit of sweetness, the olive oil and seasonings bring everything into balance.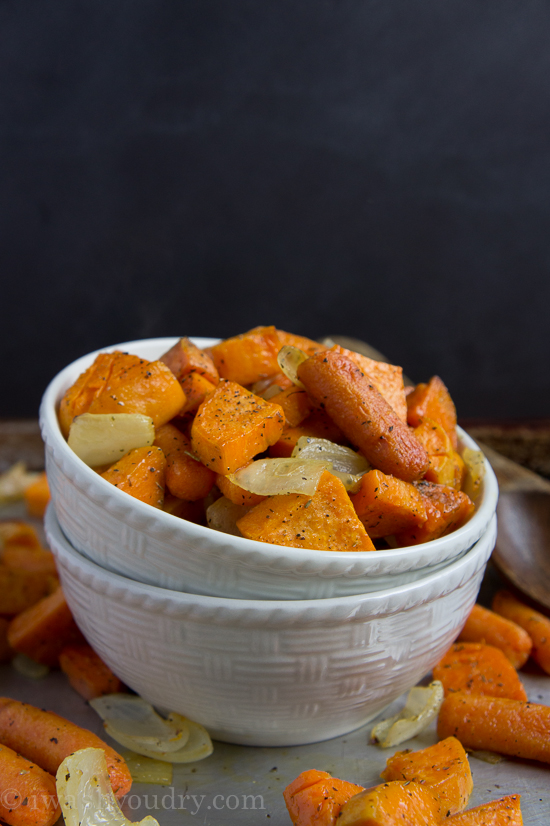 Even my kids (all four of them) love this savory side dish. It's quick and easy especially since I just use baby carrots. All I have to do is peel a sweet potato, chop up an onion and toss everything in a bowl.
These roasted sweet potatoes go great with any meal, not just turkey!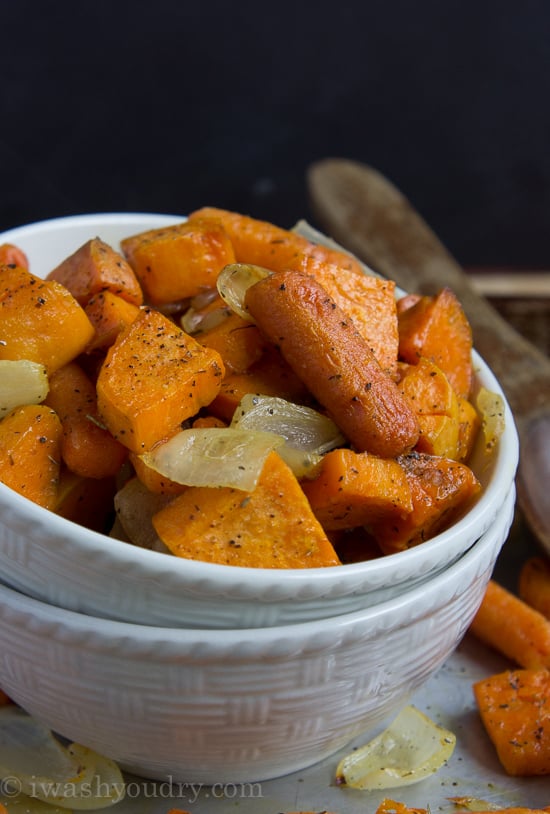 So if you're looking to switch things up a bit this year, give this simple and savory roasted sweet potato side dish a try. You won't be disappointed.
Yields serves 4-6 people
Simple and Savory Roasted Sweet Potatoes and Carrots
Ingredients
2 large sweet potatoes, peeled and cut into equal size pieces (about 3 cups)
3 cups baby carrots
1 large onion, peeled and cut into 1 inch pieces
1 tbsp olive oil
1 tsp dry Italian Seasoning
salt and pepper to taste
Instructions
Preheat oven to 425 degrees F.
Combine the sweet potatoes, carrots and onions in a large bowl. Drizzle with the olive oil, adding more if necessary to lightly coat, sprinkle with the seasonings and salt and pepper. Toss to coat.
Spread into an even layer on a lightly greased baking sheet.
Roast for 25-30 minutes, turning halfway through. Vegetables should be soft and lightly browned when done.
Season with additional salt and pepper if desired. Serve hot.
7.6.5
894
https://www.iwashyoudry.com/simple-savory-roasted-sweet-potatoes-carrots/
The following two tabs change content below.
Shawn is the Owner and Creator of I Wash You Dry. She loves to create and share simple, family-friendly recipes with a bit of life sprinkled in. Mom to 4 adorable children and dwells in the desert of Southern Utah.