I'm so incredibly in love with peppermint right now.
You may have noticed from my Peppermint Fudge and my Peppermint Bark recipes…
Well here's another jolly recipe to add to your ever-growing baking list this season!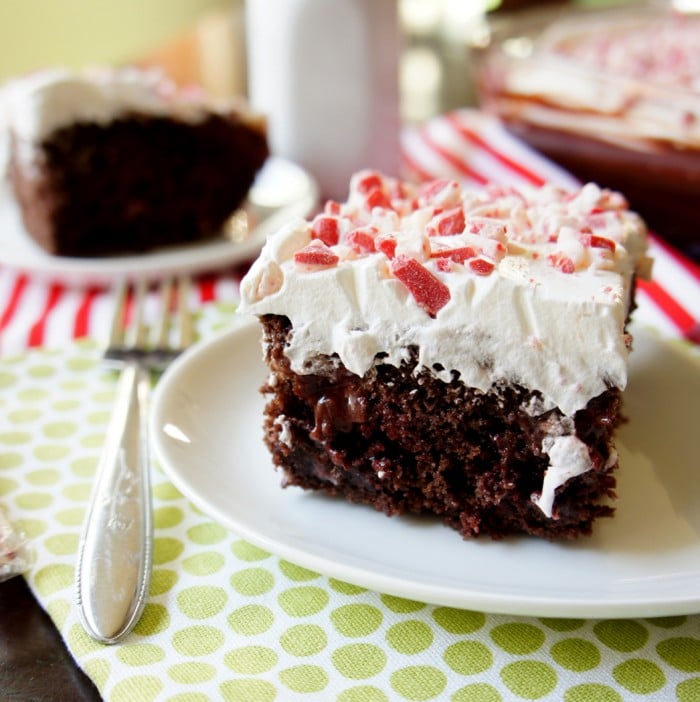 And as much as I love peppermint… I completely HATE candy canes.

MY OTHER RECIPES
It has nothing to do with their delightful flavor and all to do with their ability to turn a clean child into a dirt magnet.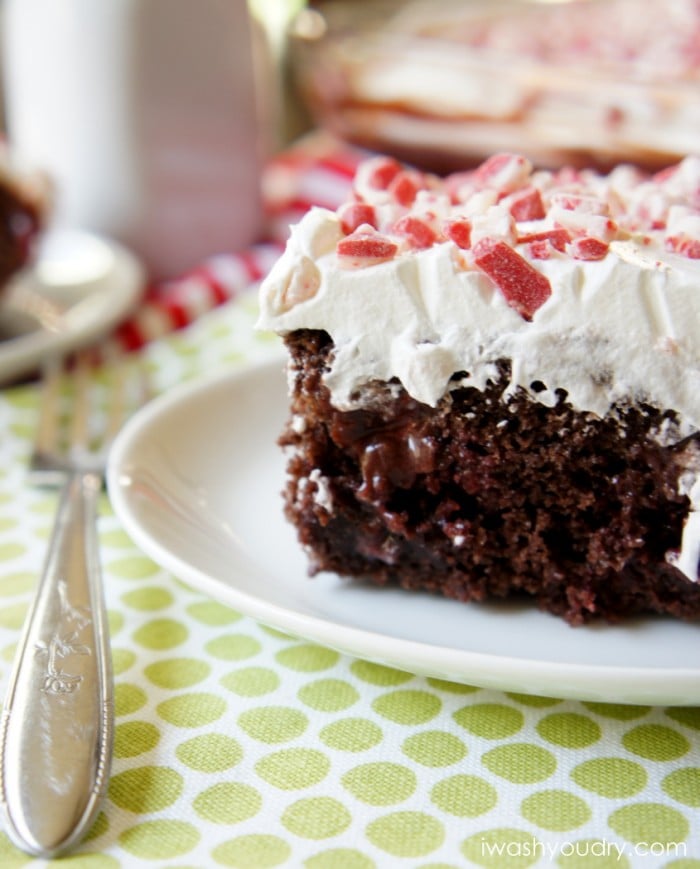 As soon as you let them have one, it's sure to end up stuck to the back of the chair or in their sister's hair. Their fingers get ridiculously sticky and little finger prints end up on everything they touch.
And they touch e-v-e-r-y-thing.
I'm pretty sure my kids think it's a contest to see who can make the biggest mess.
But to avoid being labeled a Grinch, I give in and let my kids get sticky fingers and ratty hair.
Tis the Season!
This Peppermint Poke Cake is perfect for avoiding sticky fingers and enjoying that delightful peppermint taste. It's a rich chocolate fudge cake that is filled with chocolate peppermint pudding, then topped with whip cream and more peppermint chips. It will only leave you craving a big glass of milk, and help you forget all about "little miss sticky fingers" over there.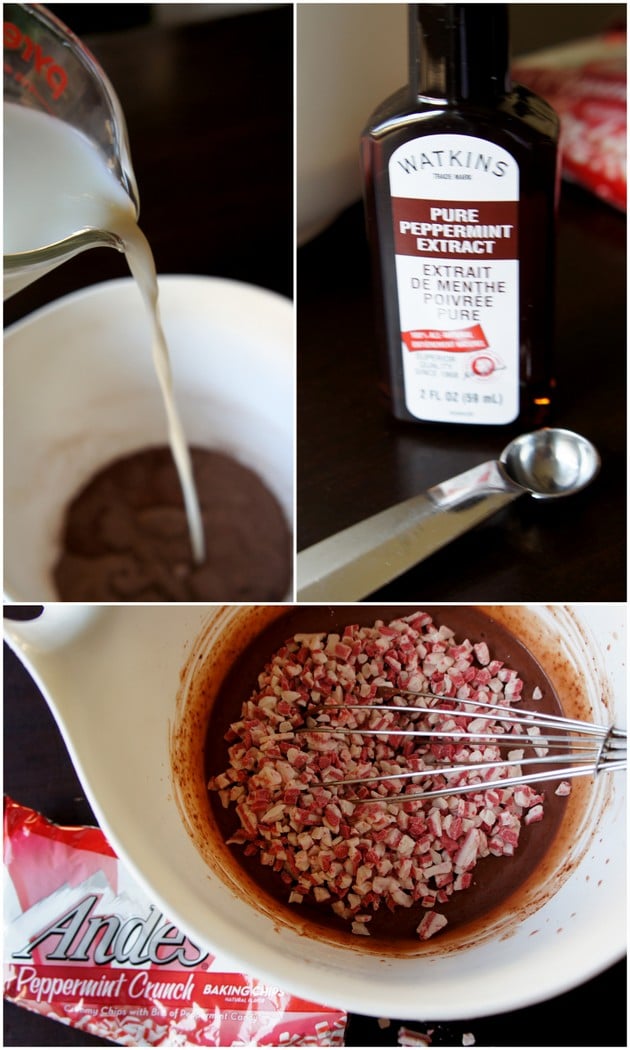 This is so easy it's fail proof. You start with a box mix of Chocolate Cake and bake it according to package directions.
Then mix up some instant chocolate pudding with a little peppermint extract and a cup of Ande's Peppermint Crunch Baking Chips.

Use the handle of a wooden spoon to poke holes all over the warm cake and then pour the pudding mixture on top of the cake. Spread it around and push it into the little holes you created.
Refrigerate it until it's chilled completely, top it with some cool whip and more of the peppermint chips!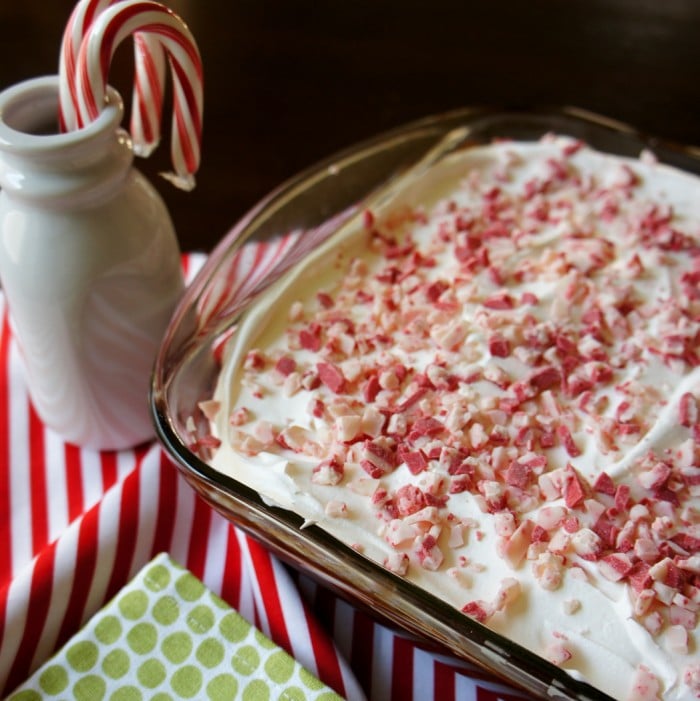 The pudding filled holes make this one super moist cake. It's infused with peppermint and chocolate, which is absolutely heavenly.
It's a super easy cake to make and bring to a pot luck or for having a holiday party at home.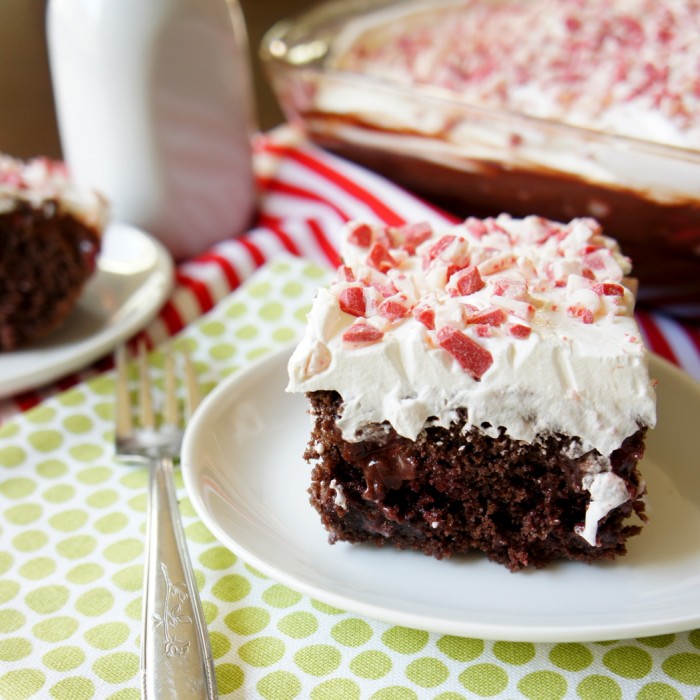 Leave the sticky fingers to the kids.
Yields Serves 12
Peppermint Poke Cake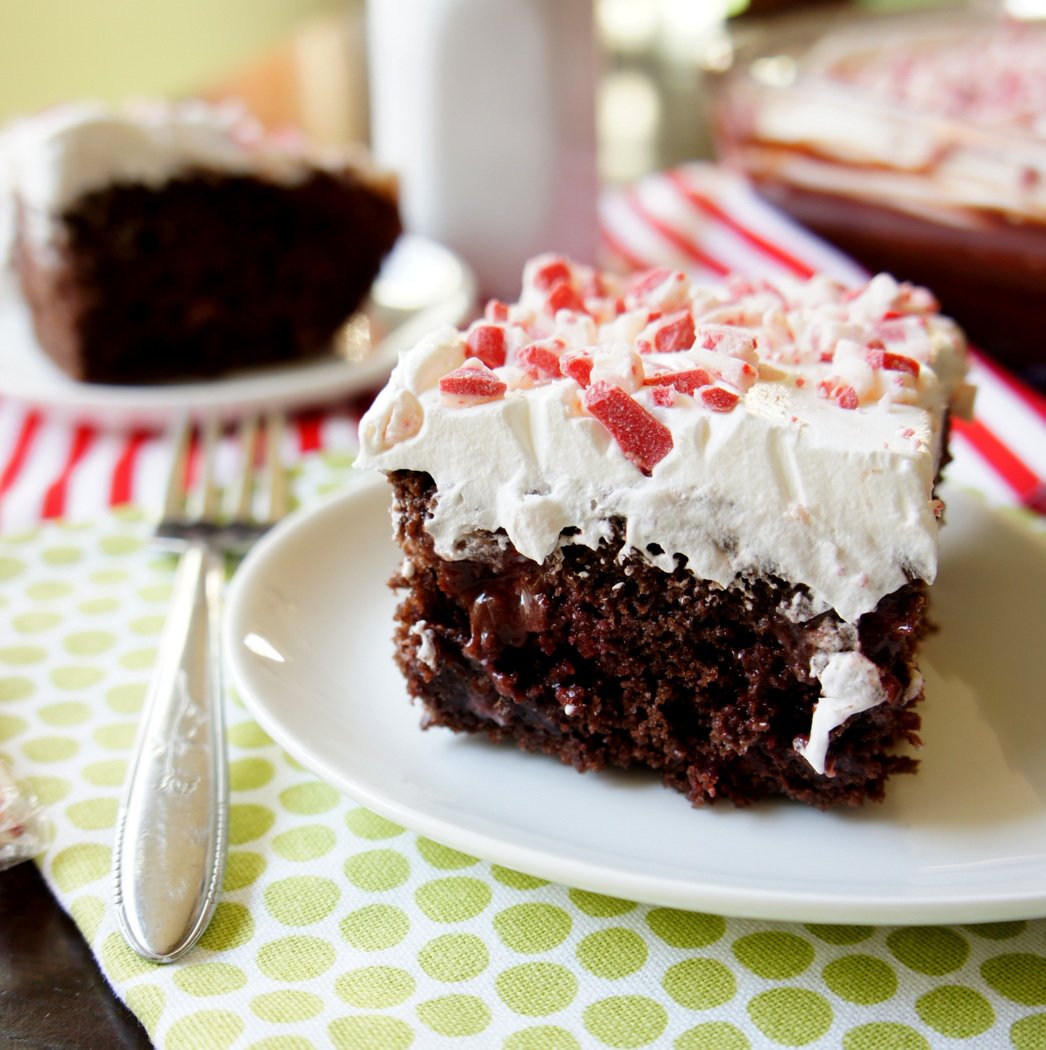 Ingredients
1 Chocolate Fudge Box Cake Mix
*ingredients needed to make cake mix (eggs, oil, water)
1.4 oz package of Instant Chocolate Pudding Mix
2 cup cold milk
1/4 tsp Peppermint Extract
2 cups Andes Peppermint Crunch Baking Chips, divided
8 oz container of Cool Whip
Instructions
Prepare cake according to box instructions in a 9x13" pan.
Right before cake comes out of the oven prepare the pudding by adding the chocolate pudding mix, milk, and peppermint extract in a large bowl. Whisk to combine (2 minutes). Add 1 cup of the peppermint crunch baking chips and stir together.
After cake comes out of the oven use the back of a wooden spoon to poke holes all over the cake.
Pour the pudding mix over the warm cake and use a rubber spatula to spread it evenly over the cake, making sure to get the pudding into the holes.
Refrigerate until chilled completely (about 1 hour).
Top evenly with Cool Whip and sprinkle with the remaining 1 cup of Peppermint Chips.
Enjoy!
7.6.5
772
https://www.iwashyoudry.com/peppermint-poke-cake/
The following two tabs change content below.
Shawn is the Owner and Creator of I Wash You Dry. She loves to create and share simple, family-friendly recipes with a bit of life sprinkled in. Mom to 4 adorable children and dwells in the desert of Southern Utah.