I must have a thing for peanut butter and chocolate creations because they come out of my kitchen frequently.
This Peanut Butter Pudding with Chocolate Whip Cream was created out of necessity.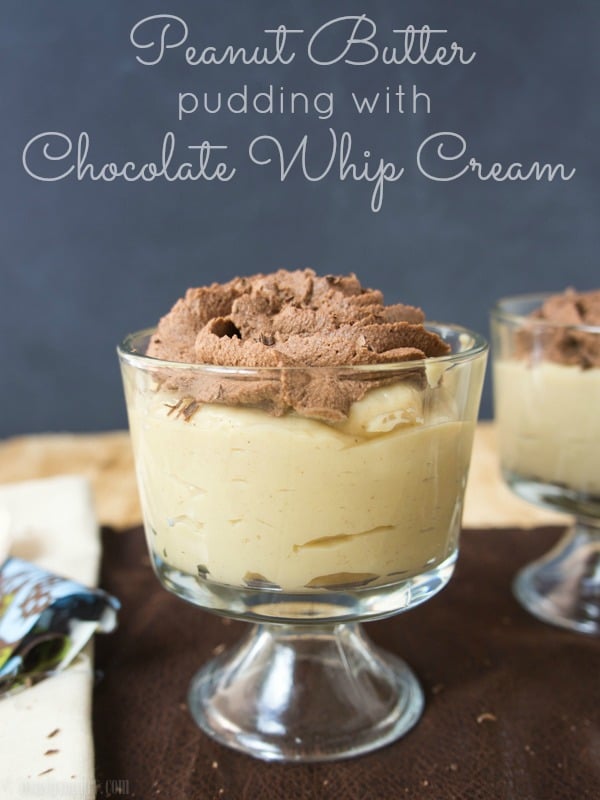 I've been trying my best to "eat clean" these last couple weeks, and I've been doing great. One morning I made an egg white breakfast wrap and had 4 egg yolks left over. I decided my family deserved a decadent dessert for putting up with our new lifestyle changes.
I scoured the web, and came across this handy website that had a slew of recipes for egg yolks. I settled on making some pudding since my kids love pudding.

MY OTHER RECIPES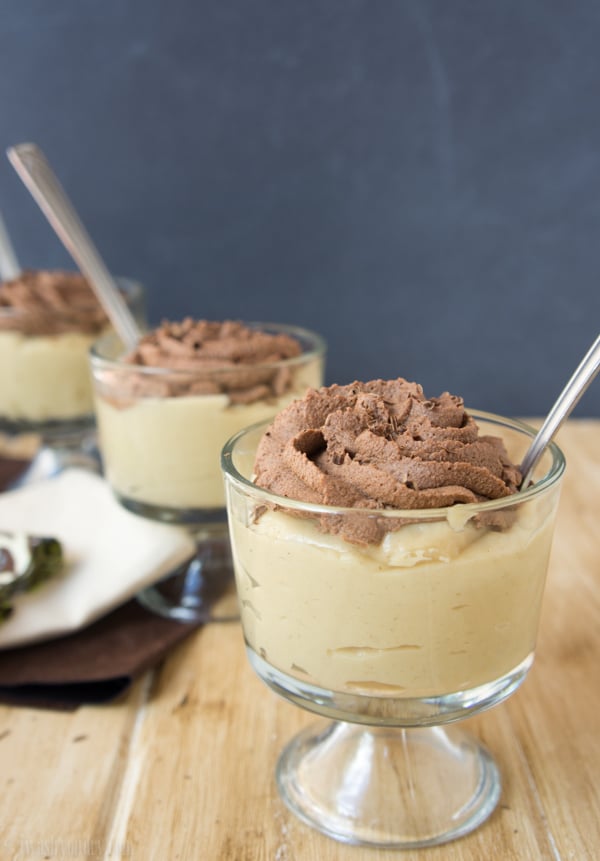 I had never made pudding from scratch before, but it didn't look too difficult so I gave it a try. Turns out, making pudding from scratch is super simple and extremely tasty!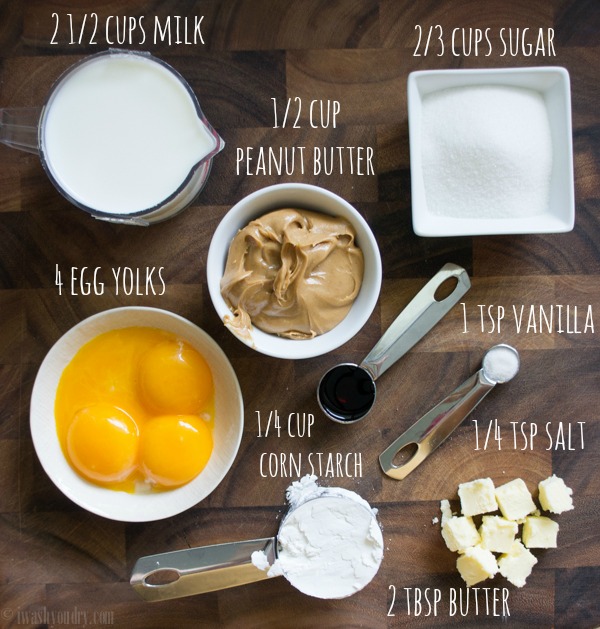 While I was making this pudding, a guy happened to be removing a broken down shed from my backyard. There is a rather large window in my kitchen looking right out into my backyard and every time he walked by the window it felt completely awkward.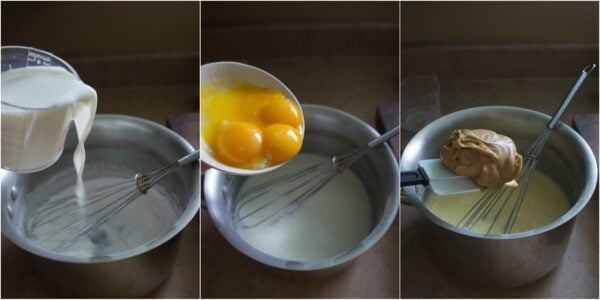 I mean, it's completely natural to me to have a camera in my kitchen so I can take pictures of me pouring milk, eggs, and peanut butter into a pan…
But I can only assume this guy thinks I have a few screws loose.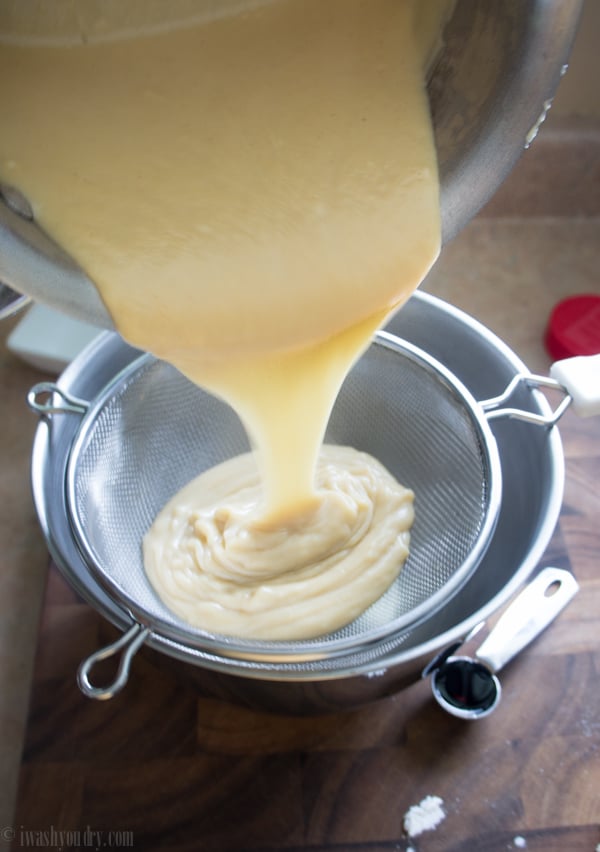 I'm sure it's not everyday he sees someone create a whole display, complete with wooden planks, poster boards, and three different cloth napkins just to take some pictures of pudding.
So clearly, I sacrificed my appearance of being a sane and normal pudding eating woman for you.
You can thank me later.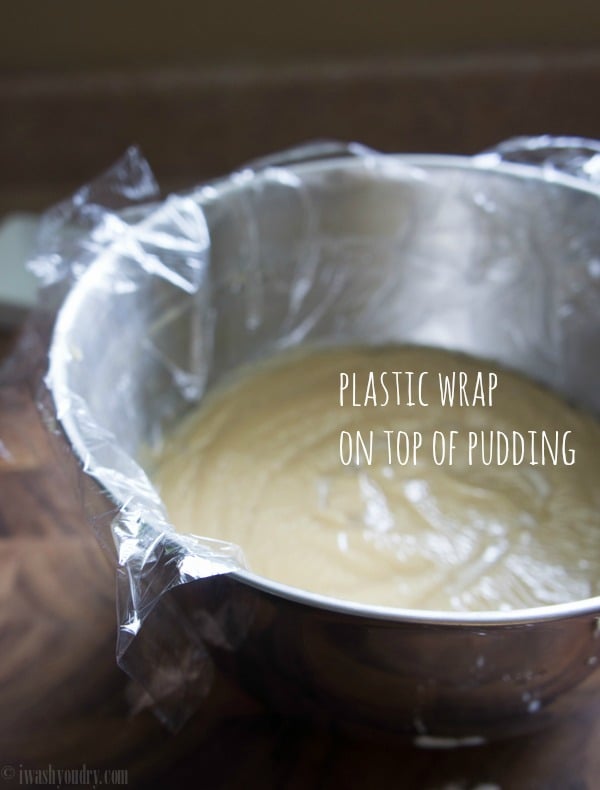 If you've ever made pudding from scratch before you might be aware that a thick layer (or crust) can form on the top when it's chilling in the fridge. To avoid the crusted pudding, put the plastic wrap right on top of the warm pudding before you place it in the fridge.
Just before the pudding is done chilling, whip up some Chocolate Whip Cream.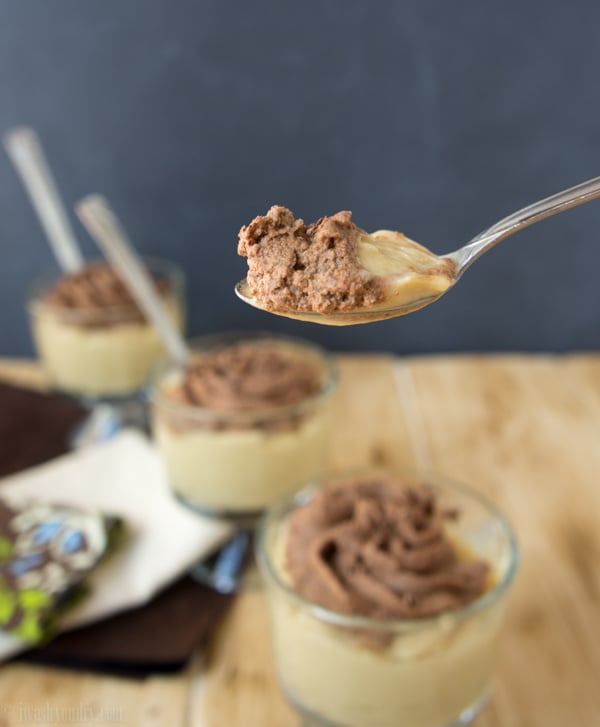 I kid you not, this Peanut Butter Pudding with Chocolate Whip Cream tastes like a Reese's Peanut Butter Cup in pudding form.
It's insane delicious.
The pudding is smooth, creamy, and ultra rich with a perfectly nutty balance to it. The chocolate whip cream is a simple two ingredient recipe that is light, fluffy, and pairs perfectly with the peanut butter pudding.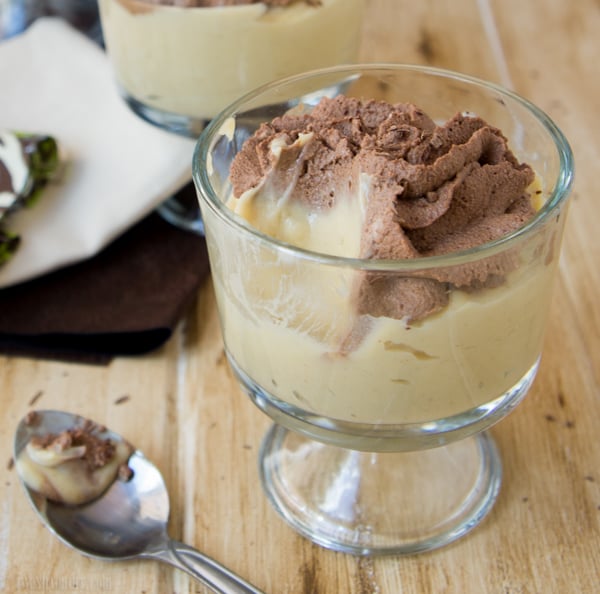 It's a match made in "Peanut Butter & Chocolate" heaven.
Recipe adapted from Martha Stewart
Peanut Butter Pudding with Chocolate Whip Cream
10 minPrep Time
20 minCook Time
3 hr, 30 Total Time
Ingredients
2/3 cups sugar
1/4 cup corn starch
1/4 tsp salt
2 1/2 cups milk
4 large egg yolks
1/2 cup creamy peanut butter
2 tbsp butter, cut into pieces
1 tsp vanilla

For Chocolate Whip Cream

1/2 cup semi-sweet chocolate chip morsels
1 cup heavy whipping cream
Instructions
Place a fine-mesh strainer over a medium size bowl and set aside.
In a medium pot, off of the heat, whisk together the sugar, corn starch, and salt. Gradually whisk in the milk, making sure to break up any clumps of corn starch. Whisk in the egg yolks, then whisk in the peanut butter. The peanut butter might not break down all the way yet, but it will over the heat.
Whisking constantly, cook the pudding over medium heat until the first large bubble forms (approximately 8-10 minutes). Reduce the heat to low, still whisking, and continue to cook for an additional minute. Remove from heat and immediately pour through the fine-mesh strainer. Stir in the butter and vanilla into the hot pudding.
Place plastic wrap directly on top of the pudding, then chill in the fridge for at least 3 hours. Whisk again before serving.

For the Chocolate Whip Cream

Prepare the chocolate whip cream by placing the chocolate chips in a metal bowl, then set it aside. In a small saucepan, heat the cream until bubbles start to form around the outer edge. Pour the hot cream over the chocolate chips and let sit for 5 minutes. Whisk until smooth, then chill in the fridge for 10 minutes. Whip with an electric mixer until stiff peaks form. Place on top of the peanut butter pudding and enjoy!
7.6.4
819
https://www.iwashyoudry.com/peanut-butter-pudding-with-chocolate-whip-cream/
The following two tabs change content below.
Shawn is the Owner and Creator of I Wash You Dry. She loves to create and share simple, family-friendly recipes with a bit of life sprinkled in. Mom to 4 adorable children and dwells in the desert of Southern Utah.