Did you know that October is National Popcorn Month?
Yeah, pretty sweet right!? I thought I would come up with a fun popcorn treat to share with you for this month long celebration.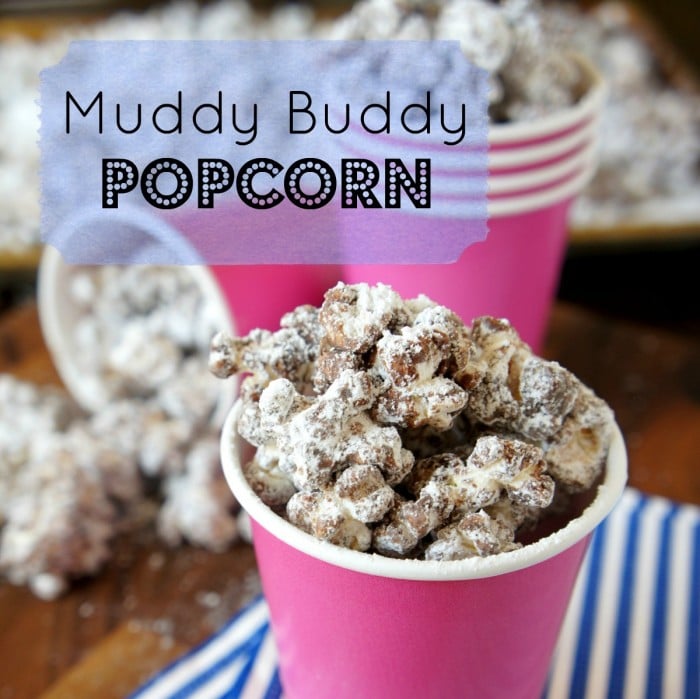 Who doesn't love Muddy Buddies?! It's the combination of creamy peanut butter and melty chocolate drizzled all over Chex cereal, then coated with a nice helping of powdered sugar.
Well this is National Popcorn Month, not National Cereal Month…so obviously we have to coat some popcorn in peanut butter, chocolate and powdered sugar!

MY OTHER RECIPES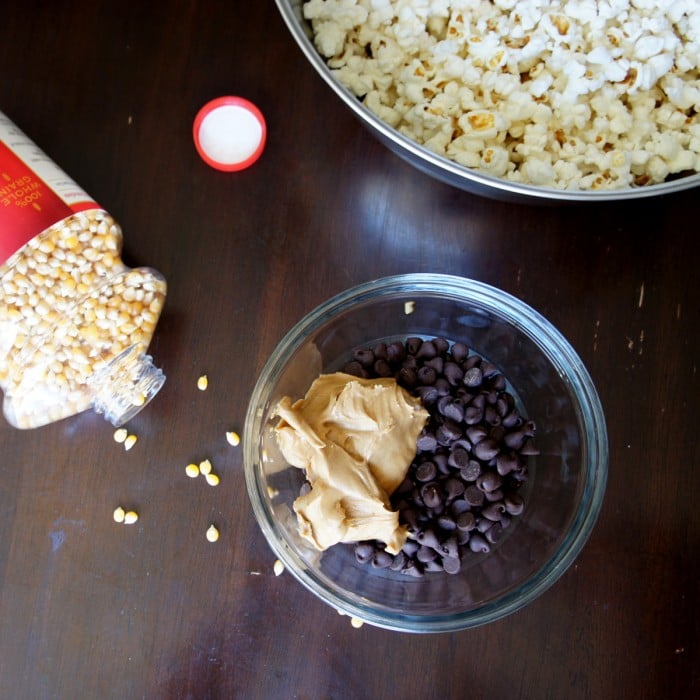 This is some really addictive stuff right here.
Before you know it, your fingers and face will be coated in powdered sugar from the uncontrollable urge to stuff your face with this chocolaty goodness.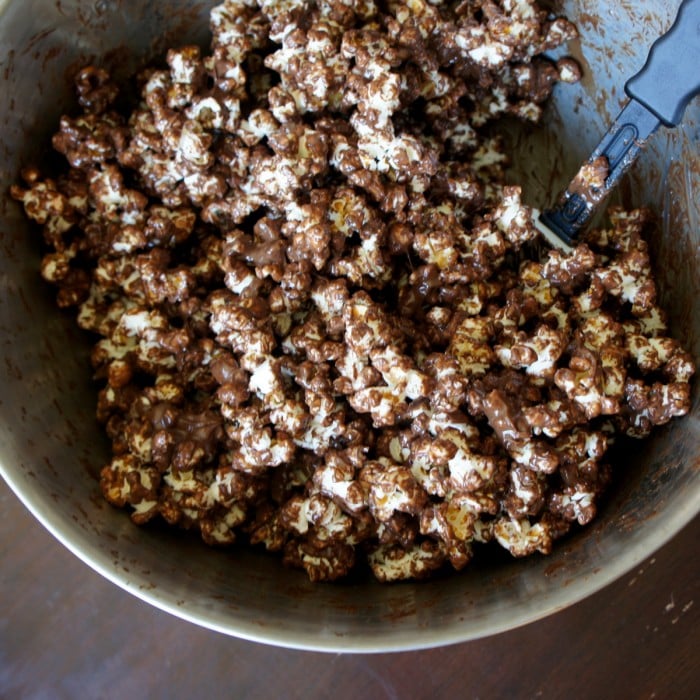 Pop 1/2 cup of popcorn kernels in 3 tbsp of oil. I use coconut oil cause it's so much lighter tasting and better for you.
In a separate bowl combine some chocolate chips and peanut butter. Microwave for a minute then stir until smooth. Add a little vanilla and stir that in too.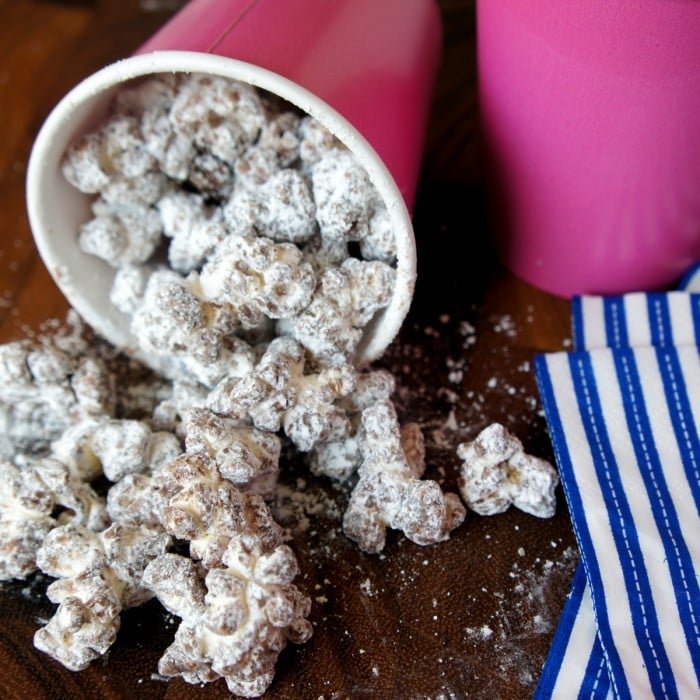 Drizzle the chocolate mixture over the popcorn and gently stir to coat evenly.
Place a third of the popcorn in a gallon zip-close bag and add 1 cup of powdered sugar. Zip it closed and shake to coat the popcorn with the powdered sugar. Spread the coated popcorn out on some wax paper to cool, then repeat the process for the remaining popcorn.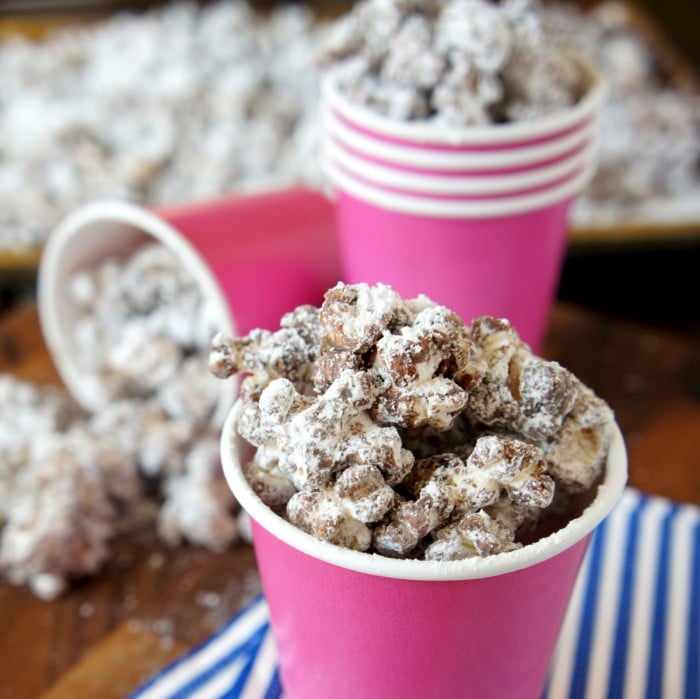 I'm sure you will love it just as much as I do! 🙂
Ingredients
1/2 cup popcorn kernels
3 tbsp Coconut Oil
1 cup chocolate chips
1/2 cup creamy peanut butter
1 tsp vanilla extract
3 cups powdered sugar
Instructions
Place oil and popcorn kernels in the bottom of a heavy bottomed pan and turn the heat to medium-high. Cover with a lid, but leave it open slightly to allow steam to escape. Once the popping of the kernels has stopped remove pan from heat and pour popcorn into a large bowl.
In a separate bowl combine the chocolate chips and peanut butter. Microwave for 1 minute, remove from microwave and stir. Microwave an additional 20 seconds and stir again. Keep doing this until the chocolate and peanut butter are smooth and creamy. Stir in the vanilla.
Pour the chocolate mixture over the popcorn and stir gently to coat.
Pour 1/3 of the popcorn into a gallon sized zipclose bag and pour in 1 cup of the powdered sugar. Shake gently to coat all the popcorn. Pour onto a sheet of wax paper to cool. Repeat with the remaining popcorn and powdered sugar.
Store in a covered container.
Enjoy!
7.6.4
752
https://www.iwashyoudry.com/muddy-buddy-popcorn/
The following two tabs change content below.
Shawn is the Owner and Creator of I Wash You Dry. She loves to create and share simple, family-friendly recipes with a bit of life sprinkled in. Mom to 4 adorable children and dwells in the desert of Southern Utah.