If you've ever eaten at a Hawaiian restaurant and had their plate lunches, you'll know the greatness of a good Hawaiian Macaroni Salad.
And this one right here is the bomb.
When my husband and I first got married we lived in a tiny townhouse that was within walking distance from a quaint Hawaiian restaurant.
While I was pregnant with my first daughter I would walk the 1/4 mile to indulge in a plate lunch that consisted of chicken katsu and Hawaiian Macaroni Salad. Even after my daughter was born I would still pack her in the stroller and walk to get my fix. We moved shortly after she was born and I had almost forgotten about this epic salad until I recently visited a street cart in Portland last month.

MY OTHER RECIPES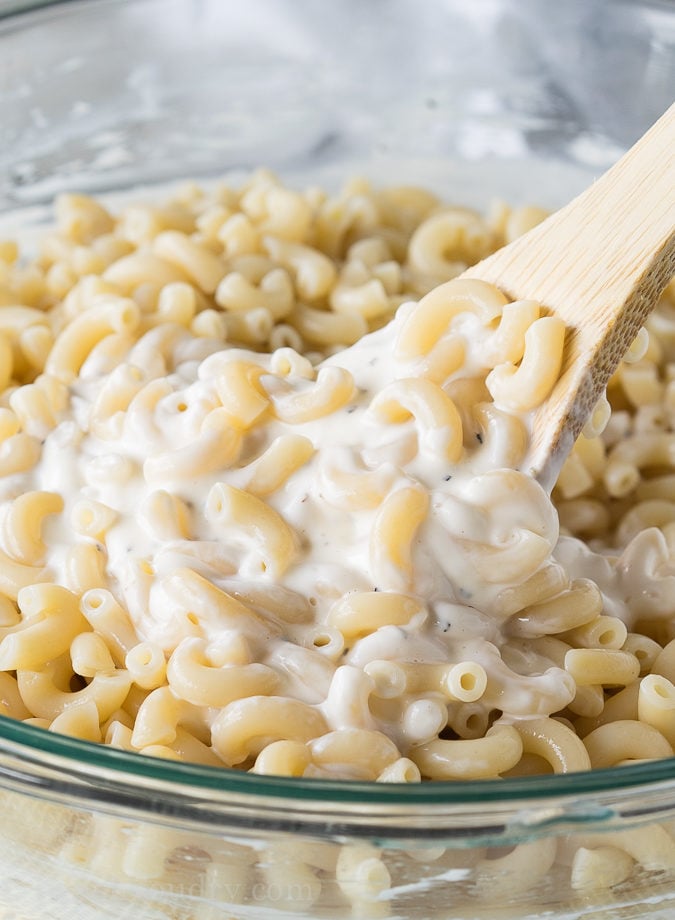 A few of my friends and I were trying all the infamous food carts in the bustling city of Portland when we spotted a cart that boasted a really long line.
Of course we had to check it out. To my surprise (and delight) it was a Hawaiian food truck! We waited for what seemed like hours to get a hot plate lunch with a cool and creamy macaroni salad.
I was instantly transported back to the early days of my married life. As soon as I got back home from my trip I knew instantly I needed to fine tune a recipe of my own.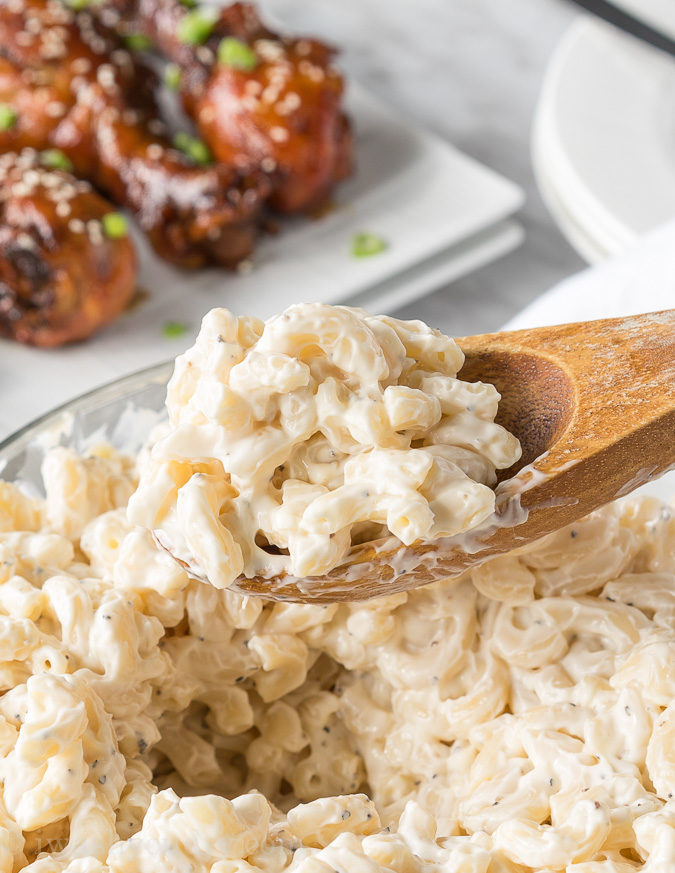 I searched high and low for the key to the BEST dressing, and stumbled upon this gem. The trick to a good Hawaiian Macaroni Salad is to use a really good quality mayo. Best Foods was the top choice (or Hellmann's depending on where you live).
Cook your pasta, then let it soak up some apple cider vinegar before tossing it in the creamy mayo sauce.
Now, the macaroni salad that I had in Portland was suuuuuuper basic, and only consisted of this creamy sauce and a little salt and pepper. The nice thing about a pasta salad like this though, is that you can add in all sorts of additions to the finished product to suit your needs. I love adding in shredded carrots, peas, and sweet onions. Some people enjoy chopped pineapple and cubed ham.
The options are endless, but whatever you choose, you're going to LOVE it!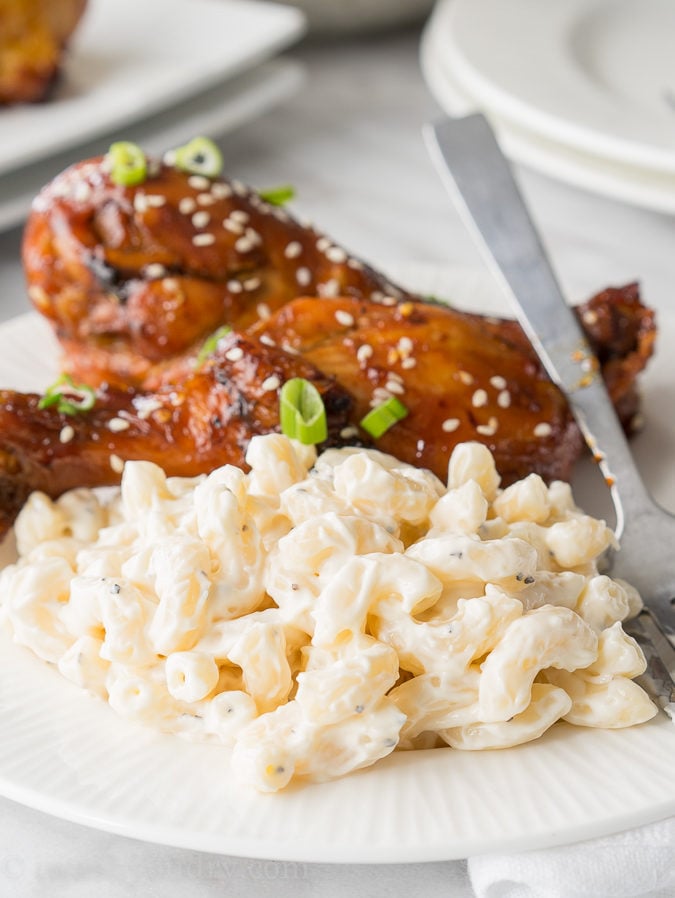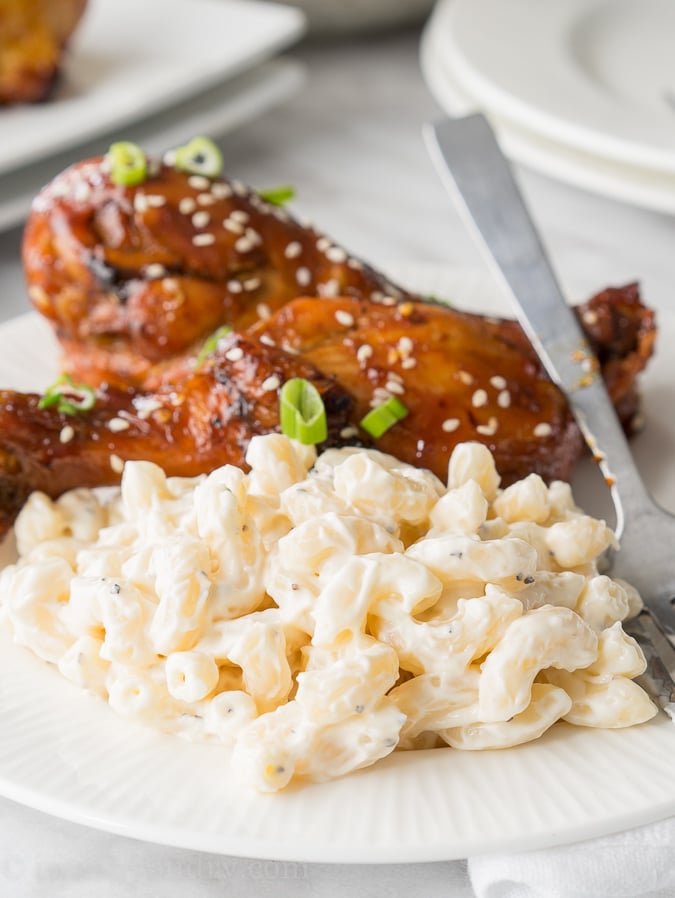 Now I only have to walk to my fridge to enjoy this delicious salad!
Oh and that delicious chicken in the pictures above is my Slow Cooker Teriyaki Chicken, in case you wanted something to go with your salad!
Make sure you don't miss a thing! Follow I Wash You Dry here:
FACEBOOK | PINTEREST | GOOGLE+ | TWITTER | INSTAGRAM | BLOGLOVIN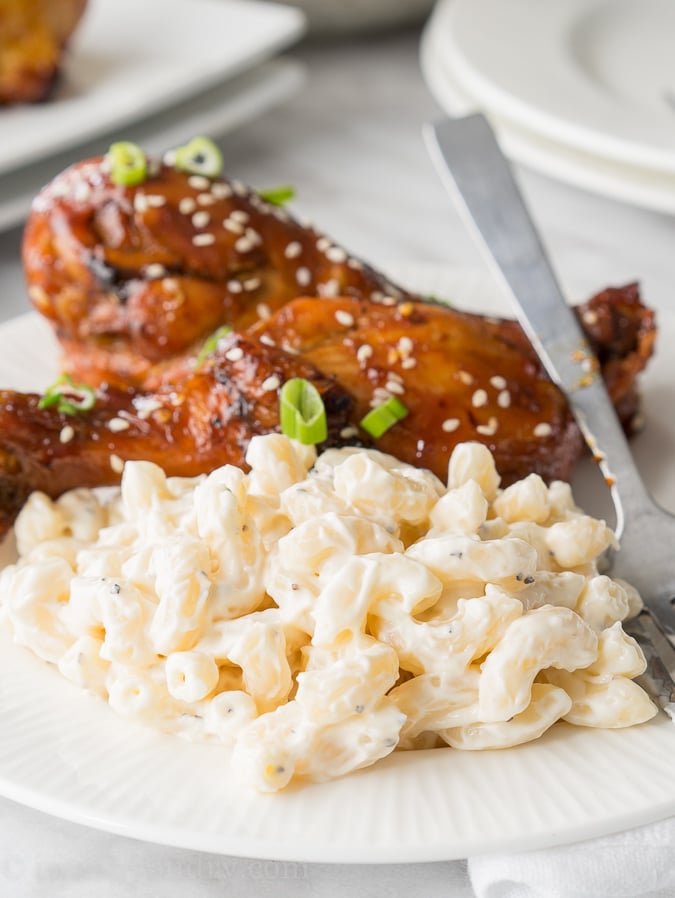 Ingredients
1 lb. uncooked macaroni pasta
4 tbsp apple cider vinegar
2 cups Best Foods Mayo, divided
2 cup milk (2% is best), divided
1 tbsp brown sugar
1 tsp salt
2 tsp black pepper

Optional Add-ins:

thinly sliced sweet onions
diced celery
finely shredded carrots
chopped pineapple bits
peas
hard boiled egg
crumble bacon
cubed ham
Instructions
Cook the pasta according to package instructions and then drain well. Place hot pasta in a large bowl and sprinkle with the apple cider vinegar, stirring to coat. Let the pasta absorb the vinegar and cool for about 10 minutes.
Meanwhile whisk together 1 cup mayo, 1 1/2 cups milk, brown sugar, salt and pepper. Fold the macaroni salad into the dressing, stirring to coat and then let cool completely.
Add the remaining 1/2 cup milk and 1 cup of mayonnaise, along with any additional add-ins you would like, and stir to coat. Cover and refrigerate for at least 1 hour. Stir before serving. Enjoy!
7.6.5
1413
https://www.iwashyoudry.com/hawaiian-macaroni-salad/
The following two tabs change content below.
Shawn is the Owner and Creator of I Wash You Dry. She loves to create and share simple, family-friendly recipes with a bit of life sprinkled in. Mom to 4 adorable children and dwells in the desert of Southern Utah.