I was compensated by Tyson Foods to produce this post.
We're a little more than halfway through January now and some of us have made resolutions and goals for 2014 to live a healthier and more fulfilling life. How are you doing so far? Are you hanging in there?
Maybe you are like me, and need that constant motivation from friends cheering you on and coaches giving you little tips and advice all along the way?
I know that those things really help me stay focused and on track. That's why I'm absolutely in love with the Tyson® Grilled & Ready® "Just Add This" program that's going on right now!


MY OTHER RECIPES
Have you ever heard that it's better to make small changes when you are trying to permanently change your way of doing something? It's true! If you take small, do-able steps you'll see success and be encouraged to continue making more small changes for one big transformation.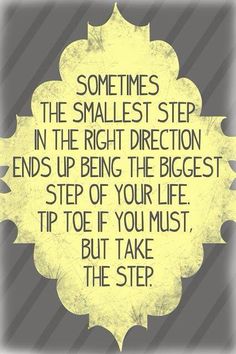 Well, Tyson® Grilled & Ready® has hit the nail on the head with their "Just Add This" program. If you head over to their Facebook page click on the "Just Add This" tab and you'll find a new healthy recipe PLUS tips for ways to take those little steps that make a big difference every single day!
Tips
The tips are anything from 'just add spinach' to my personal favorite, 'just add happiness'. Each day, new and informative ways to make those small changes that will help us reach our long term goals.
Prizes
You know there has to be prizes! You can enter to win weekly prize giveaways, including a Trek® Women's Road Bike, Lululemon® gift card, Kindle FireTM Tablet and more!
Recipes
The recipes are delicious (most under 500 calories) and include the Grilled & Ready® chicken which is 97% fat-free, already cooked and ready for those busy weeknight dinners. It's also available in a space-saving bag for your freezer and offers the same amount of chicken with the same great grilled taste.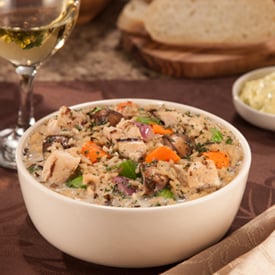 Easy recipes like this Grilled Chicken and Wild Rice Soup. I love comforting soups on a cold evening, and I especially love when I can have a healthy soup that's full on flavor and low in fat and calories.
What are you waiting for?! Get over to the Tyson® Grilled & Ready® Facebook page and get inspired!
Yields serves 6
Grilled Chicken and Wild Rice Soup
recipe provided by Tyson® Grilled & Ready®
10 minPrep Time
20 minCook Time
30 minTotal Time
Ingredients
22 ounces Grilled & Ready® Fully Cooked Frozen Oven Roasted Diced Chicken Breast
1 box long grain and wild rice
1 tablespoon olive oil
8 ounces mushrooms, quartered
1-1/2 cups red onions, chopped
1 cup celery, chopped
1 cup carrot, chopped
2 cloves garlic, minced
1/4 cup flour
1/2 teaspoon dried tarragon
1/4 teaspoon dried thyme
2 cups water
2 cans fat free, low sodium chicken broth, 15.75 ounce cans
12 ounces fat free evaporated milk
Instructions
Prepare rice according to package directions.
While rice is cooking, heat olive oil in a medium-sized sauce pot over medium heat.
Sauté mushrooms for about 3 minutes. Add onions, celery and carrots. Sauté for an additional 5 minutes, or until onions become translucent. Add garlic and continue cooking for 1 minute.
Stir in flour, tarragon, and thyme and cook for 1 minute stirring frequently. Add water, broth and evaporated milk to the pot. Bring mixture to a boil while stirring every other minute.
Reduce heat and simmer for about 10 minutes, or until slightly thick.
Stir in cooked rice and chicken. Cook until heated through.
Notes
Nutrition Facts Calories 370 Total Fat 6 g Protein 35 g Carbohydrate 43 g Cholesterol 85 mg Sodium 880 mg
7.6.4
911
https://www.iwashyoudry.com/grilled-chicken-wild-rice-soup-motivation/
The following two tabs change content below.
Shawn is the Owner and Creator of I Wash You Dry. She loves to create and share simple, family-friendly recipes with a bit of life sprinkled in. Mom to 4 adorable children and dwells in the desert of Southern Utah.