My husband is what I would like to call a "Mac 'n Cheese purist."
Some others might call him a kid…
He likes his macaroni and cheese plain. Sometimes he'll crack some pepper on top and put some ketchup in there… (that's actually pretty good too, when you're in a pinch).
So the other day when I was creating this French Onion Mac and Cheese, he was "for sure not going to have any."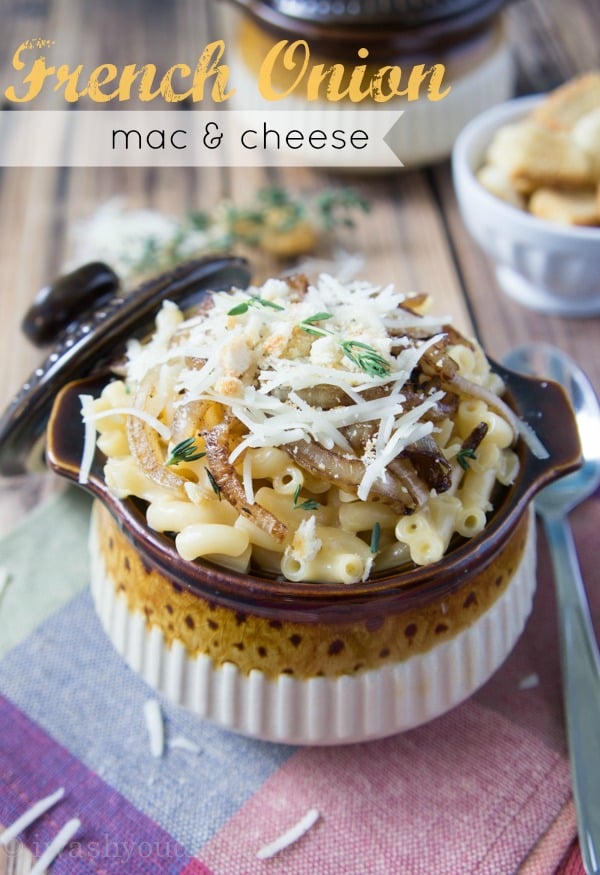 MY OTHER RECIPES
Fine by me! That just means more for yours truly. 🙂
Well, wouldn't you know it… once the French Onion Mac and Cheese was done, I served the kids regular mac (including him and his plain jane mac), I sat down with my creamy bowl of delicious flavors, he glanced down at his bowl of lifeless noodles, back to my appetizing bowl, and quickly asked for some French Onion topping.
Mmm. hmmm.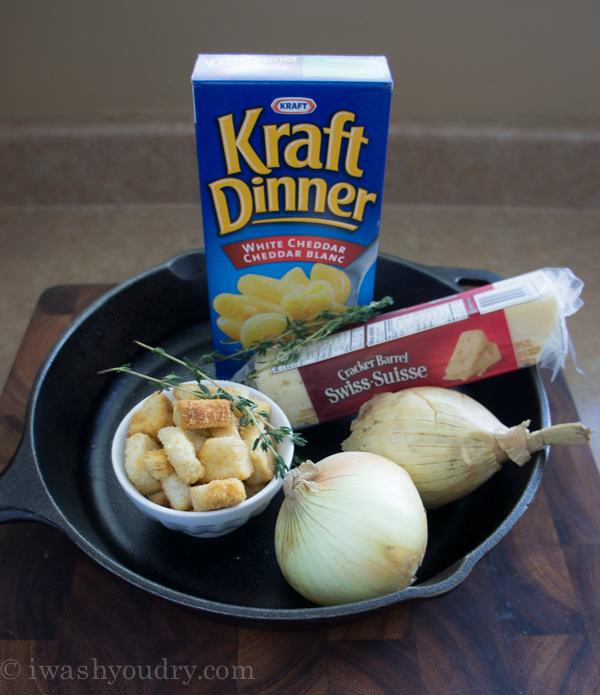 The french onion soup that I always make is simple. Onions (duh), thyme, and beef broth. I took those same components and made a quick and delicious topping that bursts with flavor on top of a bed of mac and cheese.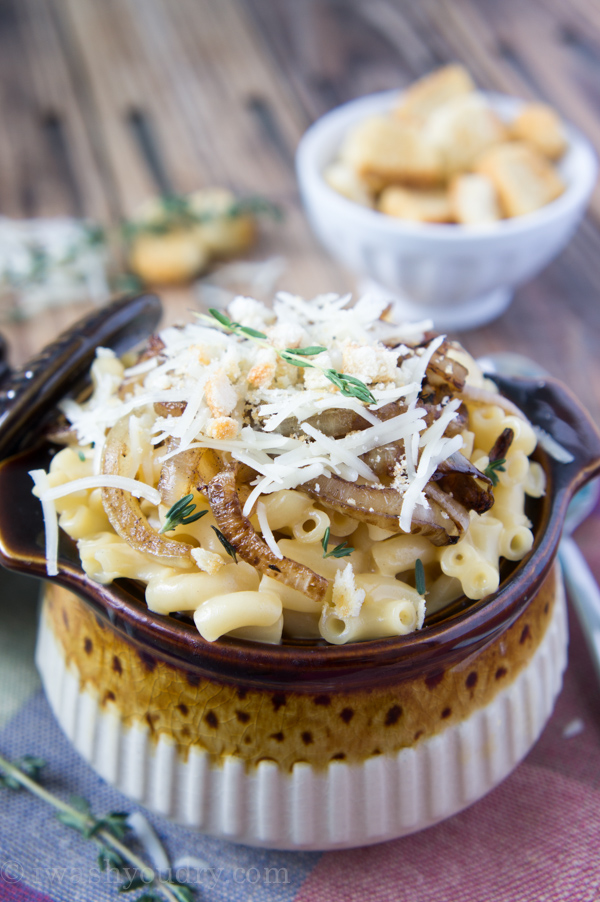 The creamy mac is loaded with sweet caramelized onions that are infused with beef broth and fresh thyme (dried thyme works just as good too). Top it all off with some swiss cheese and a little sprinkle of crushed croutons. The croutons give it a delicious crunch to add some texture to this tasty dish.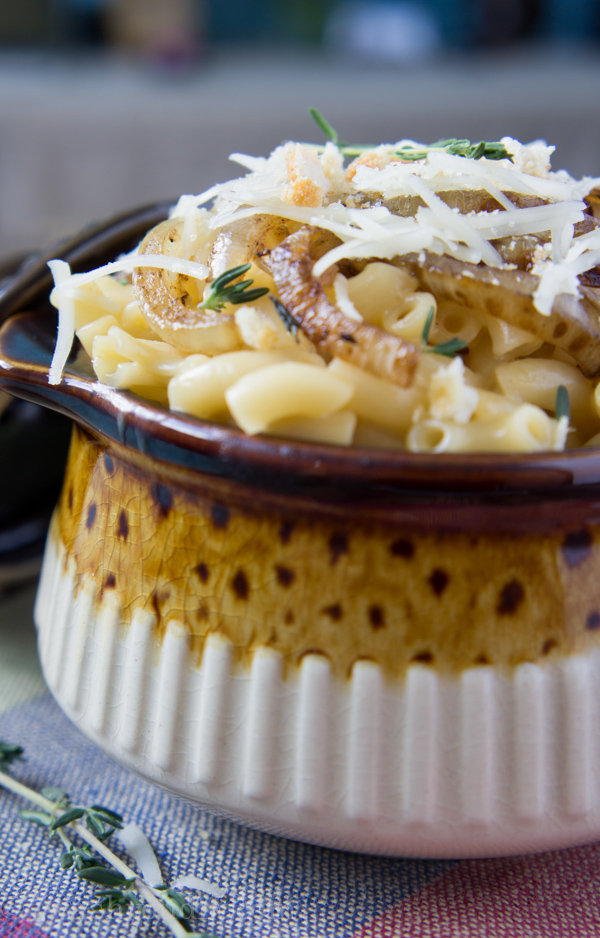 Satisfy your grown up taste buds with this quick and easy French Onion Mac and Cheese.
Oh, and just so you know – my husband LOVED it. 😉
Make sure you don't miss a thing! Follow I Wash You Dry here:
FACEBOOK | PINTEREST | GOOGLE+ | TWITTER | INSTAGRAM | BLOGLOVIN
French Onion Mac and Cheese
Ingredients
White Cheddar Macaroni and Cheese boxed dinner, prepared according to box directions
1 tsp olive oil
1 large onion (or two small ones), halved and sliced to make thin strips
dash of salt
1 tsp fresh thyme (or dried)
1 tbsp beef broth
1/2 cup Swiss cheese, shredded
1/4 cup crushed croutons
Instructions
While the macaroni and cheese is boiling, heat the olive oil in a large skillet over medium high heat.
Add the onion and salt and stir occasionally till the onions start to turn brown and caramelize.
Add the beef broth and thyme, and cook until the broth is absorbed. Top your bowl of prepared mac and cheese with some of the onion mixture, sprinkle with a little swiss cheese and crushed croutons.
Enjoy!
7.6.4
1253
https://www.iwashyoudry.com/french-onion-mac-cheese/
The following two tabs change content below.
Shawn is the Owner and Creator of I Wash You Dry. She loves to create and share simple, family-friendly recipes with a bit of life sprinkled in. Mom to 4 adorable children and dwells in the desert of Southern Utah.