This post is sponsored by the Arizona Milk Producers.
Calling all eggnog lovers!!
I have to admit that I'm not an avid eggnog fan, but I do enjoy it little by little. I have been wanting to make this eggnog ice cream for a few months now. I have been patiently waiting for eggnog season and now that it's finally here, I'm so excited to share this Eggnog Brownie Chunk Ice Cream with you!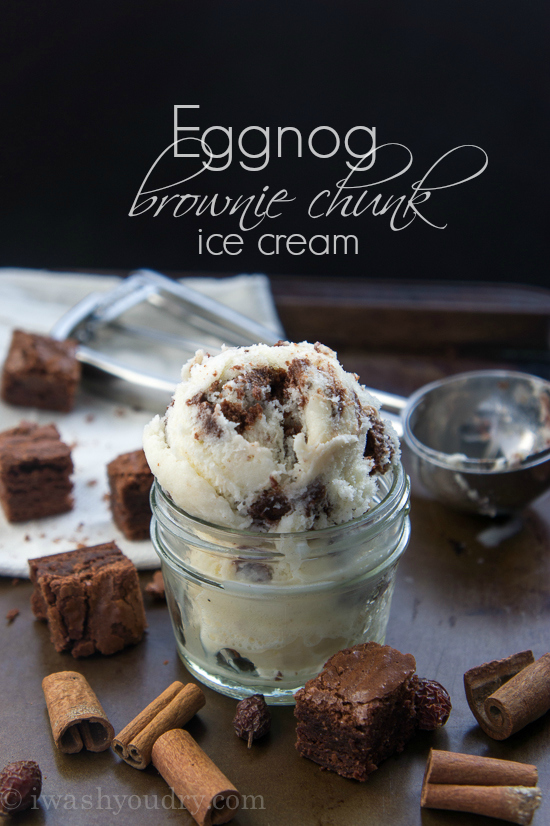 I wanted to make something more than just eggnog ice cream, so I figured adding some brownie chunks to the ice cream would probably take it over the top.

MY OTHER RECIPES
And boy, was I right. This Eggnog Brownie Chunk Ice Cream is beyond delicious. As always it's super easy to make too!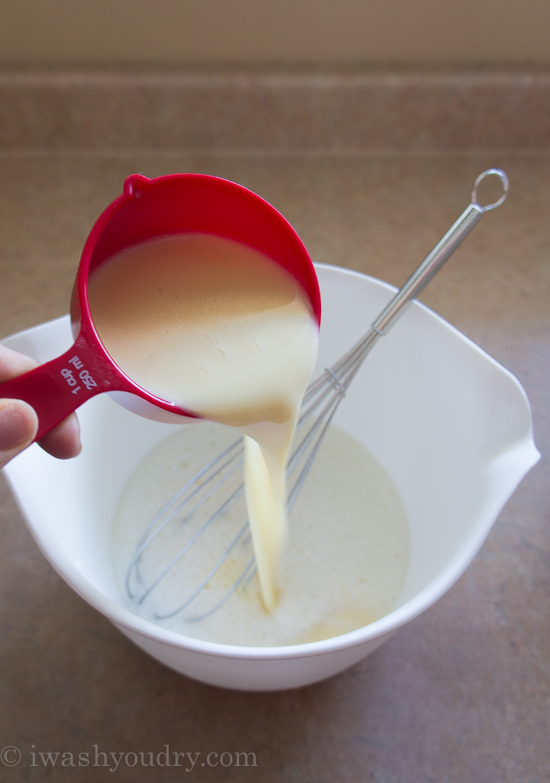 You start by making up a batch of brownies. I just used a box mix that was done in 30 minutes.
Then whisk together some cream and sugar in a large bowl until the sugar is dissolved. Pour in the eggnog goodness with just a dash or two of ground nutmeg.
Add all of that into your ice cream maker, then patiently wait till it's a beautiful soft serve consistency.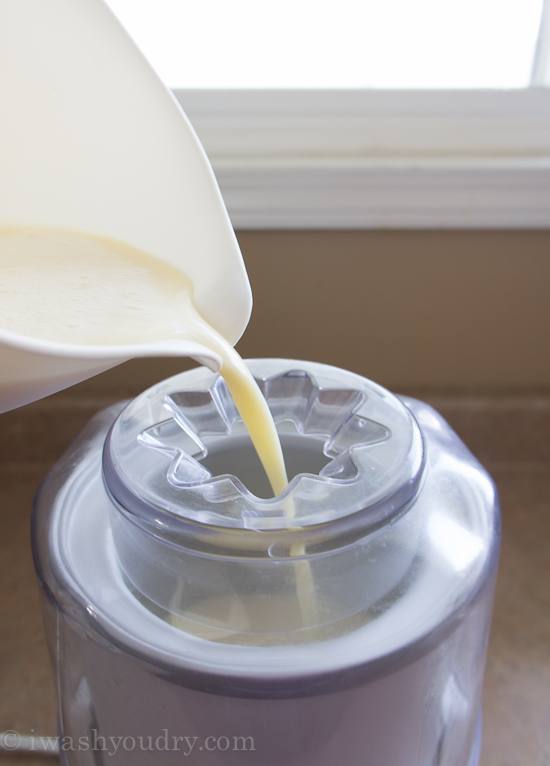 Once it's ready and the brownies are cooled, cut the brownies into little chunks.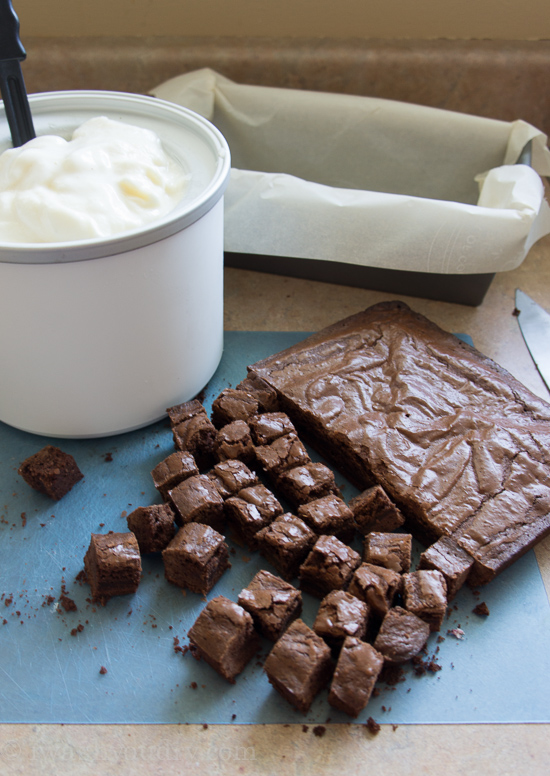 Pour your soft serve ice cream into a large bowl then gently fold in the brownie chunks. I used half of an 8×8 inch pan, and saved the rest of the brownies for later! 🙂
Then just pour your ice cream into a freezer safe container (I use a parchment lined bread loaf pan), and place it in the freezer until it reaches your desired texture.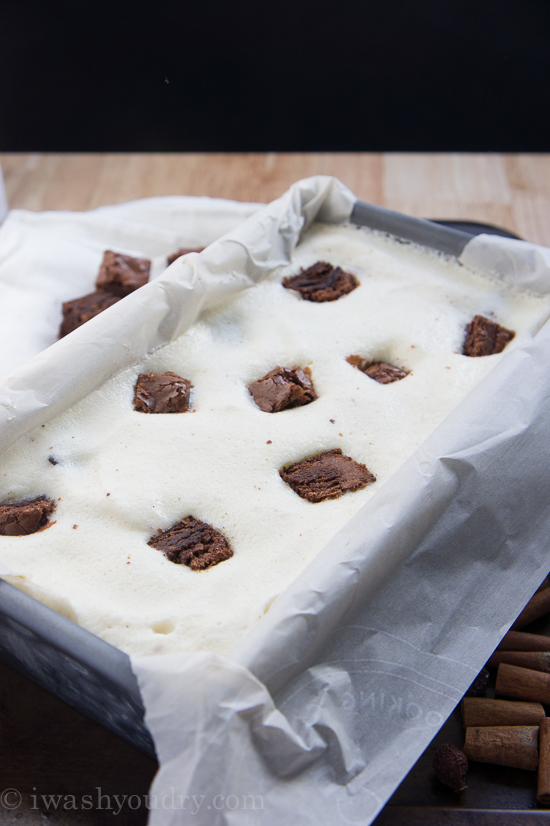 It doesn't hurt to add a few brownie pieces on top too. Just so everyone else is fully aware that brownies chunks are in fact loaded up inside the silky eggnog ice cream.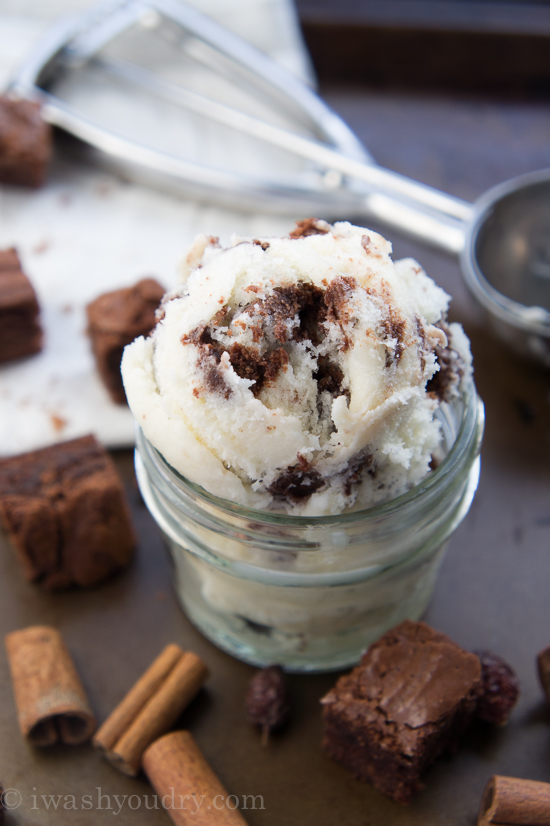 With every scoop you'll get a nice chunk of brownie mixed in.
It's just soooo darn good you guys!!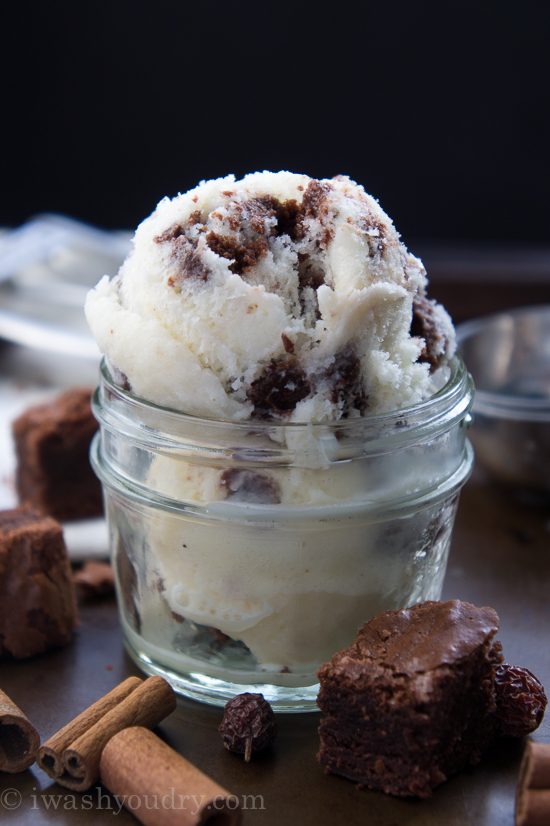 It's never too cold for ice cream.
Never.
Eggnog Brownie Chunk Ice Cream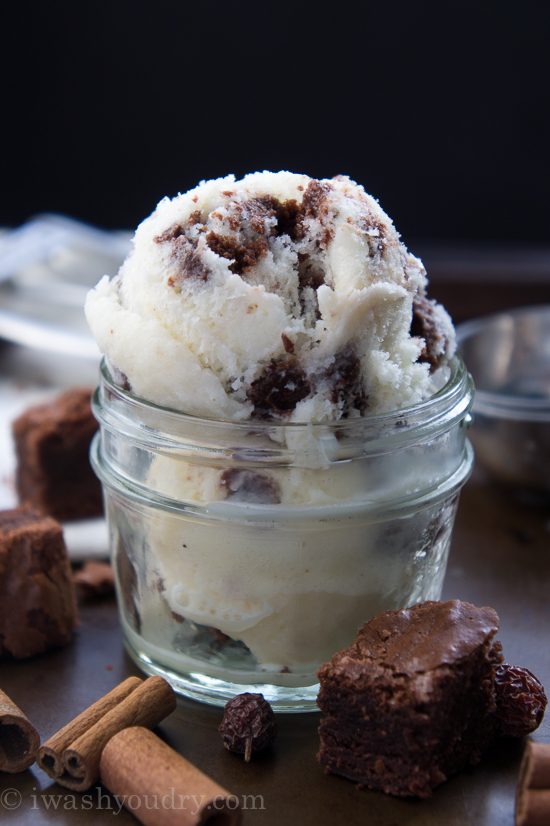 Ingredients
1 box brownie mix for an 8x8 inch pan (plus ingredients required)
1 cup heavy cream
3/4 cup sugar
2 cups eggnog
dash of ground nutmeg
Instructions
Make sure your ice cream bowl is properly frozen and ready to go.

Prepare the brownies according to the package instructions and let cool.
In a large bowl whisk together the cream and sugar until the sugar is fully dissolved, about 2 minutes. Pour in the eggnog and dash of ground nutmeg and whisk to combine.
Add the eggnog mixture to your ice cream maker and process according to manufacturers instructions, until a soft serve consistency is reached. Pour soft ice cream back into the large bowl.
Cut half of the brownies into small chunks (a little less than 1 inch pieces) and gently fold them into the ice cream, try not to break up the brownie pieces. Save the remaining brownies for later use.
Pour the ice cream into a freezable container (I use a bread loaf pan), and freeze for at least 3 hours or until desired consistency is reached.
Enjoy!
Notes
To lessen the Eggnog presence, you can reduce the eggnog to 1 cup and increase the heavy cream to 2 cups.
7.6.5
897
https://www.iwashyoudry.com/eggnog-brownie-chunk-ice-cream/
disclaimer: this recipe is sponsored by the Arizona Milk Producers. Follow them on Twitter and Facebook to stay up to date on all things dairy! All thoughts and opinions are my own. 
The following two tabs change content below.
Shawn is the Owner and Creator of I Wash You Dry. She loves to create and share simple, family-friendly recipes with a bit of life sprinkled in. Mom to 4 adorable children and dwells in the desert of Southern Utah.