Oh my gosh, oh my gosh, oh my gosh, YOU GUYS!!
These Copycat Red Lobster Cheddar Bay Biscuits are phenomenal. They're out of this world delicious! And the best part??
They take less than 20 minutes to make!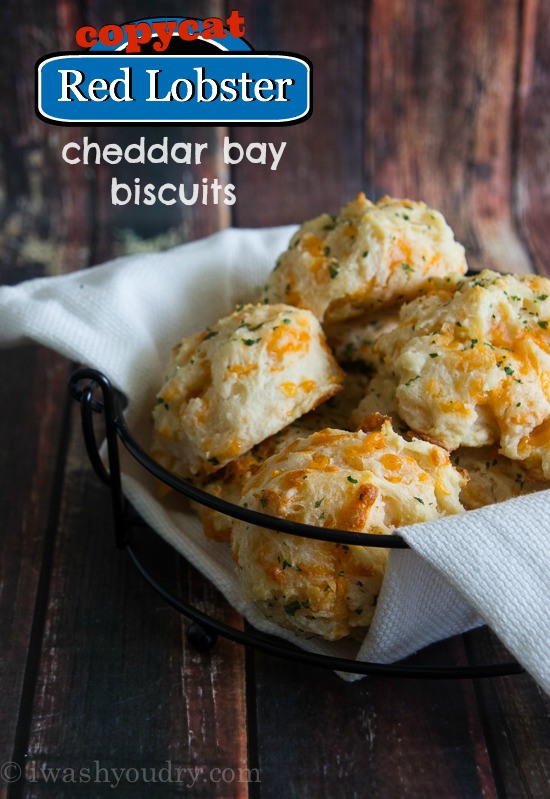 I took my Quick Parmesan Biscuit recipe and gave it a simple makeover to create these Red Lobster replicas.

MY OTHER RECIPES
So buttery, so cheesy, so so so good.
I hope you all are familiar with the greatness of the Red Lobster biscuit. They are the biscuits given to you while you wait for your seafood dinner. You know… the ones that you eat so many of that you're already stuffed by the time dinner finally comes?
I may have eaten 6 of these biscuits. I can't be certain though, I stopped counting after 3…
Now you can QUICKLY make these at home with just a few simple ingredients.
I use self-rising flour, which I always have on hand to make quick biscuits, but you could easily use all purpose flour and add in a little baking powder to help with the rise.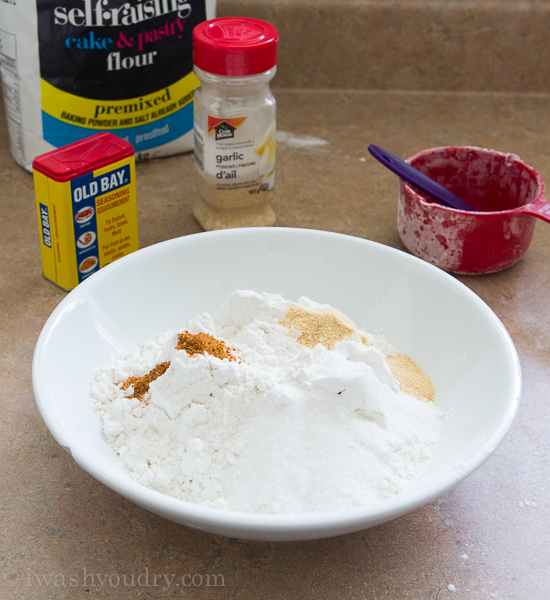 Throw in a little garlic powder, old bay seasoning, and just a touch of sugar for a little added sweetness.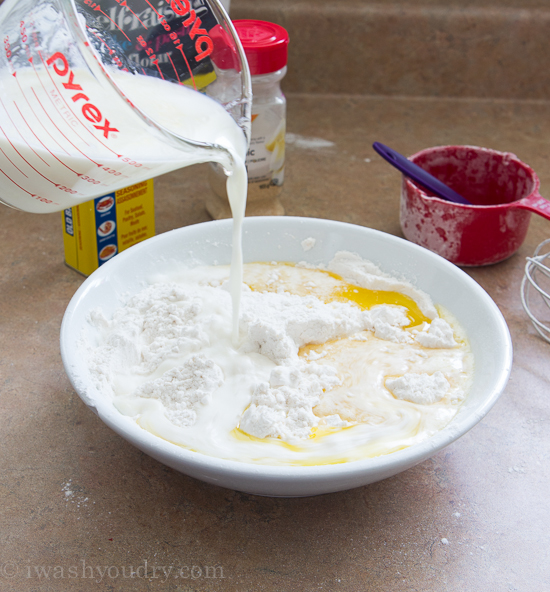 Pour in your melted butter and milk. Realize you should have used a bigger bowl. Hold your breath to make sure milk doesn't overflow.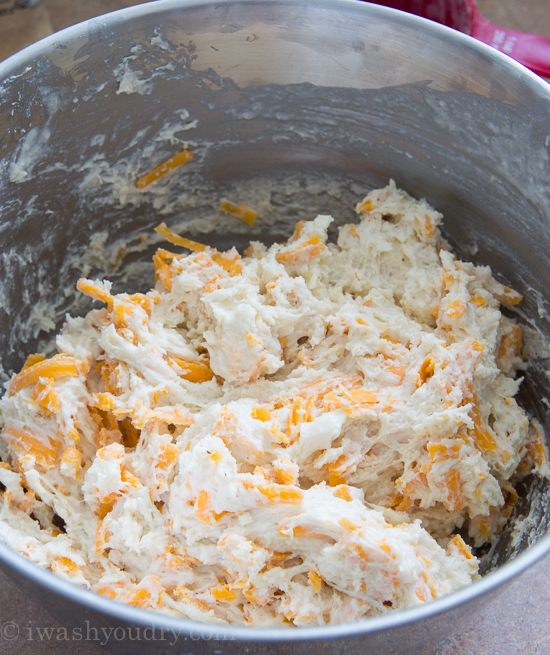 Transfer ingredients to said bigger bowl, then stir together and add a whole buncha cheese.
Make sure it's a whole buncha.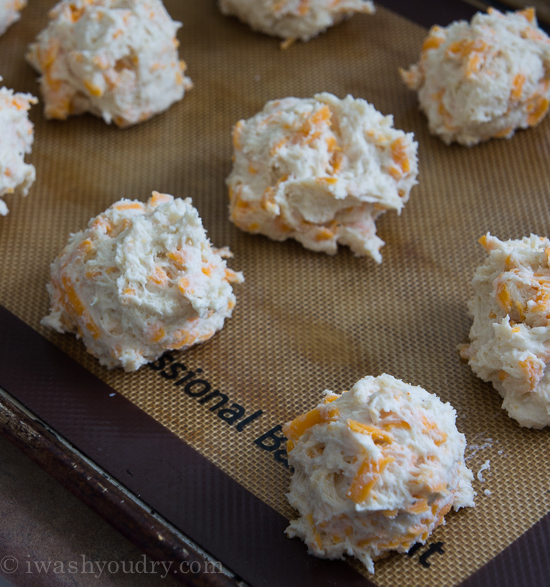 Scoop the cheesy dough onto a baking sheet and pop them into the oven for just 15 minutes!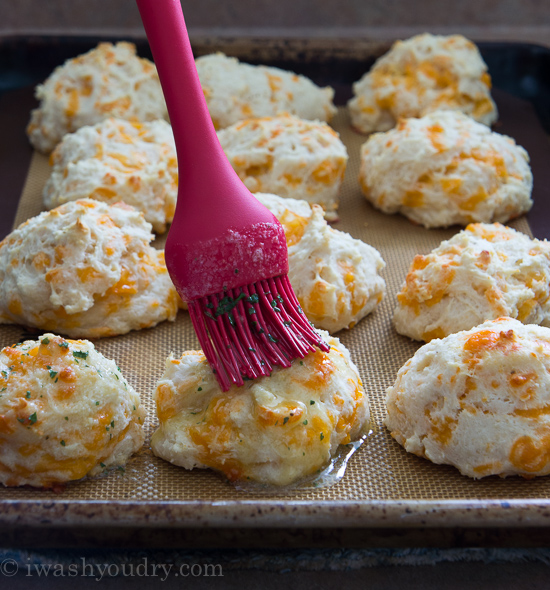 When they get out of the oven, shower them in a warm buttery/garlic/parsley mixture. The biscuits soak up the butter like a sponge and well, you know, it's crazy good.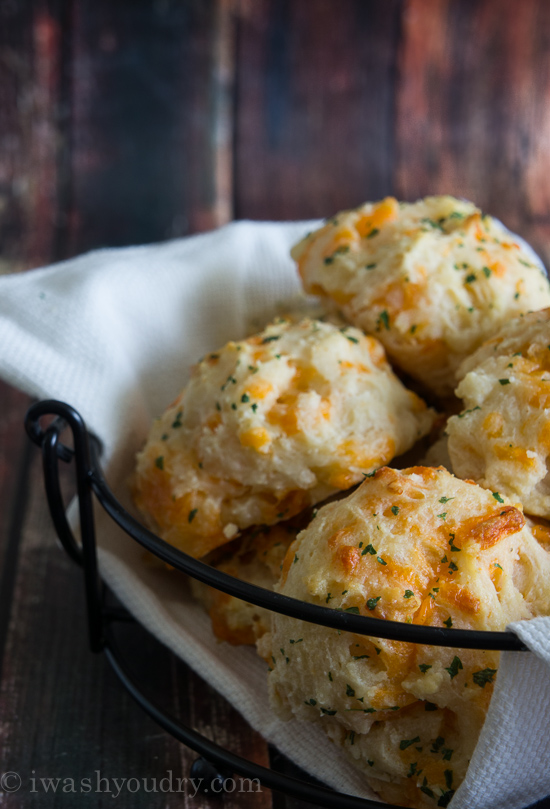 I dare you to stop at just one.
It's impossible.
Make sure you don't miss a thing! Follow I Wash You Dry here:
FACEBOOK | PINTEREST | GOOGLE+ | TWITTER | INSTAGRAM | BLOGLOVIN
Yields makes 12 biscuits
Copycat Red Lobster Cheddar Bay Biscuits
Ingredients
2 cups self rising flour
1/2 tsp Old Bay Seasoning
1 1/2 tsp garlic powder - divided
1 tbsp sugar
1/2 tsp salt
1 cup cold milk
3/4 cup butter, melted - divided
1 1/2 cups shredded sharp cheddar cheese
1/2 tsp parsley flakes
Instructions
Preheat oven to 400 degrees F.
In a large bowl combine the flour, old bay seasoning, 1 tsp garlic powder, sugar and salt. Pour in 1 cup of cold milk and 1/2 cup(1 stick) of melted butter, stir with a sturdy spoon to combine. Add the cheddar cheese and stir to incorporate.
Scoop with an ice cream scoop or two spoons onto a silicone lined (or parchment lined) baking sheet. Bake for 15 minutes.
Combine the remaining 1/4 cup melted butter(4 tbsp), 1/2 tsp garlic powder and parsley in a small bowl. Brush on top of each biscuit when it comes out of the oven. Serve immediately. Enjoy!
7.6.4
934
https://www.iwashyoudry.com/copycat-red-lobster-cheddar-bay-biscuits/
The following two tabs change content below.
Shawn is the Owner and Creator of I Wash You Dry. She loves to create and share simple, family-friendly recipes with a bit of life sprinkled in. Mom to 4 adorable children and dwells in the desert of Southern Utah.