I'm just going to come right out and say it…
I'm obsessed with Broccoli Salad. No shame.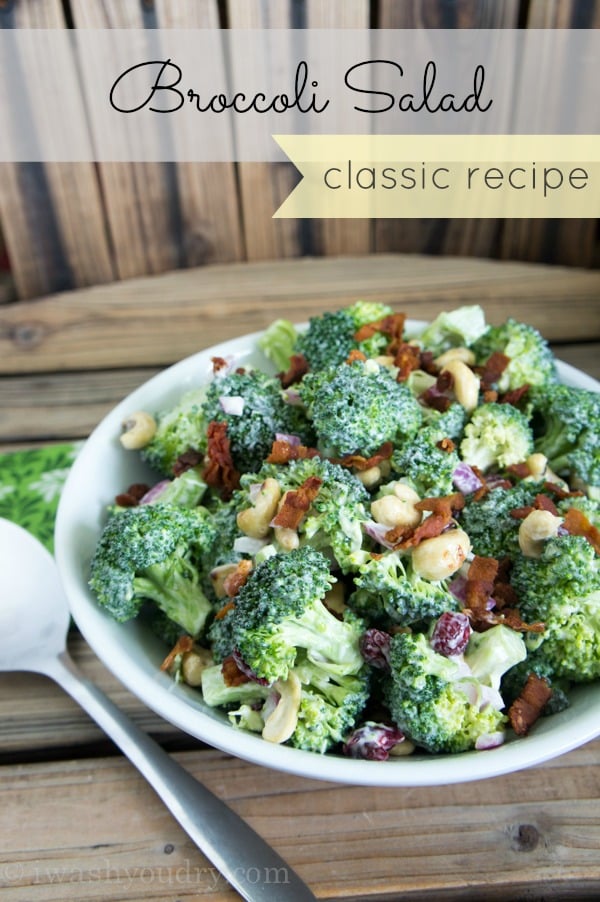 I love the sweet and tangy dressing that gets soaked into the crunchy broccoli, the toasted cashews, the plump craisins, and of course… the bacon.
Broccoli Salad is a staple at any BBQ or Potluck type meal, so be prepared this summer with this classic recipe that is a definite crowd pleaser.

MY OTHER RECIPES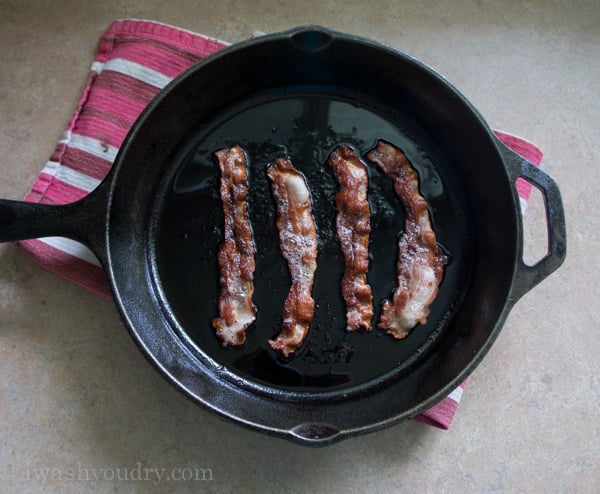 You know a recipe is going to be a winner when it starts with bacon.
A rule of thumb when cooking any recipe with bacon is to always, always, ALWAYS add an extra slice or two of bacon. You know darn well that you (or your hungry husband) will have to steal one of those smoky/crispy strips before it goes into the recipe.
It's written somewhere I'm sure.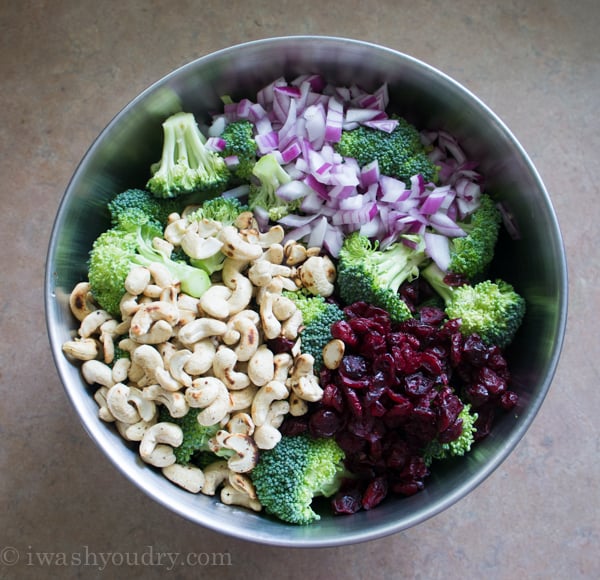 The rest is a snap to throw together. I toasted up some cashews, but you can switch it up with some walnuts or sun flower seeds too.
The dressing is a simple 3 ingredient blend: Mayo, white wine vinegar, and sugar.
Easy peasy.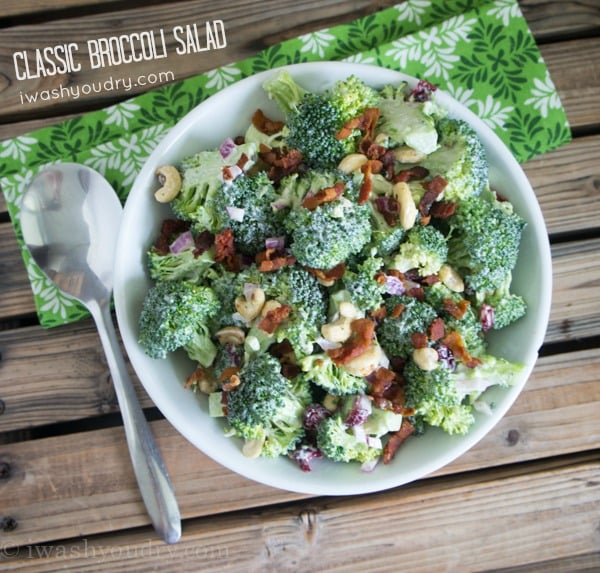 Would you look at me weird if I told you that I ate some of this for breakfast this morning?
Um, yeah… it's that good.
Plus, yeah… I am that weird. Hi.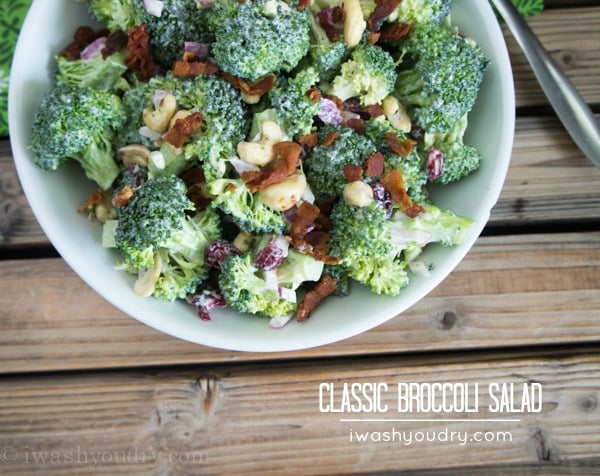 You don't have to eat it for breakfast, but you can rest assured that this Classic Broccoli Salad Recipe will be a smash at your next potluck gathering!
Bring it!
Make sure you don't miss a thing! Follow I Wash You Dry here:
FACEBOOK | PINTEREST | GOOGLE+ | TWITTER | INSTAGRAM | BLOGLOVIN
Classic Broccoli Salad Recipe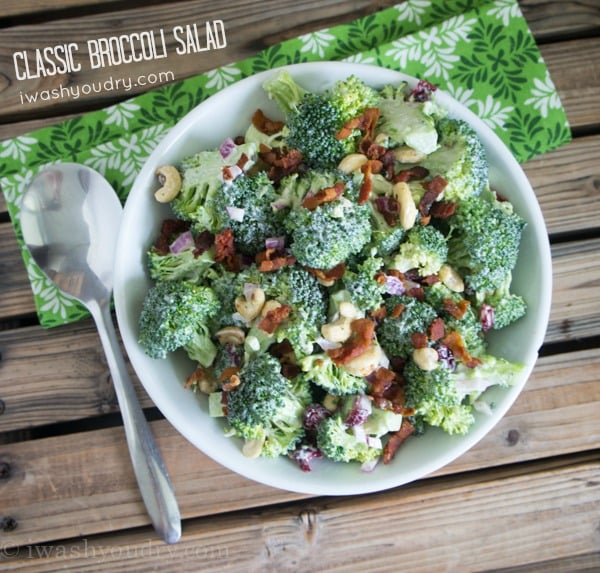 Ingredients
6 cups broccoli florets, cut into bite sized pieces
6 pieces of bacon, cooked crisp, drained and then crumbled
1/2 of a red onion, diced
1 cup toasted cashews (or walnuts or sunflower seeds)
1/2 cup craisins (dried cranberries)
1 cup mayonnaise
1/4 cup white wine vinegar
2 tbsp white sugar
Instructions
Combine the broccoli, bacon, onion, toasted cashews (or walnuts or sunflower seeds), and craisins in a large bowl, set aside.
In a small bowl whisk together the mayo, white wine vinegar and 2 tbsp white sugar until smooth. Pour over broccoli mixture and toss to coat evenly. Let sit for 10 minutes in fridge before serving.
Enjoy!
7.6.5
828
https://www.iwashyoudry.com/classic-broccoli-salad-recipe/
Wouldn't it be crazy/totally awesome if everyone showed up at the next potluck with this broccoli salad?!
…now that's what I call a party!!
The following two tabs change content below.
Shawn is the Owner and Creator of I Wash You Dry. She loves to create and share simple, family-friendly recipes with a bit of life sprinkled in. Mom to 4 adorable children and dwells in the desert of Southern Utah.