I'm probably the most indecisive person you'll ever meet.
The other night I had my 3rd cousin over for dinner and I couldn't decide whether I wanted to make a crumble, a cake, or a pie for dessert. I knew it had to include blueberries because I just bought a 5 pound box. Plus blueberries are awesome…
Since I couldn't make up my mind, I decided to do the logical thing and make all three of them into one incredible dessert.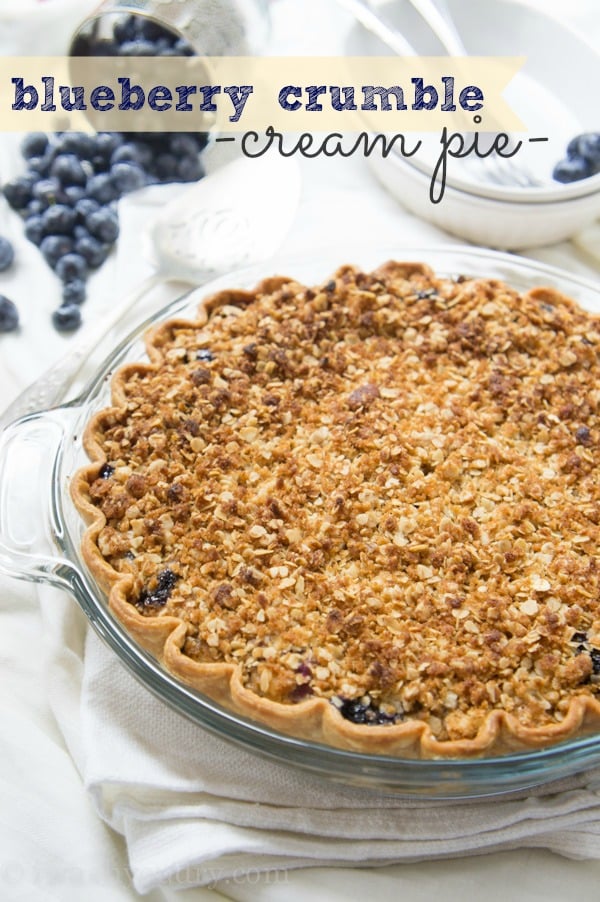 MY OTHER RECIPES
This Blueberry Crumble Cream Pie is simply magical, and so so sooooo easy to make!
Crisp oat topping covers a layer of luscious blueberries that are nestled into a moist cream cake, all inside a flakey pie crust.
It basically covers all your dessert bases.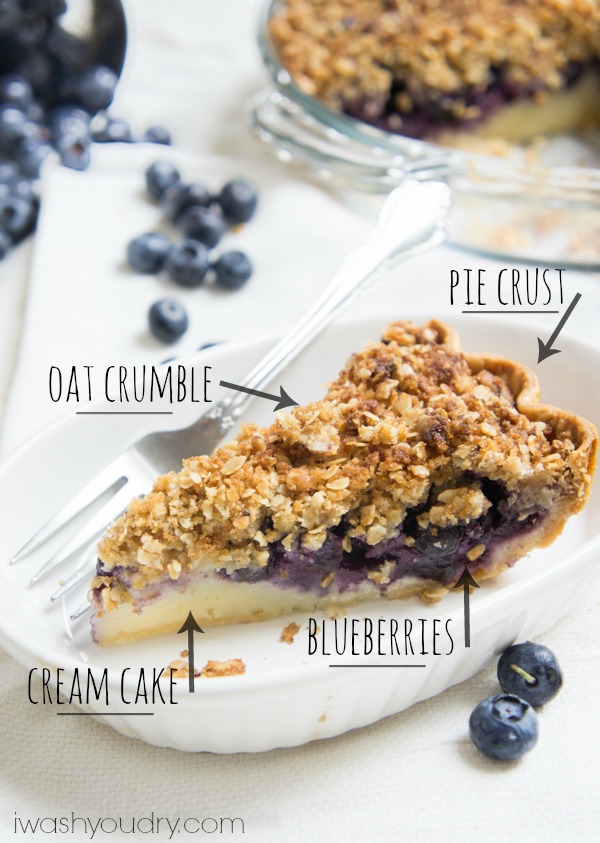 Have you ever heard of the Turducken? It's a chicken stuffed into a duck, stuffed into a turkey… it's the triple threat of the savory kind.
This Blueberry Crumble Cream Pie is the triple threat of the sweet kind.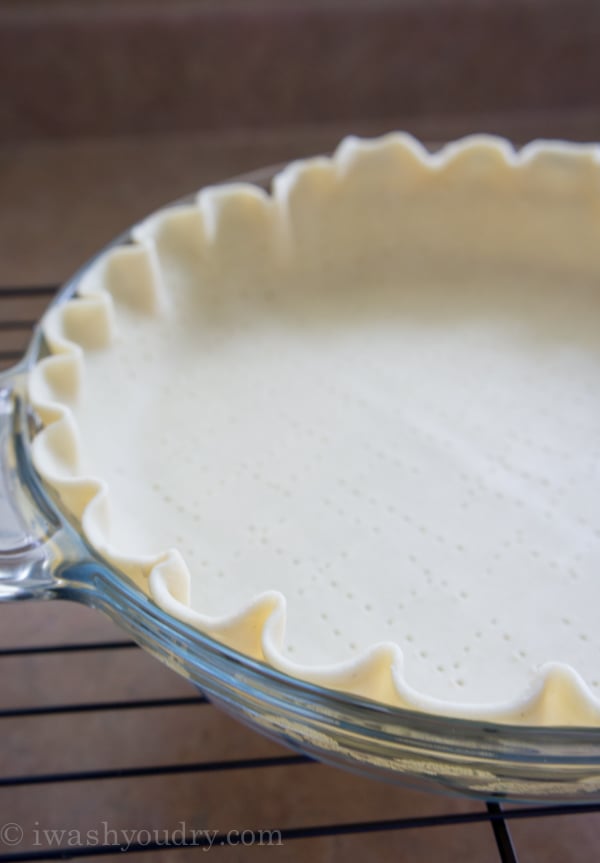 You start with a single pie crust. I used the refrigerated, ready to go, pie crust.
I'm telling you, this is so simple, it will blow your mind.
While the pie crust is pre-baking, whip up your creamy cake layer. It's just sugar, flour, eggs, sour cream, a dash of vanilla, and a whole lotta blueberries!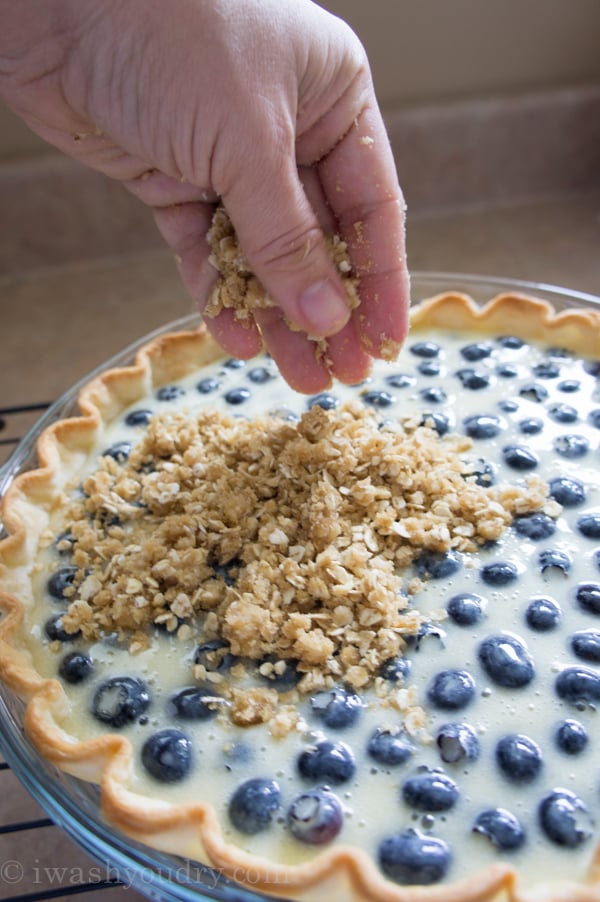 The blueberries tend to float to the top, so you end up with a layer of moist cake on the bottom and a layer of blueberries on top. A perfect bed for a brown sugar and oat crumble.
Toss it all into the oven and you're done!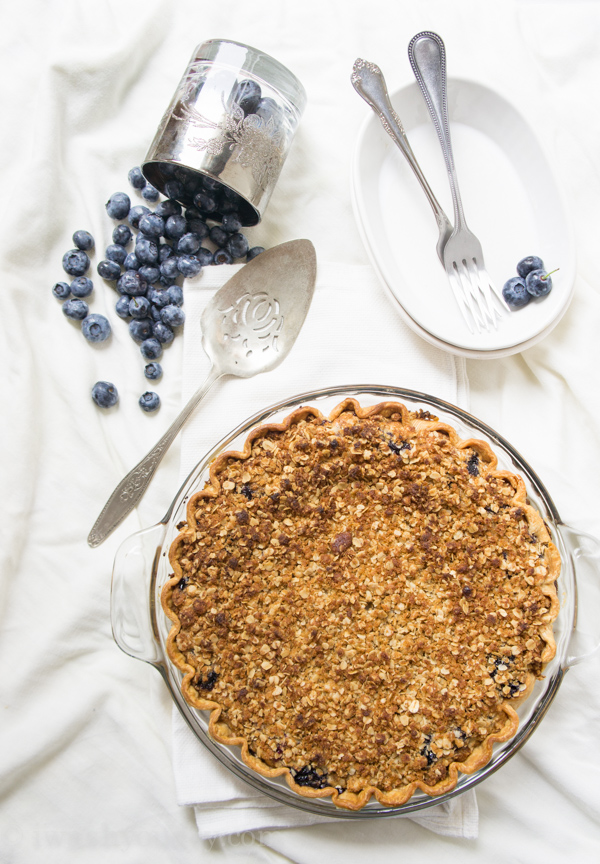 It's my most favorite dessert ever.
It satisfies all of my dessert cravings in one bite. Of course I paired it with a big scoop of vanilla ice cream, that's just a no brainer.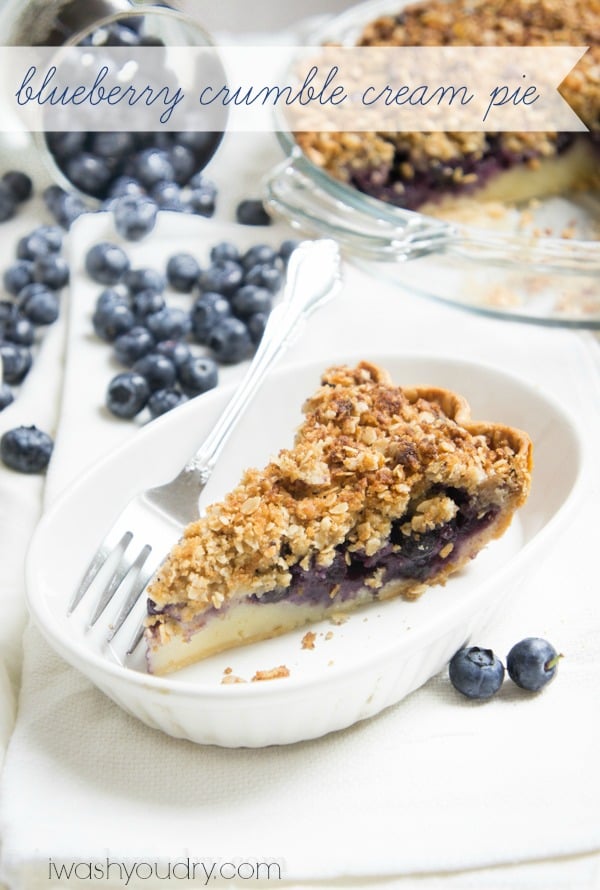 You can use other types of berries instead of blueberry, or a mixture of all sorts of berries.
I feel like I am unlocking a whole new world of dessert possibilities.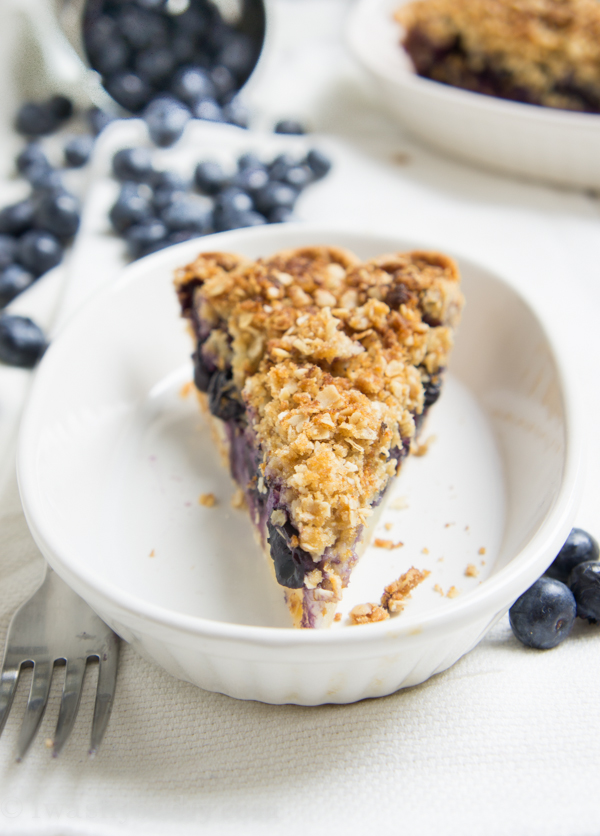 I mean… seriously… how could you not want to just dive into that!?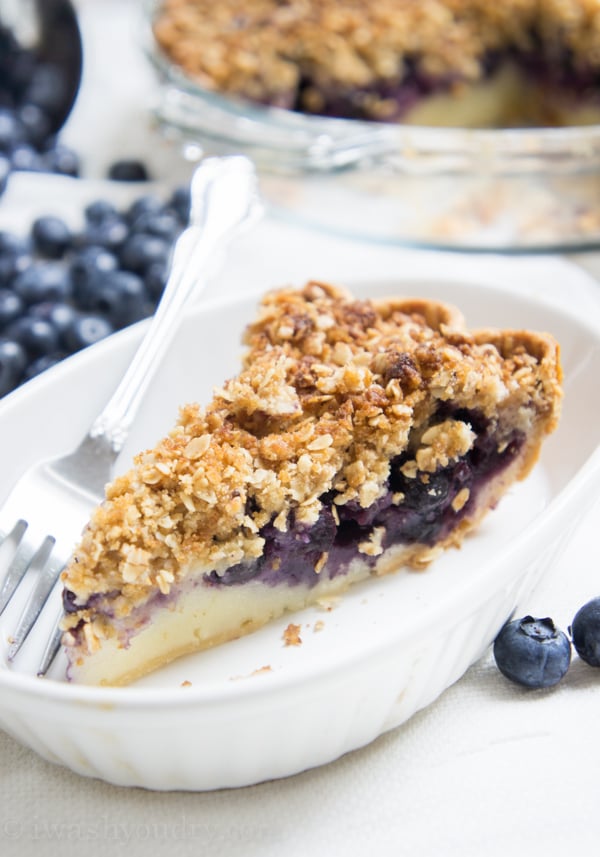 Yup… I'm in love.
Blueberry Crumble Cream Pie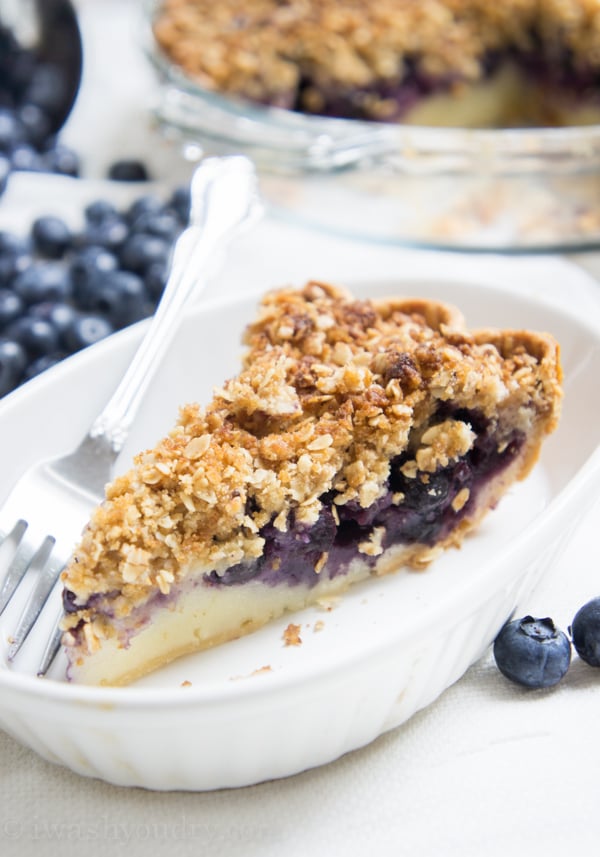 Ingredients
1 (9") pie crust dough

For the Cake:

1 cup sugar
1/2 cup flour
1/2 cup sour cream
2 eggs
1/2 tsp vanilla
2 cups fresh blueberries

For the Crumble:

4 tbsp butter, melted
1/2 cup brown sugar
1/4 cup flour
3/4 cup quick oats
Instructions
Preheat oven to 450 degrees F.
Place your pie dough into a 9" pie pan and prick the dough several times with a fork. Bake for 9-10 minutes or until the edges are lightly golden brown. Remove from oven, reduce heat to 350 degrees F.

For the Cake:

In a medium bowl whisk together the sugar, flour, sour cream, eggs and vanilla until smooth. Gently fold in the blueberries. Pour into the pie shell.

For the Crumble:

In a medium bowl combine the melted butter, brown sugar, flour and oats. Mix until combined, sprinkle evenly over the cake mix.
Bake for 55-60 minutes or until toothpick inserted in center comes out clean.*
Let cool on wire rack. Serve slightly warm with a scoop of vanilla ice cream! Enjoy!
Notes
*if your pie crust is browning too much, cover the edges with aluminum foil and continue to bake until toothpick inserted in center comes away clean.
7.6.5
853
https://www.iwashyoudry.com/blueberry-crumble-cream-pie/
If you love this, you'll also love my Blueberry Crumble Ice Cream!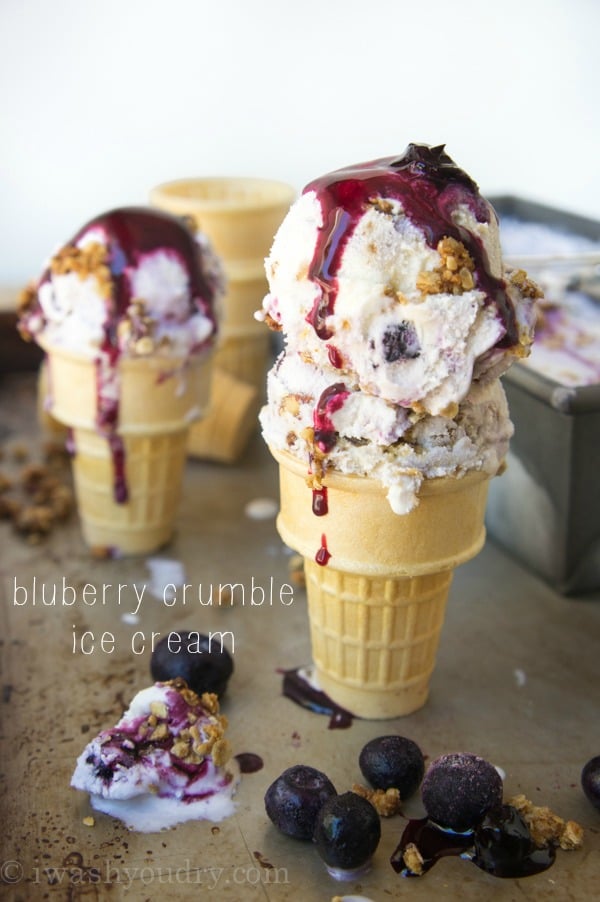 Check out these Blueberry Crumble Cheesecake Bars too!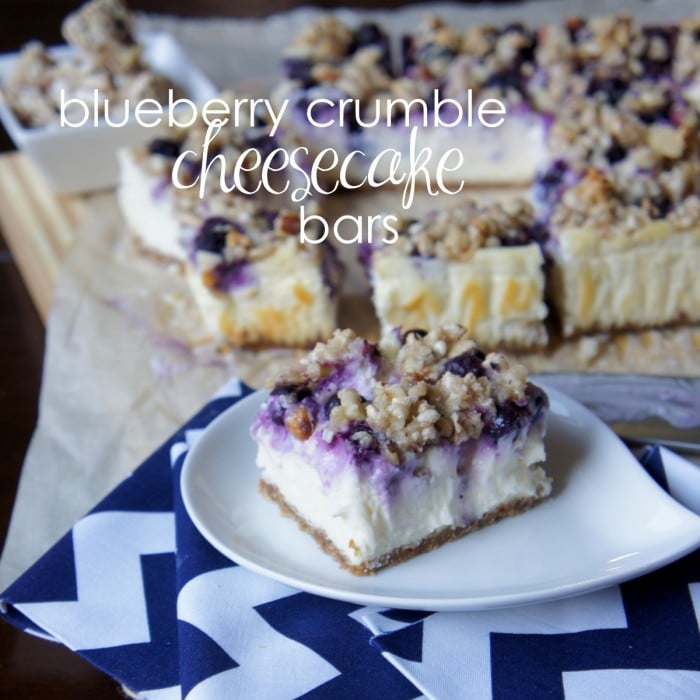 The following two tabs change content below.
Shawn is the Owner and Creator of I Wash You Dry. She loves to create and share simple, family-friendly recipes with a bit of life sprinkled in. Mom to 4 adorable children and dwells in the desert of Southern Utah.