Everywhere you look (at least on Facebook or Pinterest, because that's my life…), you're bound to see pumpkin.
It's everywhere, in everything, and I. LOVE. IT.
These Pumpkin French Toast Rolls are the perfect addition to your list of fall recipes to make.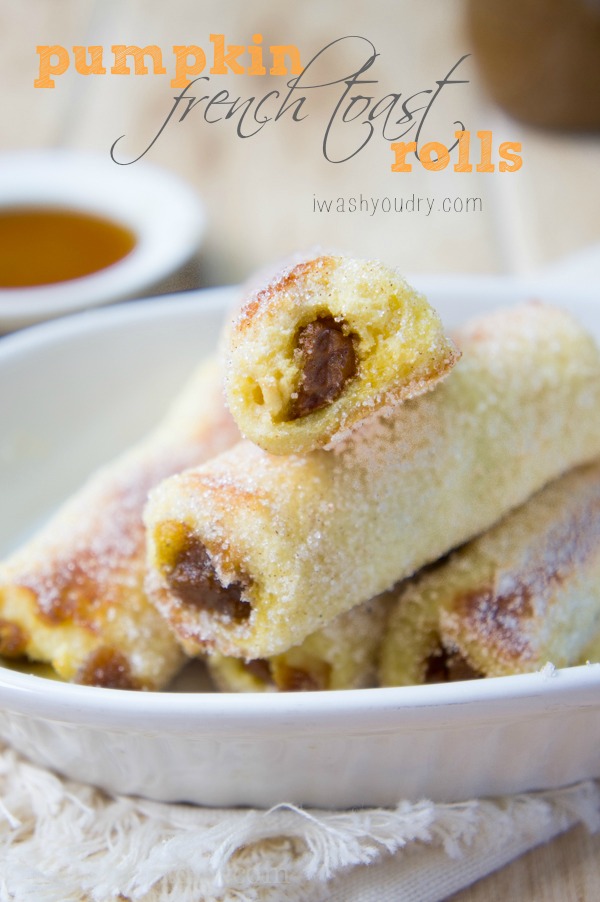 Earlier this week I shared my recipe for Spiced Pumpkin Butter, and that's exactly what I used to fill this delicious little breakfast treat.

MY OTHER RECIPES
I got the idea to make these after drooling over these delicious Blueberry French Toast Rolls by Jaclyn over at Cooking Classy. I knew I had to make them and put a "Fall spin" on them. 🙂
It's a snap to make these, and since I baked them, there's little mess, and all of them are done and ready at the same time. Perfect for serving a weekend breakfast to your family! Try them out this weekend and see how fast they disappear!

Start by trimming the crust off of all your bread slices. I used white bread, and the cheap bread will work just fine.
Then use a rolling pin to flatten the bread. This also helps to make them easier to roll. Squeeze on a little bit of pumpkin butter (I placed some in a zip close bag, then snipped the end off). Roll it up, and repeat!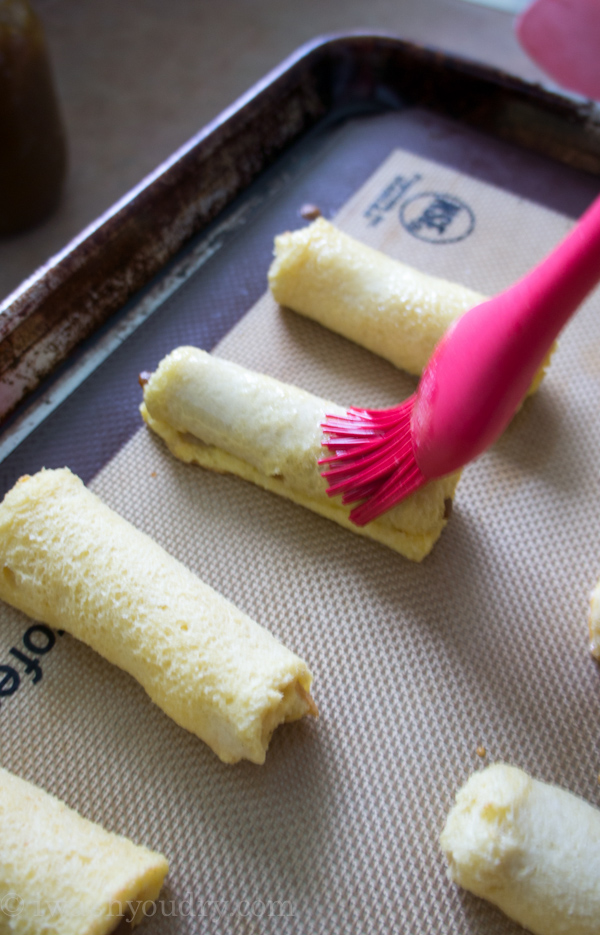 Once they are all rolled up, soak them in your egg and milk mixture. Bake them for just 9 minutes, remove from the oven, and brush with melted butter. Flip and bake until golden brown.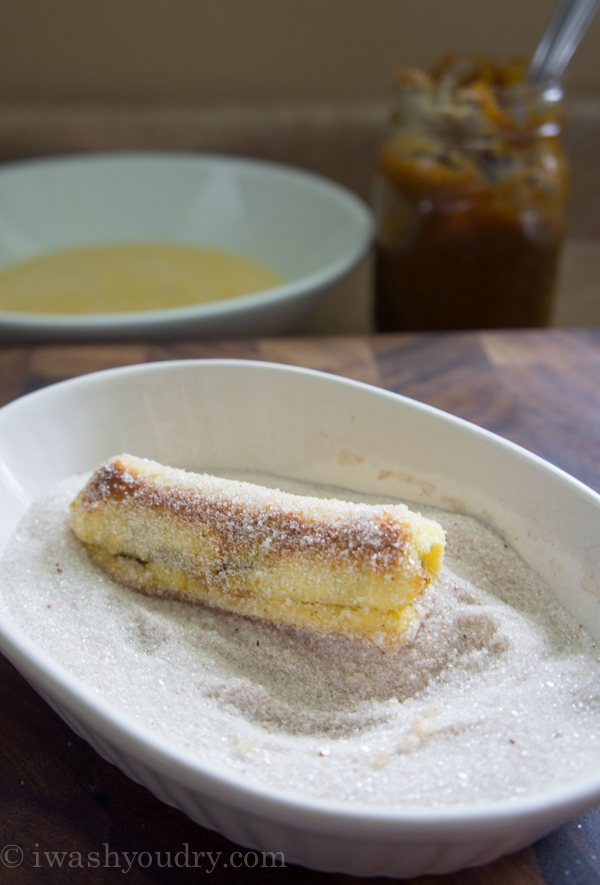 Instead of coating these in cinnamon & sugar, I decided to use pumpkin pie spice in place of the cinnamon. It really give the Pumpkin French Toast Rolls some added spice!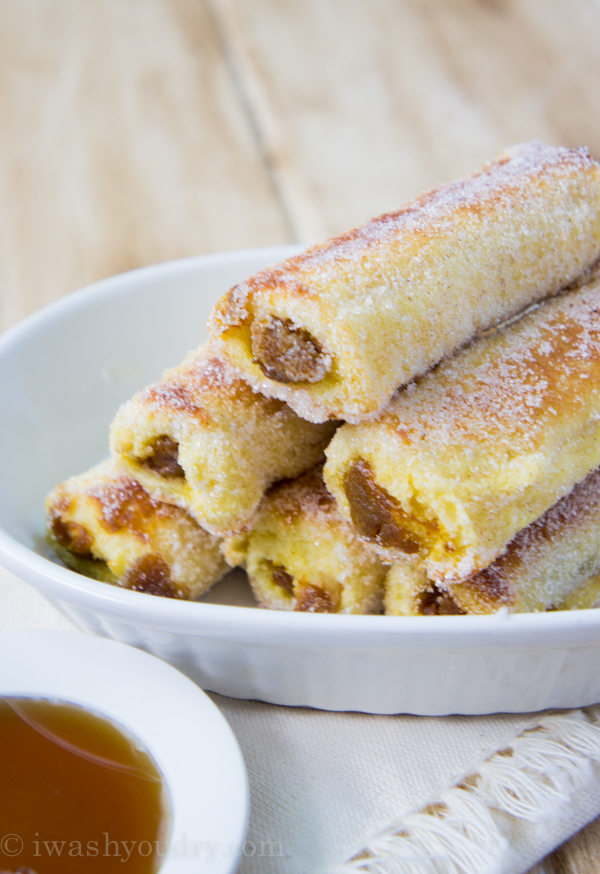 They are so good when you dip them in maple syrup too.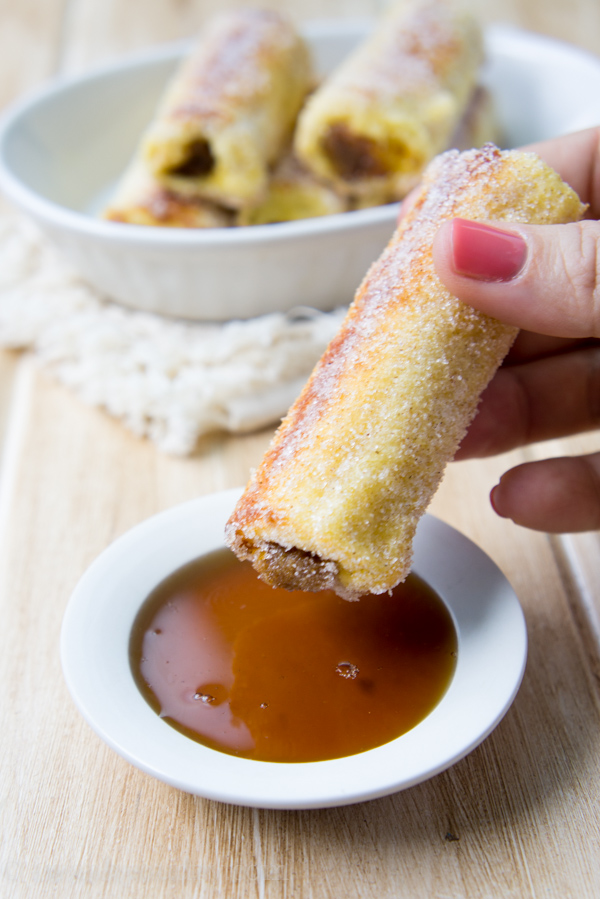 Have you made that Spiced Pumpkin Butter yet??
Get on it!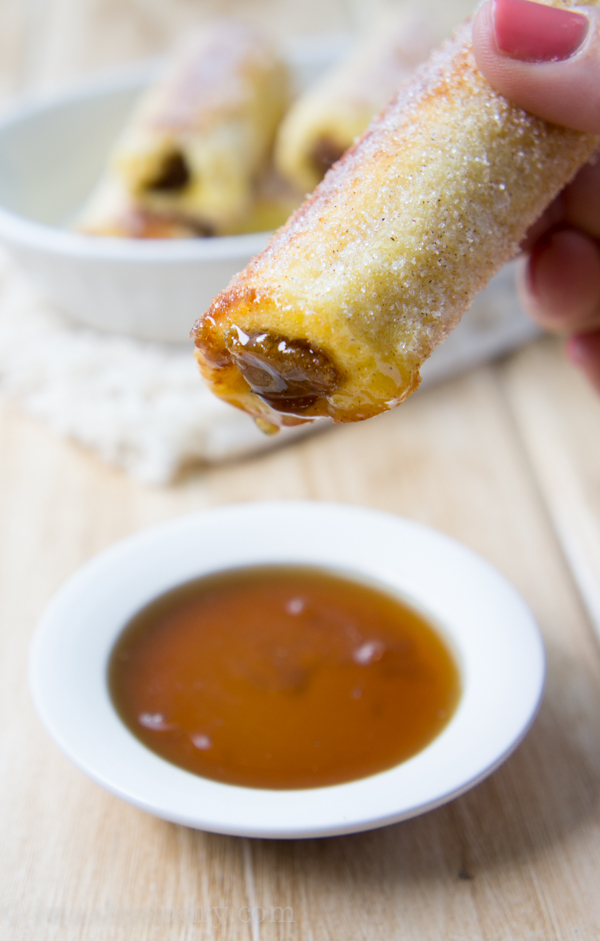 Try them out this weekend, it's like eating french toast that is stuffed with pumpkin pie.
So. Awesome.
Yields 18-20 French Toast Rolls
Pumpkin French Toast Rolls
Ingredients
18-20 slices white bread, crusts removed
1 cup Pumpkin Butter
4 large eggs
1/2 cup milk
1/2 tsp vanilla
2 tbsp flour
1/2 tsp baking powder
pinch of Pumpkin Pie Spice
2 tbsp butter, melted
1/3 cup sugar
1 tsp Pumpkin Pie Spice
Instructions
Preheat oven to 375 degrees F.
Combine the eggs, milk, vanilla, flour, baking powder and pinch of pumpkin pie spice in a blender and blend for 10-15 seconds (or place ingredients in a bowl and whisk until smooth and combined). Pour into a large shallow bowl, set aside.
In another shallow bowl combine the sugar and 1 tsp of pumpkin pie spice, stir till evenly combined. Set aside.
Use a rolling pin to flatten each piece of bread, then spread a line of pumpkin butter across the bottom edge of the flattened bread (I placed pumpkin butter in a zip close bag, then snipped off the corner to squeeze out evenly). Roll up and place seam side down. Repeat with remaining bread.
Once they are all rolled up, dip them into the egg and milk mixture, letting them soak for about 5-10 seconds. Place on a lightly greased baking pan (I used my silicone baking mat), at least 1 inch apart.
Bake for 9 minutes. Remove from oven and brush with melted butter, flip and brush again with melted butter. Bake for an additional 8-12 minutes. Remove from oven.
Once cool enough to handle (but still quite warm), roll in the pumpkin spice and sugar mixture to coat. Serve warm with maple syrup. Enjoy!
Notes
7.6.4
1366
http://www.iwashyoudry.com/pumpkin-french-toast-rolls/
The following two tabs change content below.
Shawn is the Owner and Creator of I Wash You Dry. She loves to create and share simple, family-friendly recipes with a bit of life sprinkled in. Mom to 4 adorable children and dwells in the desert of Southern Utah.