This Pesto Spaghetti Carbonara packs a flavorful punch with just 6 simple ingredients! Bonus- it's ready in just 20 minutes!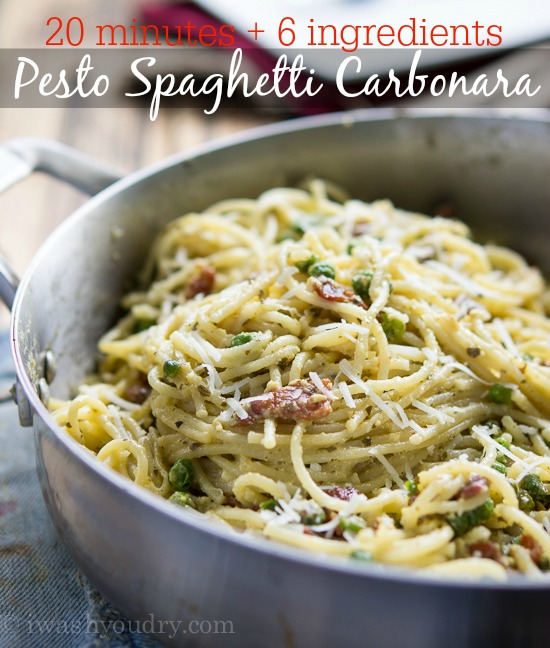 This past weekend I flew home to attend my grandfather's funeral service. About four weeks ago he was diagnosed with late stage lung cancer and was given 2 weeks to 2 months to live. He made it two weeks before he moved on from this world. He was surrounded by family when he passed, and from what my dad tells me, it was a peaceful moment.
It was just me that flew home to attend the service, so my husband was left home with 4 kids to look after. Every night he would text me and tell me that he missed me, and my cooking. HA! When I got home the fridge was bare and so was the pantry. Yet, I still managed with whip up this Pesto Spaghetti Carbonara with what few ingredients we did have.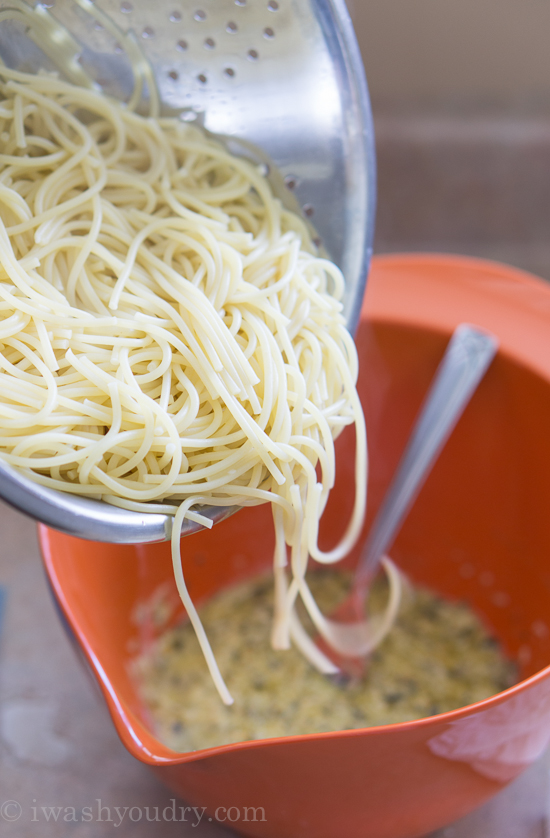 MY OTHER RECIPES
This dinner was so quick and easy, plus it's loaded with bacon and parmesan cheese – two of my favorites.
If you've never had a carbonara before, you're missing out. The sauce is a simple combination of eggs, pesto and parmesan cheese. The method is really cool in the fact that the eggs are cooked by the residual heat of the cooked pasta.
Simply whisk together the eggs, pesto, and parmesan cheese, then toss in the hot pasta.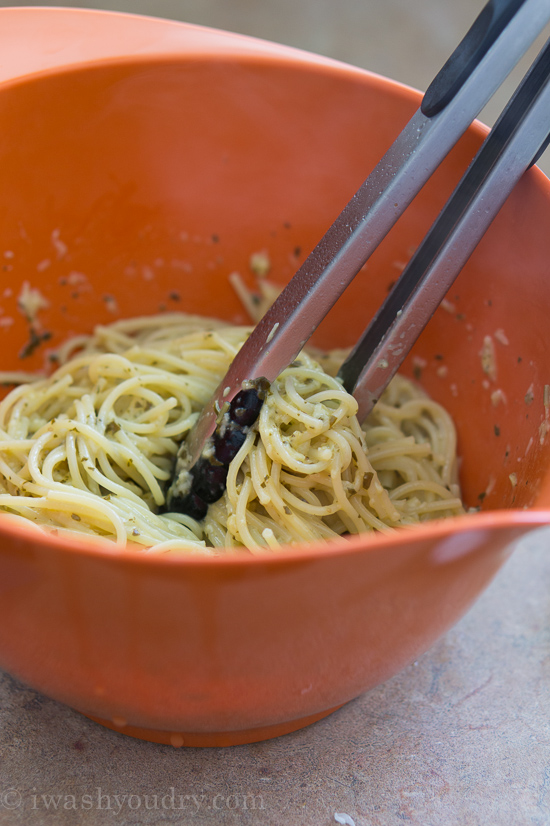 Pesto is a powerful secret ingredient. It's packed with basil, garlic, pine nuts and olive oil. I always have a jar of pesto sauce in my fridge ready to add to things like pizza, lasagna or pasta! I have a simple recipe for homemade pesto if you have a bunch of fresh basil that you need to use up, but the pre made jar stuff will work perfectly for this dish too!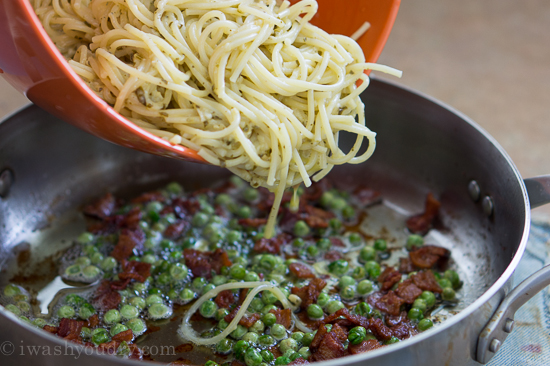 While the pasta is cooking you'll want to render about 4 slices of thick cut bacon. Once the bacon has browned toss in some frozen peas and cook until heated through. Toss in the coated pasta.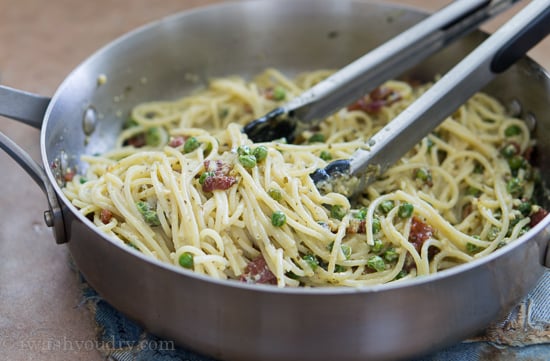 Swirl it around in the bacon grease with the peas and crispy bacon bits. It's heavenly.
Top it with a little more parmesan, and serve it immediately.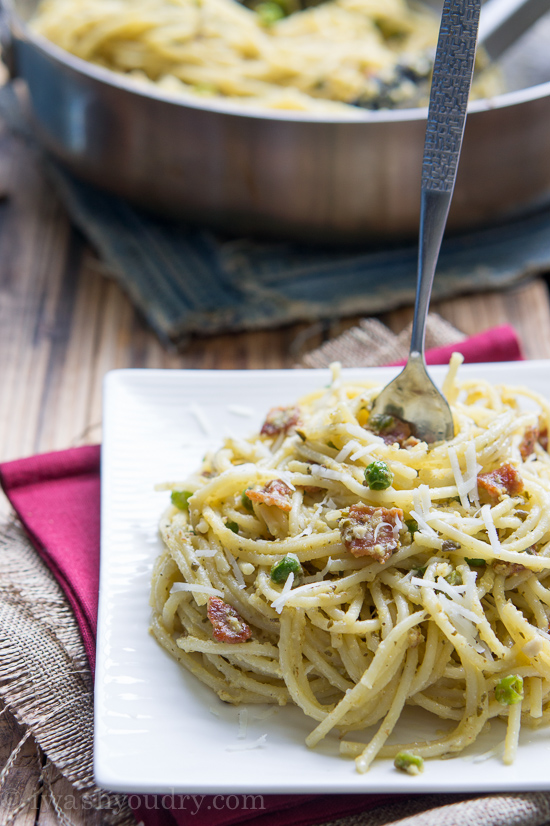 Needless to say, my husband was super impressed at how I could quickly transform these simple ingredients into such a savory and delicious dinner. He doesn't ever want to let me leave again.
Make sure you don't miss a thing! Follow I Wash You Dry here:
FACEBOOK | PINTEREST | GOOGLE+ | TWITTER | INSTAGRAM | BLOGLOVIN
Yields serves 4-5 people
Pesto Spaghetti Carbonara
Ingredients
8 to 10oz spaghetti noodles
4 strips thick cut bacon, diced
2 large eggs
1 cup shredded parmesan cheese; DIVIDED
2 tbsp prepared pesto
1/2 cup frozen peas
black pepper to taste
Instructions
Cook noodles in salted water according to package instructions. While pasta is cooking place the eggs, 3/4 cup of parmesan, and pesto in a large bowl and whisk until combined. Drain the pasta and reserve 1/2 cup of the liquid. Add the hot pasta to the bowl with the eggs and use tongs to stir and coat the pasta.
Meanwhile render bacon in a skillet until browned. Add 1/2 cup of frozen peas (careful, they might splatter in the bacon grease), and cook until heated through (about 2 to 3 minutes).
Carefully pour the hot pasta into the skillet with the bacon and stir to coat. Add as much of the cooking liquid as needed to reach desired consistency. Serve immediately, topped with additional parmesan cheese and season with freshly cracked black pepper to taste. Enjoy!
7.6.4
953
http://www.iwashyoudry.com/pesto-spaghetti-carbonara/
The following two tabs change content below.
Shawn is the Owner and Creator of I Wash You Dry. She loves to create and share simple, family-friendly recipes with a bit of life sprinkled in. Mom to 4 adorable children and dwells in the desert of Southern Utah.