Jazz up your taters with this Greek Potato Salad! It's full of cucumbers, kalmata olives, red onion, and loads of feta cheese in a tzatziki-inspired creamy sauce. 
Last week on Facebook I asked if you preferred Potato Salad or Pasta Salad, and while most of you guys screamed for your potatoes, there were quite a few who still loved their pasta salads. Some of you even requested both, I'm with you on that one!
I realized that I had never posted a potato salad recipe before, so I grabbed a bag of baby reds, golds and purples (that's potato talk for little potatoes) and got to whipping up one killer potato salad.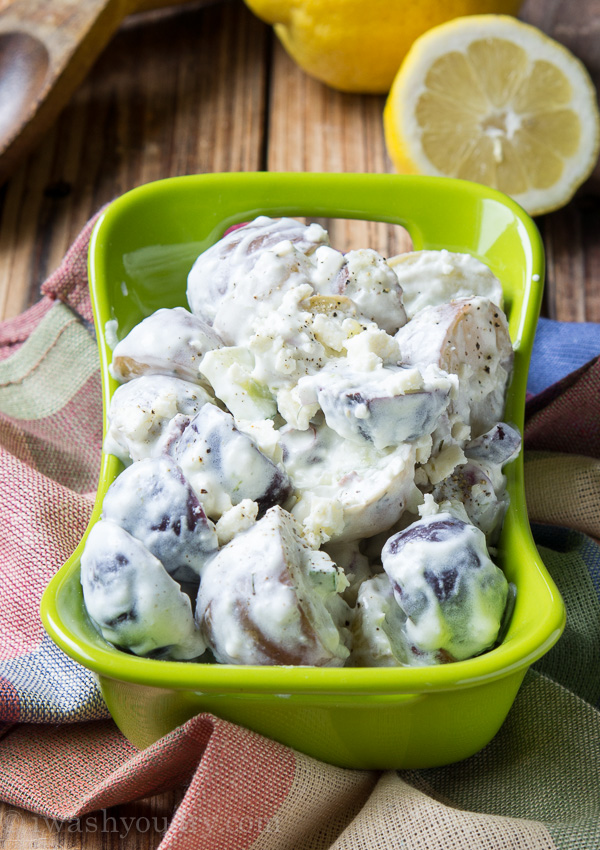 MY OTHER RECIPES
On of our favorite flavors in this house is Greek, so I knew that's where I wanted it to start. I made a tzatziki sauce, which is basically  a cucumber and dill infused greek yogurt that's brightened up with a little lemon juice. Then I loaded the salad with diced red onion, sliced kalmata olives, and even more sliced cucumbers to add a little extra crunch to contrast the tender potatoes.
I also piled it hight with feta cheese, cause I seriously love that stuff.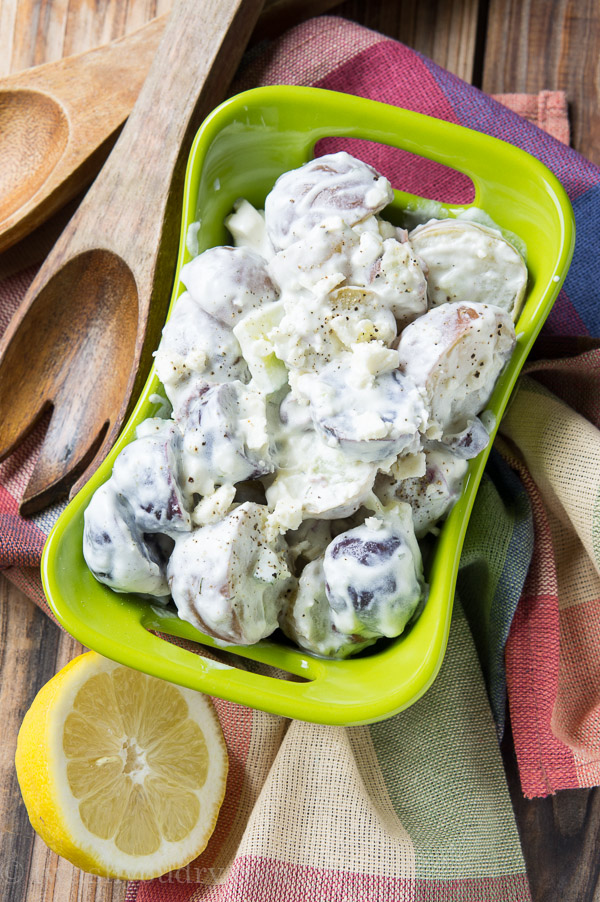 If you're looking for a tasty twist to your Potato Salad, then give this great side dish a try!
(And because everyone always asks where these cute green dishes are from – they are from the Rachael Ray Bubble and Brown collection. Here is a link to some on Amazon in all different colors!)
Make sure you don't miss a thing! Follow I Wash You Dry here:
FACEBOOK | PINTEREST | GOOGLE+ | TWITTER | INSTAGRAM | BLOGLOVIN
Yields serves 4 to 6
Greek Potato Salad
Ingredients
2 lbs. (mixture of) baby red, yellow, and purple potatoes; cut in half
3/4 cup plain greek yogurt
2 tbsp mayo
1 tbsp lemon juice, more if desired
1 tsp fresh snipped dill, or 1 tsp Gourmet Garden dill
1/4 tsp garlic powder
1/4 cup cucumber, finely diced
1/4 cup red onion, finely diced
1/2 cup crumbled feta cheese
1/4 cup cucumber sliced
1/3 cup kalmata olives, sliced
salt and pepper
Instructions
Boil the potatoes in salted water for about 10 to 15 minutes or until easily pierced with a fork. Drain, then set strainer in a clean sink filled with cold water to cool the potatoes and stop them from cooking any further. Once cooled drain and set aside.
In a large bowl whisk together the greek yogurt, mayo, lemon juice, dill, garlic powder, 1/4 cup finely diced cucumber and red onion; add salt and pepper to taste.
Add the cooled potatoes, feta cheese, sliced cucumbers and kalmata olives to the bowl and gently toss to coat. Keep covered and chilled until ready to serve. Enjoy!
7.6.4
965
http://www.iwashyoudry.com/greek-potato-salad/
The following two tabs change content below.
Shawn is the Owner and Creator of I Wash You Dry. She loves to create and share simple, family-friendly recipes with a bit of life sprinkled in. Mom to 4 adorable children and dwells in the desert of Southern Utah.