There are just 10 more days until school starts for my kiddos.
So now the summer panic is starting to set in.
You know, when you realize you didn't get to do all the fun and exciting things you had planned for in the beginning of the summer. And now your kids are going to be 'that kid' at school who had a "boring summer."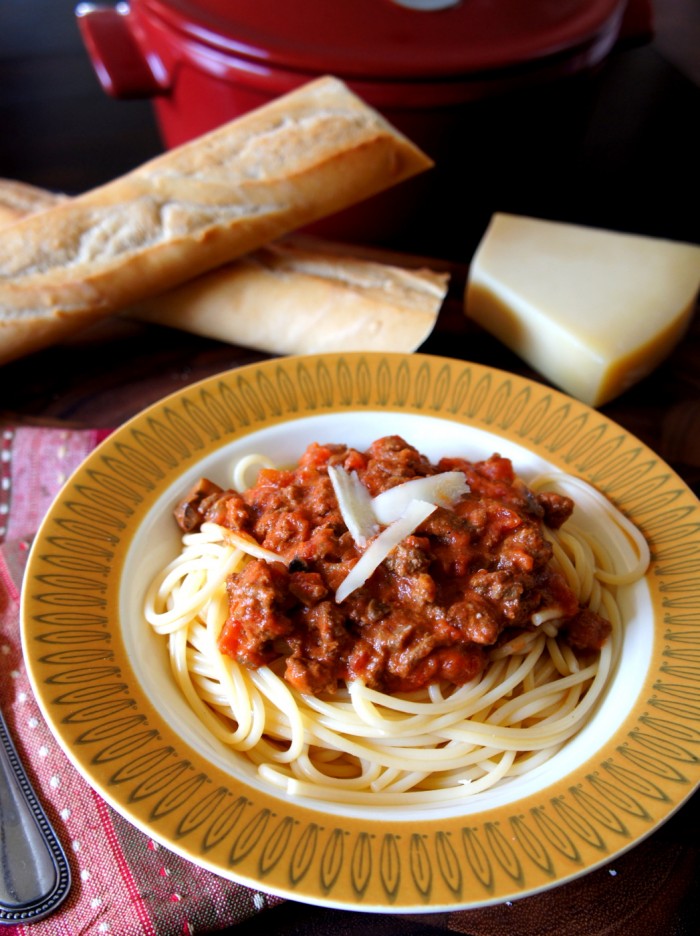 I'm not joking when I say that I have taken my kids swimming every. single. day. this week.

MY OTHER RECIPES
Oh yes, the race is on to finish off this summer with a bang.
So naturally, who has time to prepare dinner?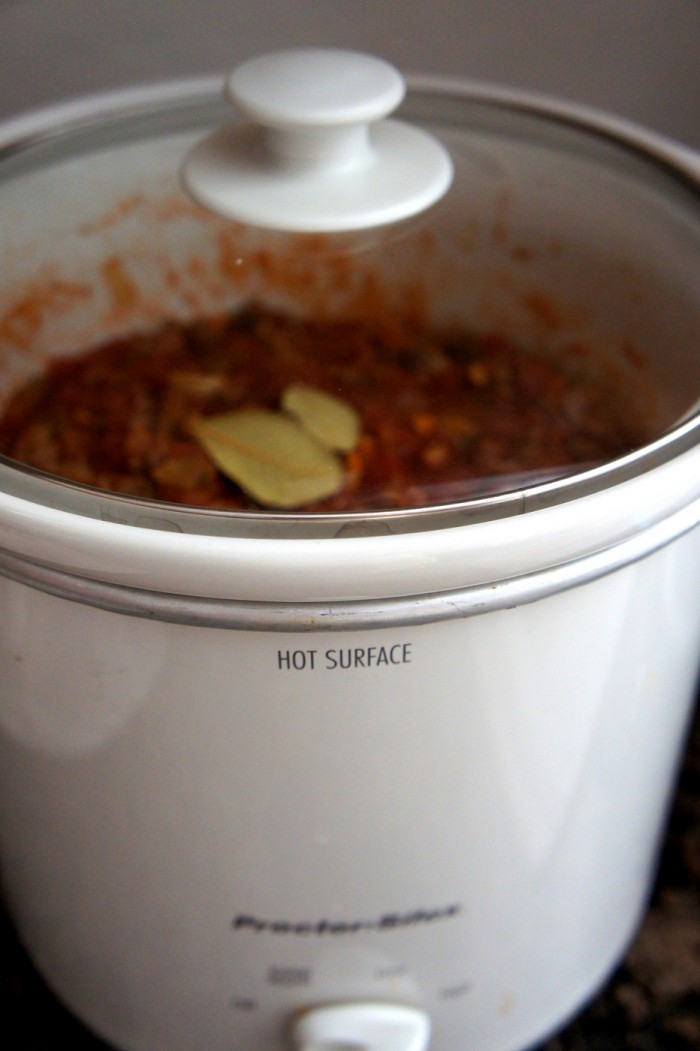 Hello crock-pot! 
By preparing dinner in the morning, you are free to enjoy the day with your munchkins, go run errands, head off to work, or just relax and watch Dr. Phil. Either way, you're chill-axin' knowing that dinner is taken care of.
One of my favorite things to make in the crock-pot is spaghetti sauce, especially when I am cooking for a crowd. When it's just for my family, I'll freeze the leftovers in quart-size bags and then I am ready for another easy dinner.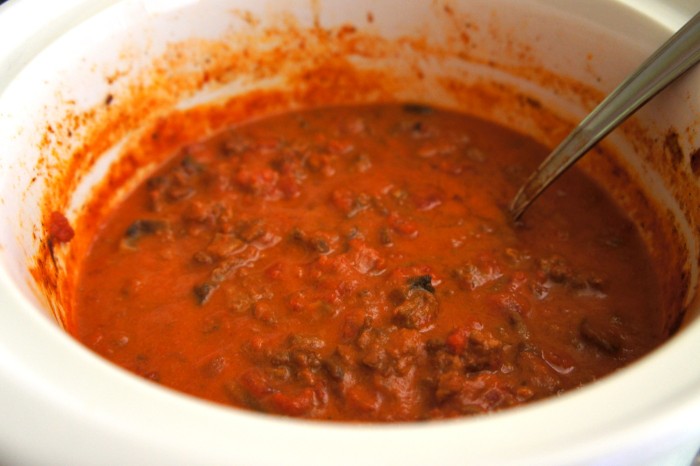 The thing I really like about Pasta Bolognese Sauce is the heartiness to it. It's filled with ground beef, ground sausage, chopped mushrooms, onions and diced tomatoes.
This bolognese sauce is a little on the lighter side, cause I'm trying to watch my waist line right now. So I used the leanest ground beef I could find, I also used hot turkey sausage and instead of adding heavy cream to the sauce, I added fat free evaporated milk. It still gives it that creamy texture without the added calories and fat.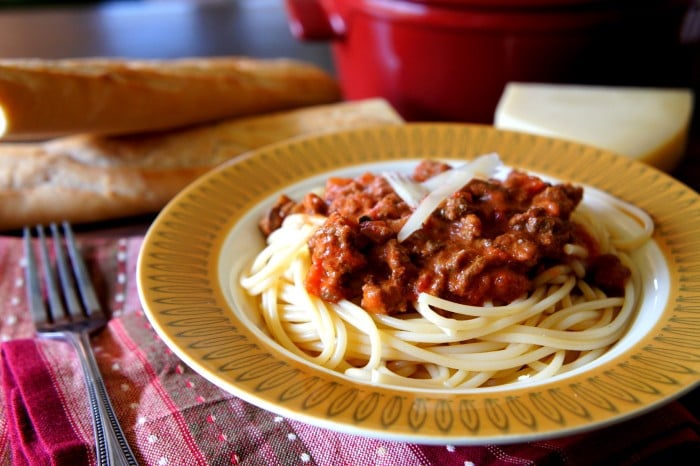 It does take just a little bit of prep in the morning to get this sauce started. But it's real easy, so no worries.
Just brown the ground beef and the sausage along with the onions and mushrooms, drain off the fat, then toss it into the crock pot. Add the diced tomatoes, tomato sauce, and tomato paste. Salt and pepper, then throw in a few bay leaves.
Set it to low and go have yourself an epic end-of-the-summer-kind-of-day.
When you come back, your house will smell yummy and inviting.
All you'll have to do is stir in the evaporated milk, boil some noodles, cut up some crusty bread, and watch the Olympics with your kids while they pretend the couch is a balance beam.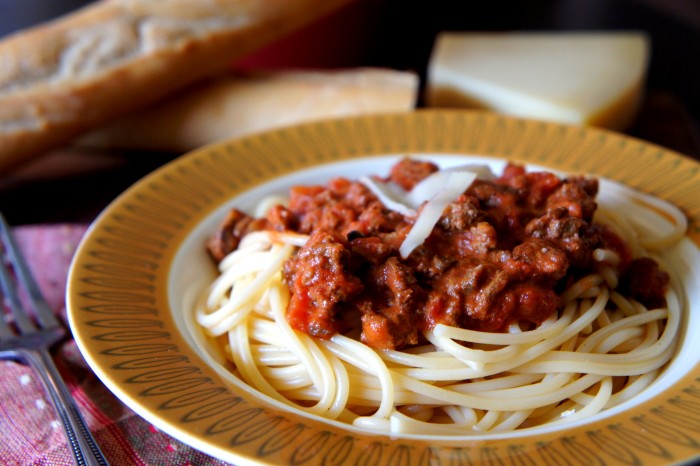 Ah yes…isn't summer the best?
Crock Pot Pasta Bolognese
Ingredients
1 pound lean ground beef
2 hot sausage turkey links, removed from casings
1 cup diced onion
8 oz package button mushrooms, diced
2 cloves garlic, minced
28 oz can petite diced tomatoes
15oz can tomato sauce
2 tbsp tomato paste
1/2 tsp salt
1/4 tsp black pepper
3-4 bay leaves
5 oz fat free evaporated milk
Spaghetti Noodles, cooked according to package directions
Instructions
In a large skillet combine ground beef, turkey sausage, onion, and garlic.
Brown for 2 minutes and add mushrooms. Continue stirring and browning for an additional 5 minutes.
Drain any fat from the skillet and transfer meat mixture to crock pot.
Add the diced tomato, tomato sauce, tomato paste, salt, and pepper. Stir to combine. Taste the sauce and add more salt if desired.
Add the bay leaves and stir.
Set to low for 6-8 hours.
Before serving remove bay leaves and stir in the fat free evaporated milk.
Serve over prepared noodles with a side salad and crusty bread.
Notes
*Freeze any leftover sauce for another night. Simply remove from freezer in the morning and place in the fridge to thaw. Heat it up on the stove top/microwave/ or back in the crock pot.
7.6.4
727
http://www.iwashyoudry.com/crock-pot-pasta-bolognese/
The following two tabs change content below.
Shawn is the Owner and Creator of I Wash You Dry. She loves to create and share simple, family-friendly recipes with a bit of life sprinkled in. Mom to 4 adorable children and dwells in the desert of Southern Utah.