Ice cream ready in 3 minutes?
Yeah, I didn't believe it at first either, but that's exactly what these Mugz Ice Cream Makers claim to do.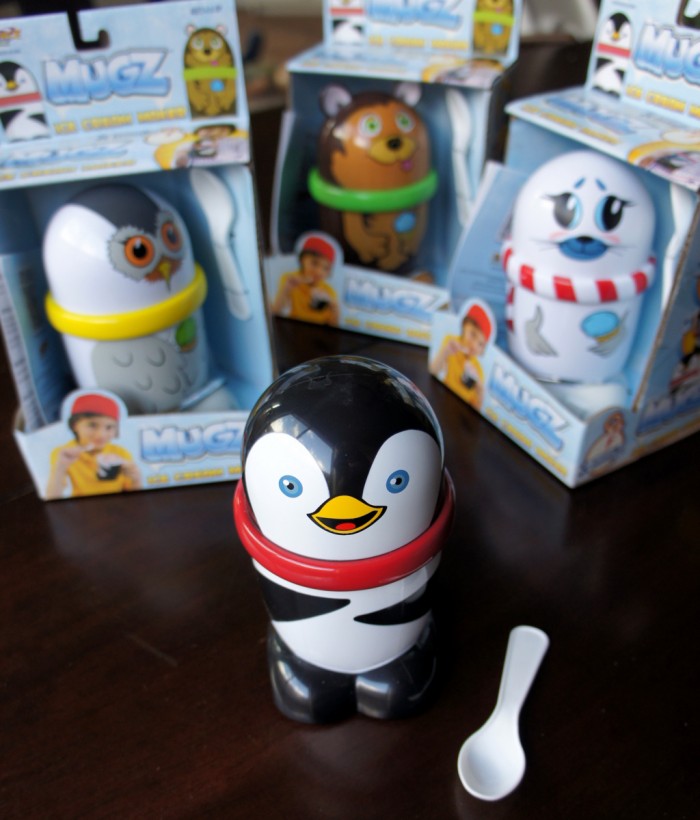 These little ice cream makers are adorable and do not require batteries, or any sort of electricity.
They run off pure kid energy.

MY OTHER RECIPES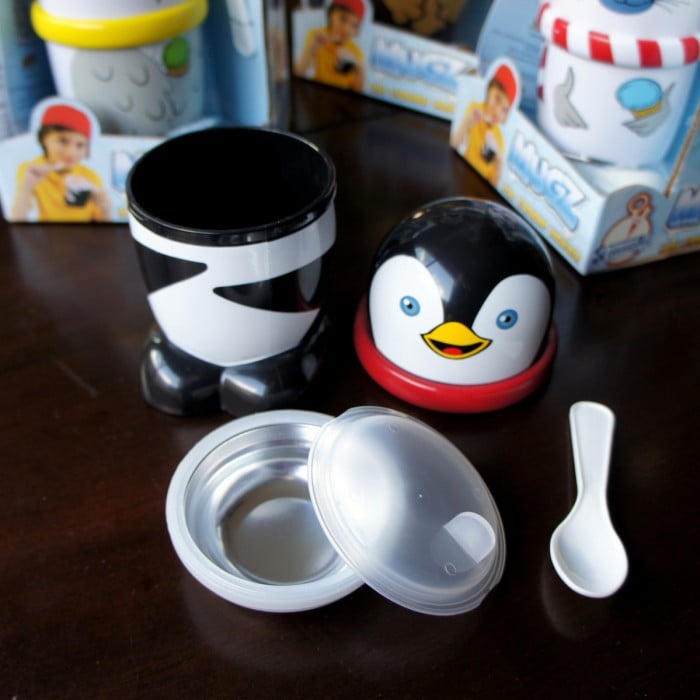 These Mugz are a perfect gift for any kid that loves ice cream, slushies, frozen yogurt, or sorbets.
Since I have 4 kids, and they aren't always on the same page for what kind of ice cream they want, these Mugz make it easy to please each and every one of them. Plus I don't have to freeze anything ahead of time, so that's a bonus!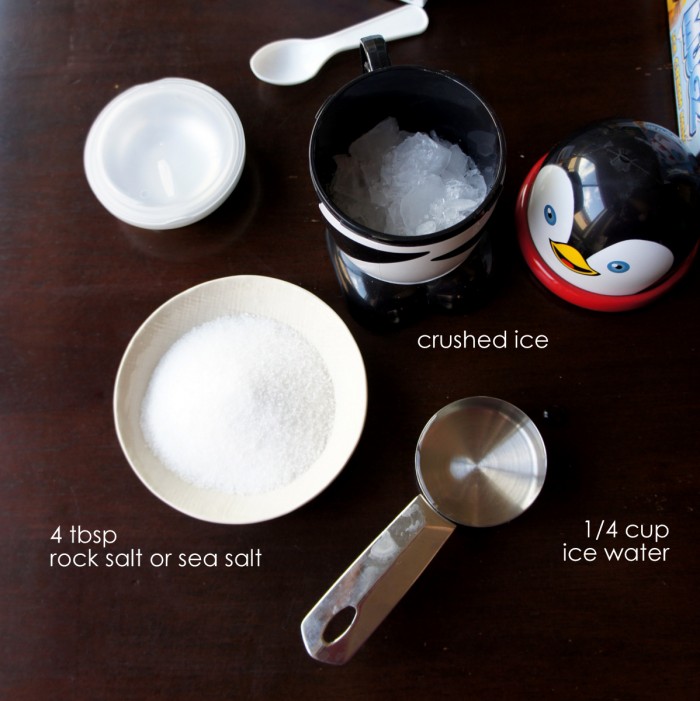 To get the freezing action started, fill the base of the Mugz half way with crushed ice, then add the salt and cold water.
The only downside to this maker is that it requires 4 tablespoons of rock salt or sea salt. It seems like a lot of salt, but you can actually purchase a 5lb bag of rock salt on Amazon for less than 4 bucks, so just make sure to keep that on hand and you'll be all set for when the ice cream cravings hit.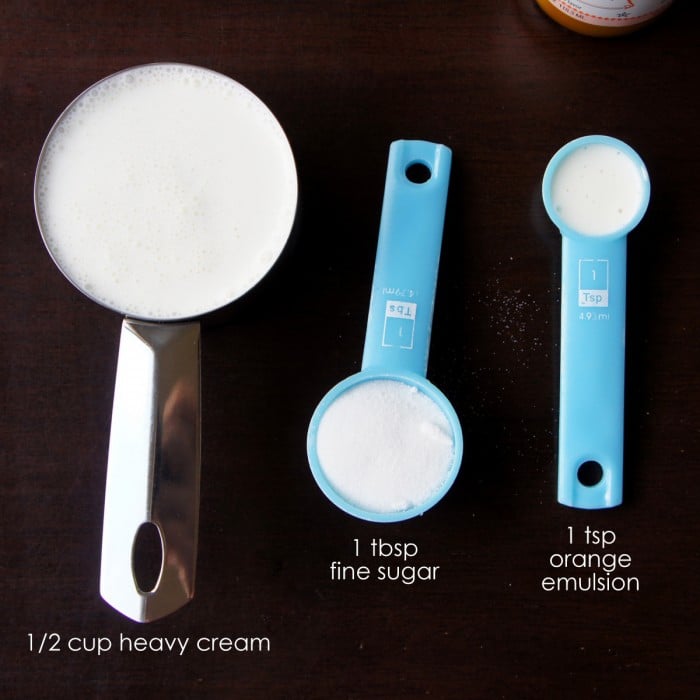 What you choose to put in the maker is up to you. The possibilities are endless, and super easy. The Mugz even come with several simple recipes to try out.
I have this dreamy Orange Emulsion that I picked up a while back and I thought paired with some cream and a little sugar, it would make a tasty Orange Creamsicle Ice Cream.
Just add the ingredients into a small bowl or measuring cup and whisk together. Add the mixture to the aluminum ice cream bowl, place on the lid, and put the Mugz head back on tightly.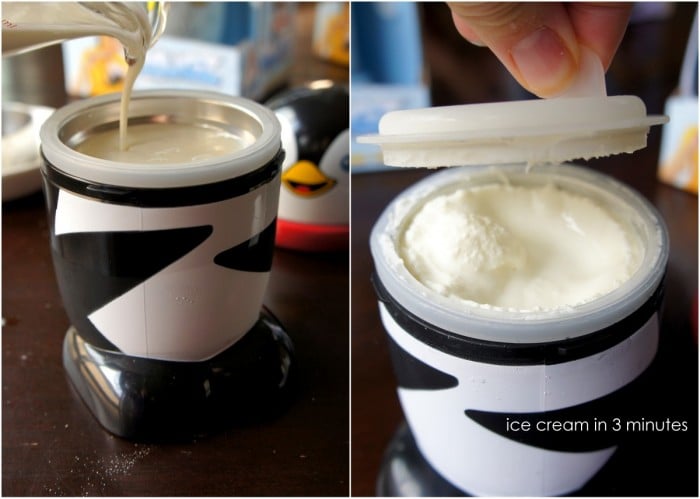 Hand the Mugz to your child and let them shake, shake, shake for 3 minutes.
That's it!
ICE CREAM!!!
…IN 3 MINUTES!!!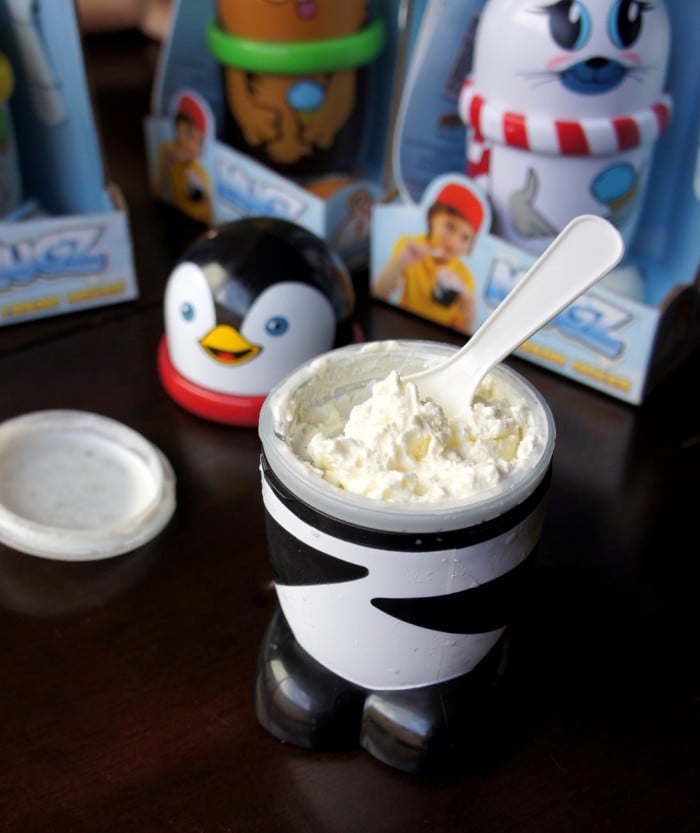 Your kids will love this!
Trust.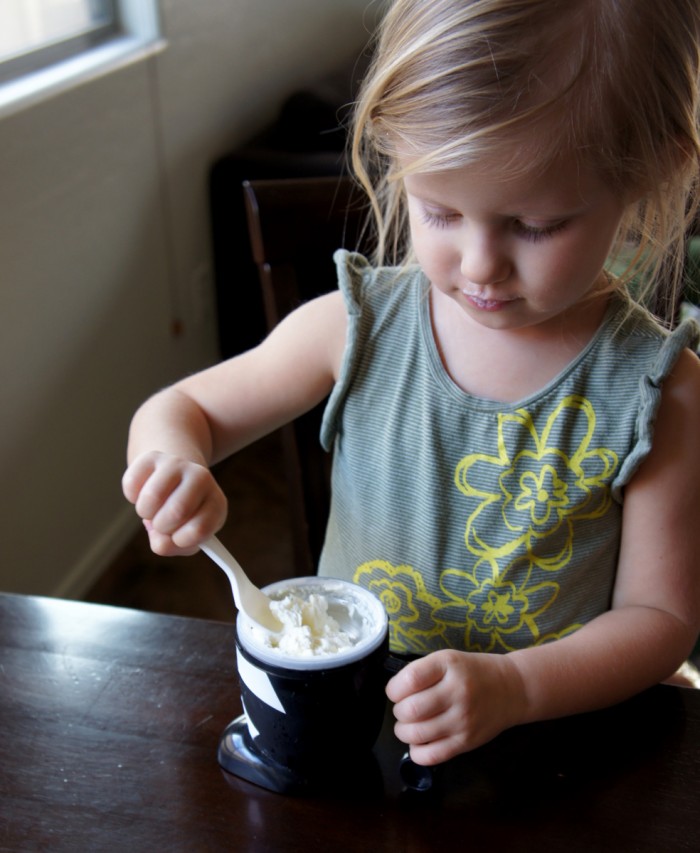 You can pick up a set of 4 Mugz or buy them individually in all sorts of adorable animal prints.
I can't wait to try more flavors! …for the kids… of course…
3 Minute Orange Creamsicle Ice Cream
Ingredients
1/2 cup crushed ice
1/4 cup ice cold water
4 tbsp rock salt or sea salt
1/2 cup heavy cream
1 tbsp fine sugar
1 tsp orange emulsion
Instructions
Place the crushed ice, cold water and salt into the base of the Mugz Ice Cream Maker.
Pour the cream, sugar, and orange emulsion into a small bowl and whisk to combine.
Place the aluminum dish on top of the crushed ice mixture and pour the ice cream mix into the bowl up to the fill line. Put the plastic lid on top. Twist on the animal head.
Shake constantly for at least 3 minutes in all directions, even upside down.
Remove lid and enjoy!
Notes
Tools required: Mugz Ice Cream Maker
7.6.4
761
http://www.iwashyoudry.com/3-minute-orange-creamsicle-ice-cream/
disclaimer: I received a set of 4 Mugz Ice Cream Makers to review for my Holiday Gift Guide. All thoughts and opinions are my own.
The following two tabs change content below.
Shawn is the Owner and Creator of I Wash You Dry. She loves to create and share simple, family-friendly recipes with a bit of life sprinkled in. Mom to 4 adorable children and dwells in the desert of Southern Utah.