I have been dying to share this recipe with you for the past month.
I'm a huge fan of Jalapeño Poppers. I love the cheesy creamy filling, the spicy jalapeños and of course the crispy crunch of the buttered panko bread crumbs. I'm thinking it's time for that Jalapeño Popper goodness to make it's debut in pizza form.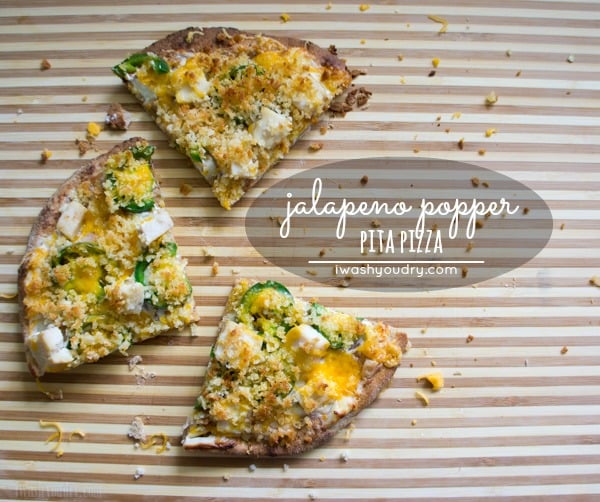 I've made this pizza over a regular pizza dough, and it's equally as delicious; but I made this Jalapeño Popper Pita Pizza for one.
Sometimes all you need is a pizza for one, and using something like a whole wheat pita bread can make it quick and painless.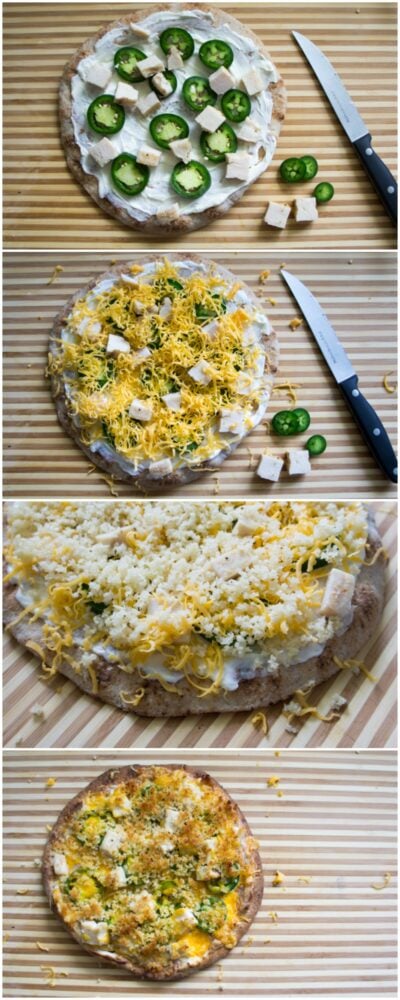 The base of the pita pizza is a creamy ranch mixture that is out of this world. I used whole sliced jalapeños, but if you can't handle the heat feel free to remove the seeds.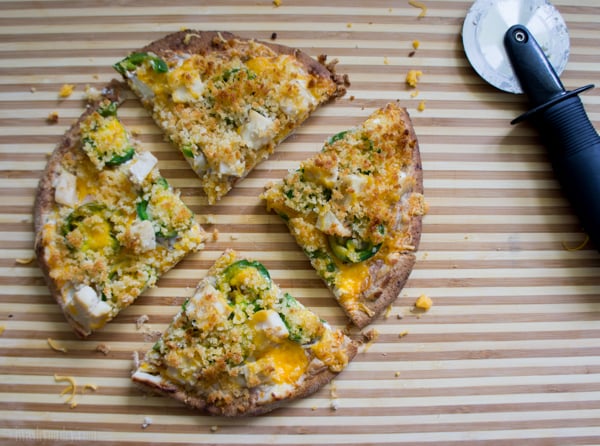 My favorite part of this Jalapeño Popper Pita Pizza is the crispy panko crumb on top. It gives the pizza that little crunch that will surely remind you of the classic Jalapeño Popper.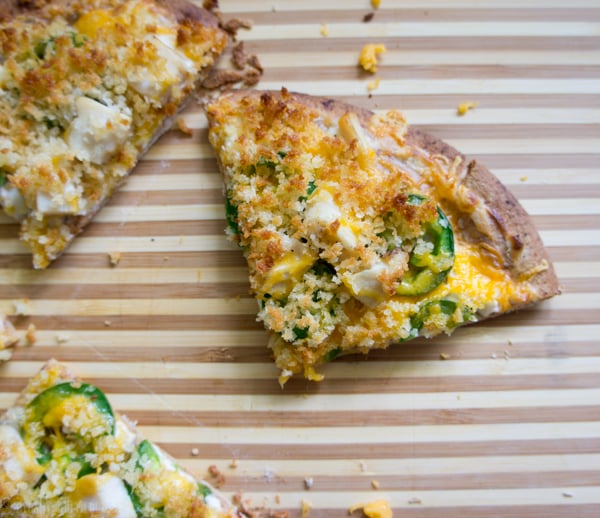 I included some diced cooked chicken breast to make it more of a meal, but you don't have to add that if you don't want.
Either way is delicious.
Jalapeño Popper Pita Pizza
Ingredients
1 whole wheat pita bread
1 oz cream cheese, softened
1 tbsp ranch dressing
1/2 tsp Gourmet Garden Garlic (or garlic powder)
1 fresh jalapeño, sliced (seeds removed if you prefer)
1/4 cup cooked, diced chicken breast
1/2 cup shredded cheddar cheese
1 tbsp melted butter
1/4 cup panko bread crumbs
Instructions
Preheat oven to 425 degrees F.
Combine cream cheese, ranch dressing, and garlic in a small bowl. Whisk with a fork until smooth and evenly combined. Spread on top of pita bread, in pizza sauce fashion (leaving about 1/2 an inch around the edge).
Top with diced chicken, sliced jalapeño, and then top with the cheddar cheese.
Toss the panko bread crumbs with the butter until they are evenly coated. Sprinkle the bread crumb mixture over the cheese.
Bake for 7-10 minutes or until cheese is bubbly and the panko crumbs are a golden brown.
Sliced and enjoy!
http://www.iwashyoudry.com/2013/05/13/jalapeno-popper-pita-pizza/