I'll have you know, this all started from my sister-in-law.
You see, she is the one who introduced me to the awesome-ness in which we call, "Tres Leches."
It means three milks. It's a light fluffy cake that is soaked in heavenly goodness. I had a taste while visiting her in Utah over Spring Break and it's been on my mind ever since.
Then, The Man brought me home a store made Tres Leches Cake for Mother's Day, and I was once again reminded of what a little taste of heaven is like. He urged me to make my own… so, after much searching and several attempts this is what I came up with.
It's AWESOME!!
It's a little more work than I am used to…but totally worth the pay off.
I tried finding a way to simplify it as much as I possibly could, but in order to get the very best Tres Leches cupcake, you'll have to put in just a little time.
In a large bowl combine your dry ingredients; flour, baking powder, cinnamon, and salt. Set it aside till you're ready to add the wet ingredients.
Separate 5 large eggs. With your yolks in one bowl and the whites in another.
Add some sugar to the yolks and start mixing.
Keep beating till the yolks turn pale yellow and double in size.
They get nice a fluffy too.
Add a little bit of Coconut Milk.
Don't worry if you don't like coconut, it's such a subtle taste that you'll hardly notice it. It gives it a sort of nutty balance to it.
One of my favorite ingredients… Butter-Vanilla Emulsion.
If you can't find this stuff, you can substitute it straight over for Vanilla Extract.
Mix those two into your yolk mixture.
Now VERY carefully, slowly incorporate your wet ingredients into the dry ones. If you go too fast you run the risk of drying it up.
See all those yummy flakes of cinnamon?? I think the cinnamon really gives these a little something extra.
In a separate bowl beat your egg whites till soft peaks form, then add just a bit of sugar and beat till firm, but not dry.
Again, very carefully fold the egg whites into your batter.
Be careful not to beat deflate the whites. You're making the base of your Tres Leches which is like a sponge cake. It's meant to be light and fluffy so it can absorb all the milks.
Scoop the batter into a lined muffin pan.
Bake at 350 degrees for 15 minutes or until a toothpick in center comes out clean.
Remove to a wire rack and let cool completely. Since these guys are just little cupcakes, they don't take long to cool, maybe 10 minutes max.
In a large measuring glass or bowl mix together your milks. Heavy cream, sweetened condensed milk, and evaporated milk.
With a sharp knife score the tops of the muffins so that milk can seep in. Spoon a tablespoon of milk into the cupcakes at a time. I got about 3 tablespoons per cupcake.
Let the milk absorb for about 20 minutes.
Whip up yourself some icing. I made a simple whip cream topping. Light and fluffy to go with your luscious cake.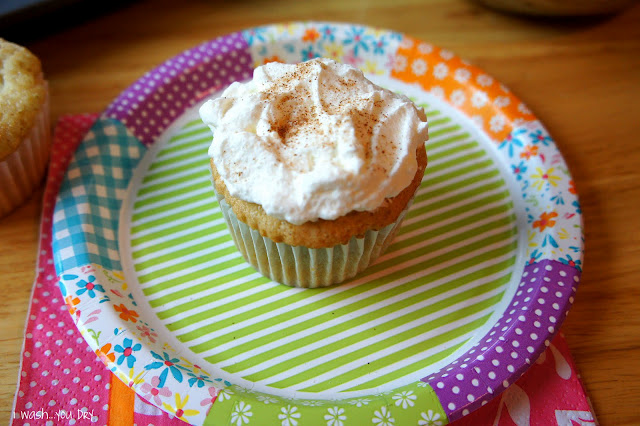 I topped these sweet things with cinnamon and sugar. Why not?
Then, because all good things need some strawberries, I put a few sliced strawberries on top. They really add to the freshness of this cupcake.
You don't have to double line these bad boys, the cake seriously holds in all that milk and doesn't get soggy.
It's a miracle, a baking miracle!
The best part, is that they get even better after sitting in the fridge.
You really don't need to eat them with a fork, you can eat them like a normal cupcake, but they are so pretty and so yummy that I wanted to savor each bite.
If you haven't ever tried Tres Leches before, you don't know what you're missing! You'll be hooked!
Tres Leches Cupcakes
recipe adapted from The Pioneer Woman
Ingredients:
1 cup flour
1 1/2 tsp baking powder
1/4 tsp salt
1/2 tsp cinnamon
5 whole eggs; separated
1 cup Sugar; divided
1/3 cup Coconut Milk
1 tsp Butter-Vanilla Emulsion (or substitute with Vanilla Extract)
1 can sweetened condensed milk
1 can evaporated milk
1/2 cup heavy whipping cream
Icing Ingredients:
1 cup heavy whipping cream
3 tbsp powdered sugar
cinnamon sugar
fresh sliced strawberries
Directions:
Set oven to 350 degrees and line a muffin pan.
In a large bowl combine flour, baking powder, salt and cinnamon.
In another bowl separate the egg yolks and whites. To the yolks add 3/4 cup of sugar. Beat with a mixer until yolks are pale yellow and fluffy. Add coconut milk and butter-vanilla emulsion. Mix until combined. Slowly, and gently incorporate yolk mixture into flour mixture.
Beat egg white on high until soft peaks form. Add the remaining 1/4 cup of sugar and beat until stiff but not dry. Gently fold egg whites into batter until incorporated being careful not to over mix.
Scoop batter into cupcake liners and bake for 15 minutes or until toothpick inserted in center comes out clean. Remove to a wire rack to cool completely (about 10 minutes).
In a bowl combine 1/2 cup heavy whipping cream, one can of sweetened condensed milk, and evaporated milk. Whisk until smooth and combined.
Score the tops of each cupcake with a sharp knife so liquid can easily be absorbed.
Pour one tablespoon at a time into each cupcake, let it absorb and continue until you have put 3 tablespoons into each cupcake. Let them stand and absorb for about 20 minutes.
For the Icing, beat whipping cream in a large bowl until soft peaks form, add the powdered sugar and continue to beat until stiff. Scoop a heaping amount onto each cupcake and sprinkle with cinnamon and sugar and top with fresh sliced strawberries.
I just want to take a moment to thank my sister-in-law for introducing me to the Tres Leches phenomenon. You're the best, you always inspire me!